This year's Spring Bash fund raiser which was hosted by the Orlando Watercraft Riders (OWR) Jetski Club and the neighboring Tampa Bay Jetski Club (TBJSC) turned out to be a record breaking success.  The event was held at the lovely Magnuson Hotel Marina Cove in St. Petersburg, FL. and each year this event just gets better.  There was a great turnout with all the familiar faces and some new faces this year.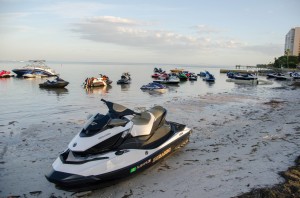 Photos by Lucas Harris
The weekend of antics included the ever popular poker run where riders will visit check points to be dealt a card. The rider who has the best poker hand at the end of the ride wins.  This year there were 104 tickets sold and 104 hands played.  The poker run was a 40 mile run and took approximately 2 hours to complete.   The run took the riders to several check points including St. Pete Beach, Shell Key, Fort DeSoto, Egmont Key and Sunshine Skyway. Beth Bridges managed to maintain her poker face throughout the ride and took the prize for the day.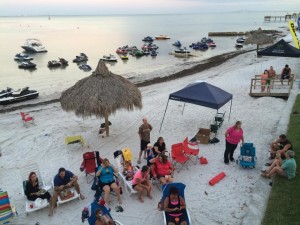 The ever popular and entertaining slalom race was back again this year only this time everyone raced it on the SeaDoo BRP Spark.  There were some technical issues on the course and no winner was announced but it was a lot of fun as usual.
There was also a great Flyboard demo for all to watch which was new this year.
The whole weekend was an effort to raise funds for the well deserving Give Kids the World.  GKTW is a nonprofit resort where children with severe illness are able to stay with their families for a week's worth of fun all provided free of charge.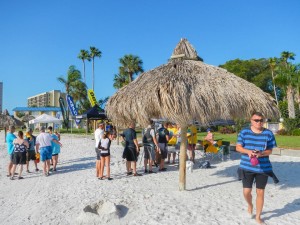 The jetski clubs were able to blow last year's fundraising efforts out of the water by raising an amazing $5500 for the cause.  It is truly a great effort by all involved in the event and we are already looking forward to next year's fundraiser.  In the meantime anyone who would like to make a donation please visit: www.gktw.org
OWR and TBJSC would like to thank the surrounding jetski clubs for their support including South Florida Riders; Space Coast Jet Riders; Jetski Junkies and the Tampa Sea Doo Crew as well as everyone who came and volunteered and participated. Also thank you to the contributors Cycle Springs, The Jetski Store, The Blue Ocean Film and Conservation summit, Sea Specs, Cooper Anchors, Surf Monkey bags, Seminole Power Sports, AWA, Cabot, P1 AquaX USA and Pro Rider Watercraft Magazine.