2015 KAWASAKI JET SKI® ULTRA® 310R   The Ultra 310R is the Extreme Performance Version of Kawasaki's Supercharged Personal Watercraft Family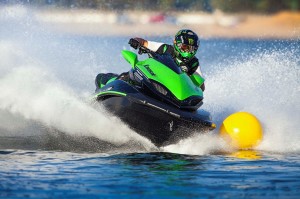 The Kawasaki Jet Ski® Ultra® 310R personal watercraft (PWC) is the perfect prescription for adventurous riders seeking a pure adrenaline rush on the water. Based on Kawasaki's popular Jet Ski Ultra 310X, the R-model draws from decades of Kawasaki's championship-winning PWC racing experience to create the ultimate "sport" personal watercraft that's ideal for hard-core recreation and racing.
2015 KAWASAKI JET SKI ULTRA 310R HIGHLIGHTS:
Supercharged DOHC inline four-cylinder engine produces 310 horsepower
KX™ motocross-style electro-polished stainless steel handlebar
12-position solid handlebar mount can be adjusted for reach and height
Sport seat offers a special support bolster and a grippy KX-motocross-like seat cover
Race-inspired graphics
The 301R's deep-V hull offers superb straight-line tracking and precise cornering performance
Industry-leading, 56-gallon storage capacity
20.6-gallon fuel tank is the largest in its class
Separate keys for full power operation and Smart Learning Operation
ERGONOMICS
Ultra 310R's ergonomic appointments not only enhance its aggressive, racy looks, but they're designed for hardcore sport riding and comfort to boot. Borrowing a cue from Kawasaki's championship-winning KX™ line of motocross motorcycles, the Ultra 310R features a solid motocross-style handlebar complete with a crossbar pad for hard sport riding. The electro-polished stainless steel bar transfers direct rider inputs and offers tremendous leverage for easy maneuverability. It is also comfortable for longer rides. The handlebar mounts are adjustable to 12 different height/reach combinations, and can be rotated to provide up to 16 options. This means it can fit a wide range of riders and riding styles, with Kawasaki Genuine Accessories' clamps giving even more adjustment.
A two-piece sport seat with KX motocross-style seat material and graphics offers roomy accommodations for a rider plus two passengers. The seat design features a slim shape for more comfort around the thighs plusgood hip support. Its narrow width makes it easy to grip with the knees when standing up to ride rough water. The passenger portion of the seat also features a slim design that makes it easy for passengers to hold with their legs in rough water conditions. The passenger handrail is positioned high to offer a more natural,ergonomic location, which helps reduce passenger fatigue, being shaped for better holding power.
POWERTRAIN
With 310 horsepower[1] the supercharged inline four-cylinder engine is the most powerful productionpowerplant on the market, and the basis for an open-water, race-winning engine. With the extraordinary handling and an impressive collection of performance-enhancing qualities, the Jet Ski® Ultra® 310R leaves the competition floundering in its wake. Performance watercraft enthusiasts seeking a healthy dose of aquatic fun need look no farther than the Ultra 310R.
The Ultra 310R's Digital Fuel Injection-fed (DFI®) 1,498cc engine is the reigning king of horsepower, and its crown is the high-tech Eaton TVS series supercharger. The supercharger gives the engine exhilarating yet linear power, and its race-derived hull design makes short work of carving precise turns in calm or rough water, exactly what hard-core performance enthusiasts would expect from a sport-oriented Kawasaki Jet Ski.
The Ultra 310R benefits from many key components being incorporated into the design and build of this machine. For instance, the 310R's intake manifold is shaped to have a long and slim profile that increases low-mid range power. A fuel pump with superior flow volume adds power and increases fuel efficiency, and the Fuel Economy Assistance mode in the Electronic Control Unit (ECU) is specifically tuned to increase range for long-distance riding.
Kawasaki Jet Ski watercraft are the gold standard in quality and reliability, and Kawasaki engineers are relentless in their pursuit to take those attributes to higher levels. The 310R has cast pistons with a V-groove at second ring land (between the top and second ring grooves) for more consistent oil retention at high loads. To aid piston cooling, the oil jet system that sprays the underside of the piston includes two jets per piston, rather than just one, for better performance. Baffles in the oil pan prevent oil from accumulating on one side of the pan during tight turns or sudden acceleration or deceleration, and the crankcase also has large return holes to facilitate oil return to the pan. Superior oil management equals increased reliability.
The water jackets in the engine are thick for optimum cooling performance, and they utilize a check-valve that opens when the engine is idling or stopped, but closes when it is running to keep the engine cool without over-cooling. The 310R also includes a knock sensor that facilitates engine protection by retarding ignition to suppress abnormal combustion – or engine knock – if it should occur. The system activates a buzzer and the condition is indicated on the instrument panel to warn the rider.
But eye-watering thrust is still the main attraction with the Ultra 310R, and its fuel-injected, DOHC, inline four-cylinder engine pumps out pulse-quickening performance like no other PWC powerplant on earth!  Its roots-type Eaton Twin Vortices Series (TVS) supercharger's efficiency lies in its design, with a pair of four-lobe rotors boosting engine output. The TVS is a fixed-displacement design, which means it produces large quantities of boost at all RPM, from idle to redline. It gives the 310R a flat torque curve and linear power across the rev range that no other production watercraft turbocharger or supercharger system can match.
Ultra 310R's smooth power delivery is due to its ability to channel compressed air through the engine at a steady rate, instead of in waves, as other superchargers do. And its liquid-cooled intercooler helps to cool the compressed intake charge as it enters the Ultra 310R's combustion chambers. Cooler air equals denser air, which means less power is lost to performance-robbing engine heat.
Ultimate performance is worthless without rock-solid reliability, and the 310R engine was built from the bottom to top for long-lasting durability in a supercharged application. Its internal engine parts are manufactured to a level of Kawasaki Jet Ski reliability that is unparalleled in the PWC industry. A perfect example of Kawasaki's attention to detail lies in the ultra 310R's super-efficient oil cooler, which helps minimize engine temperatures by circulating oil between two cooling jackets. The result is 310 class-leading and stone-reliable horsepower[2].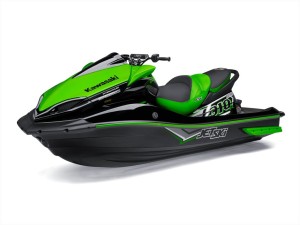 ELECTRONICS
An impressive collection of futuristic electronics is standard on the Ultra 310R. Naturally, Kawasaki's high-tech Electronic Control Unit (ECU) is the command center of the entire system. The ECU coordinates the injectors and throttle bodies of Kawasaki's highly advanced DFI to route the optimum amount of air/fuel mixture into the combustion chambers with help from the Electronic Throttle Valve (ETV) system, which converts throttle lever inputs into electronic signals that are then passed on to the throttle body.
Ultra 310R's technological arsenal has a number of superior rider aids that include the Fuel Economy Assist mode for maximum economy, which switches the ECU to a fuel map that focuses on gas mileage. There is also a one-touch 5mph mode for no-wake zones and a convenient Electronic Cruise Control system to set a steady cruising speed when touring. The Smart Learning Operation, or SLO-Mode, reduces engine output so newer riders can become familiar with the handling and response of the Jet Ski watercraft at a more relaxed pace. The customer is provided with two keys, one for SLO-Mode and the other for full-power operation, to help prevent confusion over which setting is in use.
Furthermore, the electronics package includes a smart Economical Riding Indicator on the digital display. This alerts the rider when the engine is operating in the most fuel-efficient manner, such as when planing at speeds where hull resistance is substantially reduced.
Electric Trim Control (ETC) is another example of the advanced technology that Kawasaki engineers have packed into the Ultra 310R. The ETC allows the rider to control the nozzle angle of the 160mm jet pump to adjust the hull attitude to suit both water surface conditions and riding style. The system has a plus-or-minus range of eight degrees, and it allows the Ultra 310R's hull to take the fullest advantage of its razor-sharp turning characteristics.
An advanced impeller design is included on the 310R, with blade angles specifically designed for increased acceleration. During acceleration, when cruising or at high speed, horizontal guide "vanes" on the propulsion grate improve hull tracking and reduce cavitation during acceleration for better hook-up. It all adds up to the most advanced production watercraft propulsion system in the industry.
HULL
The Ultra 301R's race-derived, fiberglass-reinforced hull is meticulously designed to be both incredibly strong and surprisingly light. Special reinforcements inside the hull help it to retain strength so that its overall thickness can be optimized for low weight, which aids in maneuverability. The hull has an ingenious cleaning system with a two-circuit design, with each circuit utilizing a dedicated flushing port for easy maintenance. Radically edged contours and nose trim combine to give the Ultra 310R's bow a sleek and aggressive look.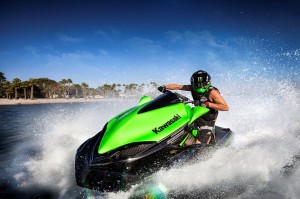 COCKPIT AMENITIES
Of course, it's equally important that the Ultra 310R's cockpit and rider accommodations match its high-performance engine and hull features. Front and center is the highly visible instrument panel with an all-LCD info screen design that's not only futuristic but also allows the rider easy monitoring of all the machine's vital information. Aided by a visor for easier viewing in sunny conditions, the highly legible LCD display boasts a fuel consumption function that can display gallons per hour or gallons per minute, a boost meter scale andriding-mode displays along with a range of other functions, including clock; time, trip and hour meter; digital or bar-graph tachometer; water and air temperature gauges; speedometer and max-speed functions. All of these make keeping track of the Ultra 310R's vital signs a cinch.
The Ultra 301R's deck design gives all riders plenty of legroom for ideal comfort, and its triangular-patterndeck material offers excellent grip for the rider's feet. A reverse lever on the left side of the craft features an ergonomically ideal design for easy operation, and optimally curved mirrors offer a wide rear view.
LONG-RANGE TOURING
With 20.6-gallons of fuel capacity – the most in its class – the Ultra 310R allows plenty of range for long-distance rides. Up front, a handy storage bin with a generous
54-gallons of capacity hides under the front cowl, and dual drink holders keep refreshments within easy reach. Total combined storage capacity for the Ultra 310R is an industry-leading 56 gallons. So you really can take it all with you!
Supreme power, superb handling and comfort, sophisticated, intelligent user-friendly features. These are the attributes that make Kawasaki Jet Ski watercraft legendary in the personal watercraft world, and the Jet Ski Ultra 310R stands head and shoulders above the competition at the pinnacle of the PWC performancegenre.
ACCESSORIES
Kawasaki Genuine Accessories, such as a Protective Cover, Bumpers, Anchor, etc, are available atauthorized Kawasaki dealers.
ABOUT KAWASAKI
Kawasaki Motors Corp., U.S.A. (KMC) markets and distributes Kawasaki motorcycles, ATVs, side x sides, andJet Ski® watercraft through a network of almost 1,200 independent retailers, with close to an additional 7,400 retailers specializing in general purpose engines. KMC and its affiliates employ nearly 3,100 people in the United States, with 300 of them located at KMC's Irvine, California headquarters.
Kawasaki's tagline, "Let the good times roll.™", is recognized worldwide. The Kawasaki brand is synonymous with powerful, stylish and category-leading vehicles. Information about Kawasaki's complete line of powersports products and Kawasaki affiliates can be found on the Internet at www.kawasaki.com.
2015 JET SKI® Ultra® 310R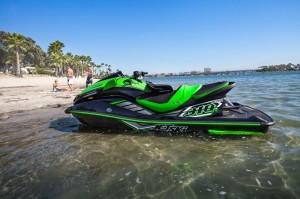 Features and Benefits
Key Features
–          Supercharged DOHC inline four-cylinder engine produces a staggering 310 horsepower
–          KX™ motocross-style electro-polished stainless steel handlebar enhances the 310R's sport riding capabilities while also providing excellent all-day comfort
–          12-position handlebar mount can be adjusted for reach and height to allow operation while standing or sitting and to suit a wide range of riders and conditions
–          Sport seat offers a special support bolster and a grippy KX-motocross-like seat cover for hard sport riding
–          Aggressive graphics reinforce the hard-core sport capabilities of the Ultra 310R
–          Strong and light, the 301R's deep-V hull offers superb straight-line tracking and precise cornering performance
–          Industry-leading, 56-gallon storage capacity lets you bring your gear with you
–          20.6-gallon fuel tank is the largest in its class, providing tremendous range for long rides
–          Separate keys for full power operation and Smart Learning Operation
310-horsepowerSupercharged Engine
–          1,498cc, liquid-cooled inline four-cylinder engine
–          Eaton TVS constant-displacement supercharger and liquid-cooled intercooler boost performance and reliability
–          Intake manifold is shaped for impressive low/mid-range power
–          Cast pistons feature ring land V-grooves for superb oil retention
–          Hardened nickel 33.4mm intake and 28.3mm exhaust valves offer superior reliability
–          Two-layer oil cooler offers efficient cooling
–          Large cam chain increases reliability in a supercharged engine application
–          Reinforced crankcase adds to engine's durability and reliability
–          Fuel pump provides superior fuel flow volume
–          Thick water jackets provide significant cooling performance
–          Check valve system between the cylinder jacket and water muffler that shuts water flow off above 2,000 rpm, to keep the cooling water inside the cylinder jacket for optimum cooling performance
–          Two cooling oil jets per piston for increased piston cooling
–          Oil pan features baffle plates to prevent oil slosh during tight turns or extreme acceleration/deceleration
–          Crankcase oil return holes offer quick oil return to the oil pan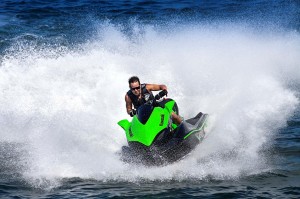 Eaton Twin Vortices Roots-type Supercharger
–          Four-lobe, constant-displacement design offers significant performance increase over standard roots-type unit
–          System force-feeds the engine two liters of air with every revolution, providing a constant supply of high-pressure intake air at all rpm
–          Delivers compressed air continuously, not in waves, for smoother power delivery
–          Produces large amounts of boost even at low rpm for instant and powerful acceleration right off of idle
–          Provides a flat and linear torque curve with mellifluous, lag-free power across the entire rev range
–          Produces more low-rpm boost than competitive or aftermarket systems, with a maximum of 17psi of boost pressure
–          Two different air bypass valves are used to prevent over boosting at low and medium rpm
Air-to-Water Intercooler
–          Efficiently cools high-pressure intake air – cooler air is denser and makes more power
–          Liquid-cooled intercooler design maintains consistent thermal performance
Digital Fuel Injection System
–          High-flow fuel injectors with four orifices are fitted for combustion efficiency
–          Single throttle body features a large, 60mm bore diameter
Exhaust
–          4-into-2-into-1 exhaust system routes the exhaust pipe upward and allows the smoothest path for exhaust gases, maximizing exhaust efficiency
160mm Jet Pump
–          Large-diameter, race-developed 160mm jet pump efficiently converts the Ultra 310R's massive horsepower output into instantaneous thrust
–          Pump is designed to deliver consistent output and good "bite" even in rough water conditions
–          Impeller features a 3-blade design that gives the 310R significant acceleration performance at the hit of the throttle
–          Eight-vane intake guides and regulates the flow of water to the impeller for consistent, efficient and powerful propulsion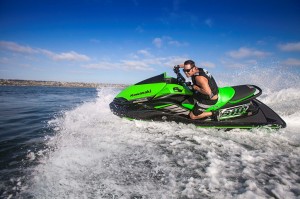 Ride Plate
–          Features a groove from the center to the rear of the plate to enhance straight-line tracking
Electric Trim Control System
–          Allows the angle of the jet pump nozzle to be controlled by the rider to adjust the attitude of the hull to suit water surface conditions and riding styles
–          Adjustment range is plus or minus eight degrees from standard
Electronic Throttle Valve (ETV) with Cruise Control
–          Convenient electronic cruise control smoothly holds a set speed from five mph up to top speed
–          Accelerator Position Sensor (APS) converts throttle lever input to an electronic signal that's used to control the throttle valve via an electric motor for crisp and smooth throttle response
–          Redundancy in the system helps ensure control is maintained in case of failure
–          One-touch, push-button five mph mode allows hassle-free no-wake zone riding
–          Fuel Economy Assistance mode provides significant fuel savings and increased range
–          Economical Riding Indicator mode can be viewed on a graph on the LCD info screen
–          Eco Mode softens engine performance while conserving fuel
Strong, Light Hull Design
–          Designed to emulate the performance of Kawasaki's IJSBA championship-winning race machines
–          Reinforced inner bow is extremely light with ample strength to handle the engine's power output
–          Exemplary straight-line tracking and responsive handling in both calm and rough-water conditions set performance benchmarks for the class
–          The lower hull is specially designed to distribute the engine and power delivery loads over a wide area
–          The 310R's deep-V hull enables a steep bank angle for motorcycle-like turning performance. This reduces the lateral G-loads imposed on riders during turns, allowing them to better concentrate on riding
–          The 22.5-degree V-angle at the bottom of the hull helps reduce unwanted spinouts during sharp turns
–          Delivers the neutral handling and turning characteristics for which Kawasaki Jet Ski watercraft are famous
–          Bottom of the hull slants upward steeply from the center section to the bow, so the Ultra 310R can penetrate swells and waves with less shock, pushing through waves rather than bouncing over them at high speeds
–          Integrated sponsons extend from the hull, providing wallow-free straight-line performance and contributing significantly to the 310R's excellent maneuverability while helping to retain the narrow hull design
Quattro KSD
–          The Ultra 310R's Kawasaki Splash Deflector uses three bottom-mounted ridges and an additional deflector mounted at the top to deflect water splashing forward from under the hull
–          Whether turning or straight-line riding at any speed. The Quattro KSD minimizes spray, allowing greater rider concentration
Kawasaki Smart Steering®/ SLO Mode
–          Kawasaki Smart Steering® (KSS®) monitors steering input and engine speed and, when certain conditions are met, intelligently raises rpm to help initiate a turn
–          Smart Learning Operation (SLO) allows newer riders to become familiar with the handling and response of this Jet Skiwatercraft at a more relaxed pace
–          Two separate keys, one for SLO mode and one for full-power operation, help prevent confusion over which setting is in use
Comfort and Convenience
–          KX motocross-style electro-polished stainless steel handlebar enhances the 310R's sport riding capabilities while alsoproviding excellent all-day comfort
–          12-position handlebar mount can be adjusted for reach and height to allow operation while standing or sitting and to suit a wide range of riders and conditions
–          Sport seat includes a special support bolster and a grippy KX-motocross-like seat cover for hard sport riding
–          Passenger handrail is located in an ergo-friendly location to reduce passenger fatigue and features a handle for better grip
–          Ergonomic deck design gives plenty of legroom
–          Left-side reverse lever is ergonomically designed for easy operation
–          Quick and easy hose connection allows a simple method to flush sea water out of the engine
–          Optimally curved mirrors feature a wide rear view angle and are mounted to the upper deck to facilitate opening of the hatch cover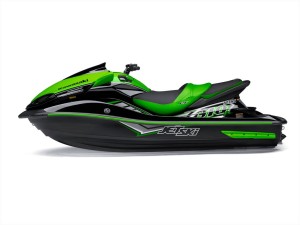 Capacious Storage
–          The Ultra 310R offers a class-leading 56-gallons of total storage capacity
–          Large-capacity, fully sealed storage area with detachable storage tray offers ample room for recreational equipment
–          A detachable drink holder with space for two drink bottles is mounted on the center console
–          Compact integrated underseat storage area is Ideal for small items like a ski rope
Extra-large Fuel Capacity
–          20.6-gallon fuel tank boasts more capacity than any machine in its class, extending range
Digital Instrumentation
–          Easy-to-read LCD screen
–          Instrumentation includes a fuel consumption function, revised boost meter scale, riding modes, external water and air temperature, clock, time, trip and hour meters, tachometer (in digital or graph displays), speedometer and max speed functions
–          ECO Indicator shows the rider when the speed and throttle opening is in the 310R's most efficient range
2015 JET SKI® Ultra® 310R Specifications*
Engine:
Supercharged and intercooled, four-stroke, DOHC, four valves per cylinder, inline four-cylinder
Displacement:
1,498cc
Bore x stroke:
83 x 69.2mm
Compression ratio:
8.2:1
Induction system:
Eaton Twin Vortices Series roots-type supercharger with air-to-water intercooler
Maximum boost
16.8psi
Maximum horsepower:
310hp     (Horsepower measured in PS at the crankshaft under controlled conditions. Actual performance may vary.)
Cooling system:
Inducted water
Fuel system:
Digital fuel injection
Ignition:
TCBI with digital advance
Starting:
Electric
Lubrication:
Semi-dry sump system
Coupling:
Direct drive from engine
Propulsion system:
160mm jet pump, axial-flow, single stage
Impeller:
Three-blade, oval-edge stainless steel
Thrust:
1,890 lb
Seating capacity:
Three-person
Load capacity:
496 lb
Fuel capacity:
20.6 gallons
Oil capacity:
6 quarts
Storage capacity:
56 gallons
Curb weight: **
1,047.4 lb
Overall length:
132.7"
Overall width:
47"
Overall height:
45.3"
Color:
Ebony / Lime Green
MSRP:
$16,299
Warranty:
12 months
Kawasaki Protection Plan (optional):
12, 24, 36 or 48 months
Wholesale distributor:
Kawasaki Motors Corp., U.S.A.9950 Jeronimo Road

Irvine, California 92618

949-770-0400
*Specifications are subject to change. Media are encouraged to visit www.kawasakimedia.com for most current specifications.
** Includes all necessary materials and fluids to operate correctly, full tank of fuel (more than 90 percent of capacity) and tool kit (if supplied).