2015 KAWASAKI JET SKI® STX®-15F        Performance Bargain Watercraft Has The Heart of A Ninja®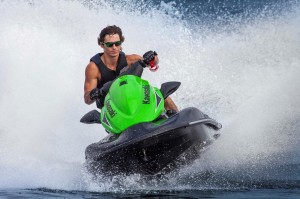 Many personal watercraft boast tremendous performance and state-of-the-art features, while other models offer a good bang for the buck if you're willing to compromise on some aspects. The Kawasaki JET SKI®STX®-15F, however, is one watercraft that doesn't compromise performance for value. With a powerful four-stroke engine, a sporty composite hull and plenty of rider-friendly features, the STX-15F will be the bargain of the summer for enthusiasts seeking fun on the water.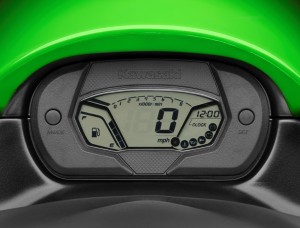 HIGHLIGHTS OF THE 2015 KAWASAKI JET SKI STX-15F:
160hp[1] engine with Digital Fuel Injection (DFI®) provides performance and economy
Agile hull for sporty handling
Comfortable ergonomics for extended excursions
Digital instrumentation includes speedo, tachometer and fuel gauge
Ample storage for the gear you require
SLO (Smart Learning Operation) allows engine speed to be limited for novices riders
Kawasaki Smart Steering® (KSS®) system gives turning assistance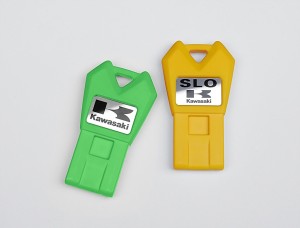 POWERTRAIN
The STX-15F proudly carries the heart of a Ninja® motorcycle. Derived from Kawasaki's class-leading Ninja ZX™-14R sportbike, its 1,498cc engine delivers plenty of low- and mid-range torque while generating an impressive 160hp[2].
The engine blends the best of both worlds by delivering snappy performance with excellent fuel economy and low emissions. In fact, the STX-15F has earned a Three-Star Ultra-Low Emissions rating from the California Air Resources Board, and meets the Environmental Protection Agency's strictest standards.
Dual overhead camshafts, four-valves-per-cylinder and Digital Fuel Injection provide maximum performance and reliability. A four-injector fuel injection system combined with a large 60mm throttle body delivers quick responses to rider inputs. The STX-15F's four-stroke engine is rubber mounted to isolate vibration, and features a performance-tuned exhaust as well as a large-capacity airbox.
PROPULSION SYSTEM
Propulsion duties are handled by a direct-drive, axial-flow jet pump driving an oval-edge, stainless steel, three-blade 148mm impeller for powerful acceleration. Tuned to produce its peak power at a relatively low RPM, the STX-15F engine matches the impeller's peak efficiency to provide rider-friendly performance. This direct drive arrangement eliminates the need for a complex gear reduction unit and offers improved durability and increased fuel economy with less vibration and noise.
The STX-15F personal watercraft (PWC) also features Kawasaki's innovative electronic Smart Learning Operation (SLO). Accessible from the instrument panel, SLO can be programmed to limit maximum engine speed so novices can experience riding at a reduced speed as they master proper techniques.
HULL DESIGN
Aggressive turns and high-speed stability are key performance attributes of the STX-15F. Its specially designed injection-molded sponsons have a molded "lip" for increased cornering grip and high-speed tracking.
The STX-15F PWC also gets turning assistance tanks to its Kawasaki Smart Steering® (KSS®) system. KSS employs an on-board microprocessor linked to a steering sensor. When the handlebar is fully turned in either direction, and engine RPM drops below a designated setting – such as when the throttle is released at speed – the microprocessor activates the system to raise RPM and provide thrust for maneuvering.
Additionally, a molded Kawasaki Splash Deflector (KSD) is incorporated into the hull to help minimize spray on the occupants.
The muscular and aggressive-looking STX-15F, which is available in an Ebony and Lime Green color,might be lighter and more compact than some of the competition, but its spacious riding position makes its sporty performance easier to access for a wider range of riders.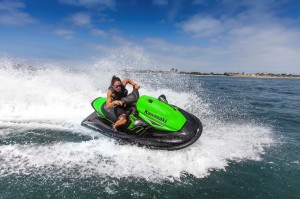 ERGONOMICS AND STORAGE
The spacious rear deck of the STX-15F makes it easy to fit water skis or climb onto a wakeboard. An automatically retracting boarding step is located on the rear of the hull to simplify boarding when in deep water.
There is no shortage of space to stow items on the STX-15F. The rear deck can accommodate gearneeded for a day on the water, such as a cooler. There is also a water-resistant storage compartment, an easily accessible glovebox and additional storage space under the seat.
The hatch cover is made from resilient ABS plastic and uses a hydraulic damper to hold it open, allowing easy access until the rider closes it. The mirrors are also ABS plastic and echo the sleek lines of the Jet Skiwatercraft, being mounted directly to the top deck.
A generous 16.4-gallon fuel capacity allows extended rides, during which there is plenty of time to enjoy the cockpit features. These include an LCD instrument panel with fuel level, speed, engine RPM, trip distance and a clock available, with warning lamps to alert the rider of a low fuel level or high engine temperature, along with a magnetic-keyed ignition switch that helps deter unauthorized operation.
ACCESSORIES
Kawasaki Genuine Accessories, such as a Protective Cover, Bumpers, Anchor, etc, are available atauthorized Kawasaki dealers.
ABOUT KAWASAKI
Kawasaki Motors Corp., U.S.A. (KMC) markets and distributes Kawasaki motorcycles, ATVs, side x sides, andJet Ski® watercraft through a network of almost 1,200 independent retailers, with close to an additional 7,400 retailers specializing in general purpose engines. KMC and its affiliates employ nearly 3,100 people in the United States, with 300 of them located at KMC's Irvine, California headquarters.
Kawasaki's tagline, "Let the good times roll.™", is recognized worldwide. The Kawasaki brand is synonymous with powerful, stylish and category-leading vehicles. Information about Kawasaki's complete line of powersports products and Kawasaki affiliates can be found on the Internet at www.kawasaki.com.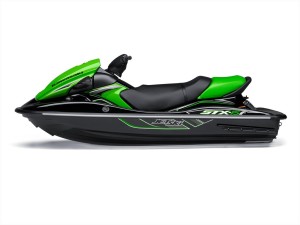 #    #    #
2015 Kawasaki Jet Ski® STX®-15F
Features and Benefits
Key Features
–         160hp[3] engine is the most powerful in its price range
–         Digital Fuel Injection (DFI®) provides smooth performance and excellent fuel economy
–         Hull design facilitates sporty handling
–         Digital instrumentation includes a speedometer, tachometer and fuel gauge
–         Class-leading storage lets you take all your gear with you
160hp 1,498cc Engine
–         The four-stroke engine provides strong low- and mid-range torque
–         The most powerful engine in its price range
–         Dual overhead camshafts (DOHC) are light and compact for less valvetrain inertia
–         Large valves provide better intake and exhaust flow to improve power and torque
–         Large capacity airbox cuts down engine noise and provides good intake flow
–         Intake tract designed for maximum performance
–         Digital fuel injection provides great throttle response, smooth engine performance, quick acceleration, easy starting and excellent fuel economy
–         Tip-over protection shuts the engine off if the craft tilts more than 61-degrees
–         Waterproof ECU and ignition coils protect the ignition system from electrical shorts
–         Unique semi-dry sump oil system allows the crankshaft to be lower in the engine, eliminating the need for a scavenging pump, helping to keep the oil from flooding the crankcase if the craft is capsized
–         Kawasaki's patented oil separator provides fail-safe venting for the crankcase and prevents oil from flowing into the intake tract if the craft capsizes
–         Has earned a Three-Star Ultra-Low Emissions rating, meeting the Environmental Protection Agency's strictest standards, as well as the California Air Resources Board's standards
Jet Pump and Kawasaki Smart Steering®
–         Kawasaki Smart Steering® (KSS®) monitors steering input and engine speed and, when certain conditions are met, it raisesRPM to give the rider enough thrust to continue maneuvering
–         Durable three-blade oval-edge stainless steel impeller provides maximum efficiency
–         Shielded jet propulsion system offers greater protection from damage
–         Reverse bucket is designed for more precise direction control when backing and is made of injection molded material to prevent corrosion
–         Reverse increases maneuverability in tight places
Composite Hull
–         Hull size is optimized for a sporty and nimble ride
–         Injection-molded sponsons deliver ultra-responsive turning, while enhancing tracking
–         Kawasaki Splash Deflector (KSD) helps keep spray off the operator and passenger
–         Boarding step retracts automatically and eases boarding in deep water
–         Large capacity fuel tank allows more time on the water
Deck
–         Integrated storage compartments offer the largest storage capacity in its class
–         Stylish hatch cover keeps with muscular look
–         Handle position makes "stand-up" riding easier and provides ample room for a wide range of riders
–         Spacious open rear deck provides plenty of room for putting on skis or a wakeboard, as well as easy deep water boarding
2015 Jet Ski® STX®-15F Specifications*
Engine:
Four-stroke, four-cylinder inline
Displacement:
1,498cc
Bore x stroke:
83 x 69.2mm
Compression ratio:
10.6:1
Cooling system:
Inducted water
Fuel system:
Digital fuel injection with 60mm throttle body
Ignition:
TCBI with digital advance
Maximum horsepower:
160hp**
Starting:
Electric
Lubrication:
Semi-dry sump system
Coupling:
Direct drive from engine
Propulsion system:
Jet pump, axial-flow, single stage
Impeller:
Three-blade, oval-edge stainless steel
Thrust:
957 lb
Seating capacity:
Three-person
Load capacity:
496 lb
Fuel capacity:
16.4 gallons
Oil capacity:
5.3 quarts
Storage capacity:
23.5 gallons
Curb weight: ***
844.5 lb
Overall length:
122.8"
Overall width:
46.5"
Overall height:
41.3"
Colors:

Ebony / Lime Green

MSRP:
$9,699
Warranty:
12 months
Kawasaki Protection Plan (optional):
12, 24, 36 or 48 months
Wholesale distributor:
Kawasaki Motors Corp., U.S.A.9950 Jeronimo Road, Irvine, California 92618

949-770-0400, www.kawasaki.com
*Specifications are subject to change. Media are encouraged to visit www.kawasaki.com for most current specifications
** Horsepower measured in PS at the crankshaft under controlled conditions. Actual performance may vary
*** Includes all necessary materials and fluids to operate correctly, full tank of fuel (more than 90% of capacity) and tool kit (if supplied)