2015 KAWASAKI JET SKI® ULTRA® LX      Water-borne Luxury, Performance and Efficiency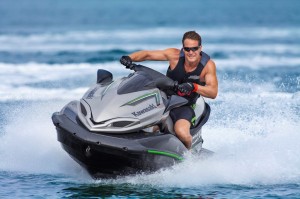 The Jet Ski® Ultra® LX personal watercraft hits all the right marks when it comes to offering performance and luxury. It's an all-around watercraft that matches fun and excitement with performance and luxury. The Ultra LX delivers excellent performance for enthusiasts, with tremendous comfort and cavernous storage capacity.
2015 KAWASAKI JET SKI ULTRA LX HIGHLIGHTS:
Deep-V hull provides better handling
Industry-leading storage capacity lets you bring all the gear you need
Largest fuel tank in class keeps the fun going longer
Scalloped LXuryseat enhances comfort
Five-position adjustable steering adapts to a variety of riders
Splash deflectors minimize spray in a variety of conditions
Retracting rear boarding step makes it easy to climb aboard
SLO (Smart Learning Operation) allows engine speed to be limited for novices
Kawasaki Smart Steering® (KSS®) system gives turning assistance
HULL DESIGN
The comparison to Kawasaki's ultimate personal watercraft is an apt one, because the Ultra LX incorporates many of the advanced features and technologies from the supercharged Ultra 310 family.
The advanced hull, for example, is a fiberglass-reinforced design that allows serious maneuverability thanks to its 22.5-degree deep-V shape.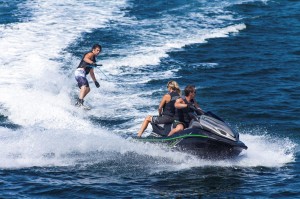 PROPULSION SYSTEM
There's Ultra 310 technology in the propulsion system. The jet pump, driveshaft and nozzle share the basic design of the 310 series, for example. This advanced system converts the horsepower of the Ultra LX into immediate yet controllable thrust via a large-diameter 155mm jet pump. Combined with a steering nozzle designed for light handling, the system delivers consistent performance, and plenty of bite, even in rough water.
Everything Kawasaki knows about high-tech engine building goes into the super-efficient powerplant of theUltra LX. The reliable 1,498cc inline-four four-stroke engine is based on the one powering the legendary Ninja®ZX™-14R sportbike – the most powerful production sportbike on the planet.
It delivers stunning power – 160hp[1] and nearly 1,000 pounds of thrust – plus manageable throttle response thanks to its DOHC cylinder head design, lightweight pistons, advanced fuel injection system, efficient intake tracts and optimized exhaust.
The big inline-four is also surprisingly fuel efficient, which means you'll do a lot of exploration and wave-whipping before the extra-large 20.6-gallon fuel tank runs dry.
STORAGE AND COCKPIT
Another reason you can disappear all day on the Jet Ski Ultra LX watercraft is its massive 60-gallon storage capacity, which means food, drinks, supplies, clothing and all kinds of gear can be easily stowed.
The on-board comfort for the rider and passengers is exemplary. There's a soft, LXuryseat with support bolsters, five-position steering that allows the rider to dial-in the right position while standing or sitting, and splash deflectors minimize spray to help keep everybody dry. There's also a large, easy-to-read LCD display that provides a multitude of key digital information, including water and ambient temperature. Its easy-to-use reverse lever offers light operation as well.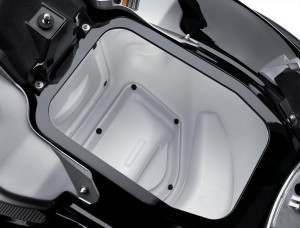 KAWASAKI SMART STEERING® (KSS®)
For optimum maneuverability, the Ultra LX personal watercraft gets electronic turning assistance via its Kawasaki Smart Steering® system. KSS® features an on-board microprocessor that is linked to a steering sensor. When the handlebar is fully turned in either direction, and the engine RPM drops below a designatedspeed – such as when the throttle is released at speed – the microprocessor activates the system, raisingengine speed to provide thrust for maneuvering.
There's no end to the fun and exploration you can generate on a watercraft as performance-oriented, practical, fun and comfortable as the 2015 Ultra LX. Here's what one journalist remarked after getting off an Ultra LX: "It unlocks parts of the ocean and planet you simply couldn't get to before. And that's an amazing and wonderful thing." We couldn't agree more.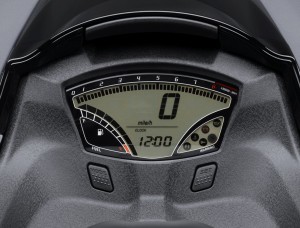 ACCESSORIES
Kawasaki Genuine Accessories, such as a Protective Cover, Bumpers, Anchor, etc, are available atauthorized Kawasaki dealers.
ABOUT KAWASAKI
Kawasaki Motors Corp., U.S.A. (KMC) markets and distributes Kawasaki motorcycles, ATVs, side x sides, andJet Ski® watercraft through a network of almost 1,200 independent retailers, with close to an additional 7,400 retailers specializing in general purpose engines. KMC and its affiliates employ nearly 3,100 people in the United States, with 300 of them located at KMC's Irvine, California headquarters.
Kawasaki's tagline, "Let the good times roll.™", is recognized worldwide. The Kawasaki brand is synonymous with powerful, stylish and category-leading vehicles. Information about Kawasaki's complete line of powersports products and Kawasaki affiliates can be found on the Internet at www.kawasaki.com.
#    #    #
2015 Jet Ski® Ultra® LX
Features and Benefits
Key Features
         Sporty handling and excellent tracking in all water conditions
         Deep-V hull provides better grip for racing-like performance
         Industry-leading storage capacity lets you bring all the gear you need
         Largest fuel tank in class keeps the fun going longer
         Scalloped luxury seat enhances comfort during high-speed cruising
         Five-position adjustable steering adapts to a variety of riders
         Splash deflectors across the bottom of the bow minimize spray in a wide variety of conditions for greater rider concentration
         Retracting rear boarding step makes it easy to climb aboard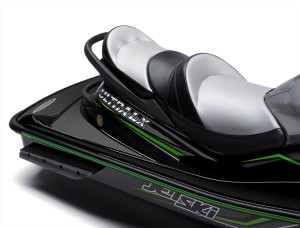 160hp[2] 1,498cc, Four-stroke Engine
         Strong engine provides 160hp2 plus excellent low- and mid-range torque
         Dual overhead cams (DOHC) are light and compact for less valvetrain inertia
         Four large valves per cylinder provide better intake and exhaust flow for optimum power and torque
         Intake tract designed for maximum performance
         Waterproof ECU and ignition coils protect the ignition system from electrical shorts
         Unique semi-dry sump oil system lowers the crankshaft in the engine, eliminating the need for scavenging pumps and helps to keep the oil in the sump instead of flooding the crankcase if the craft capsizes
         Large capacity airbox lowers engine noise and improves intake air flow
Fuel Injection
         Large, single 60mm throttle body
         Digital Fuel Injection (DFI®) provides great throttle response, smooth engine performance, quick acceleration, as well as easy starting and excellent fuel economy
         Four-orifice, high-flow fuel injectors provide efficient combustion
155mm Jet Pump
         Large-diameter 155mm jet pump efficiently converts the engine's horsepower into thrust
         Developed using feedback from Kawasaki's race machines, the pump is designed to deliver consistent output and good "bite," even when riding rough water
         The large, sophisticated three-blade impeller delivers both high-speed performance and quiet operation
         Eight-vane intake guide smoothes and regulates the flow of water from the impeller for efficient and powerful propulsion
         The reverse lever is on the left side for easy operation while modulating the throttle with the right hand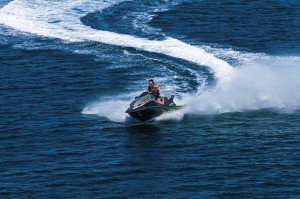 Composite Hull
         The design incorporates feedback from Kawasaki's IJSBA championship-winning racing machines for excellent tracking and responsive handling in both calm and rough water conditions
         Delivers the neutral handling and turning characteristics that made Kawasaki Jet Ski® personal watercraft famous, yet the hull enables a high bank angle for motorcycle-like turning performance with reduced side g-loads imposed on riders during turns
         The 22.5-degree V-angle at the bottom of the Ultra LX hull helps prevent spinouts during sharp turns and provides a smoother ride in rough water
         Placing the battery near the center of the machine optimizes weight balance in the hull and frees space inside the engine bay to help maximize storage capacity
         The bottom of the hull slants steeply upwards from the center section to the bow, allowing the Ultra LX to penetrate swells and waves with less shock. This allows the hull to push through waves rather than bounce over them at higher speeds
         Integrated sponsons extend from the hull, providing wallow-free straight-line performance and contributing significantly to the excellent high-speed maneuverability of the Ultra LX, while helping to retain a narrow hull design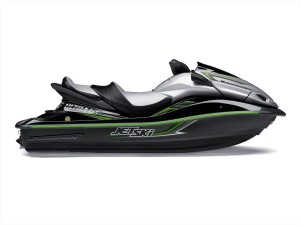 Ride Plate
         Features a groove from the center to the rear of the ride plate to enhance straight-line tracking
Quattro KSD
         The Kawasaki Splash Deflector (KSD) on the Ultra LX uses three bottom-mounted ridges and an additional deflector mounted at the top to deflect water splashing forward from under the hull
         Whether turning or running straight ahead at high or low speeds, the Quattro KSD minimizes spray, allowing greater rider concentration
Kawasaki Smart Steering® and Smart Learning Operation Mode
         Kawasaki Smart Steering® (KSS®) monitors steering input and engine speed and, when certain conditions are met, raisesRPM to initiate a desired turn, helping new riders to better enjoy the performance of this remarkable machine
         Smart Learning Operation (SLO) allows novice riders to become familiar with the handling and response of this Jet Ski watercraft at a more relaxed pace before unleashing the full performance of the Ultra LX
         Two separate keys, one for SLO mode and one for full-power operation, ensure the correct setting is chosen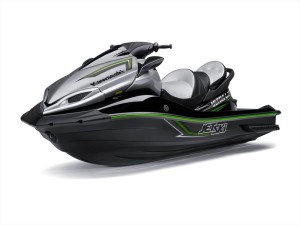 Comfort and Convenience
         LXuryseat incorporates specific support for the rider and passenger for increased confidence and a more relaxing experience
         Five-way adjustable handlebar allows operation while standing or sitting for a wide range of riders
         Ergonomic deck design has plenty of legroom for rider-friendly seating
         A long rear boarding step makes it easy to climb onboard, and the step retracts inside the bumper to prevent damage
         A quick and easy under-hood hose connection allows easy flushing of sea water from of the engine bay
         Mirrors mounted on the upper deck facilitate opening of the hatch cover
Capacious Storage
         60-gallon storage capacity is the largest in its class
         The large-capacity, fully sealed 58-gallon storage area is fitted with a detachable storage tray and has plenty of room for recreational equipment
         Glovebox in the center console has a built-in drink holder with space for two drink bottles
         Compact storage area under the rear passenger seat is ideal for small items
2015 Jet Ski® Ultra® LX Specifications*
Engine:
Four-stroke, DOHC, four valves per cylinder, four-cylinder inline
Displacement:
1,498cc
Bore x stroke:
83 x 69.2mm
Compression ratio:
10.6:1
Cooling system:
Inducted water
Fuel system:
Digital fuel injection with 60mm throttle body
Ignition:
TCBI with digital advance
Maximum horsepower:
160hp***
Starting:
Electric
Lubrication:
Semi-dry sump system
Coupling:
Direct drive from engine
Propulsion system:
155mm jet pump, axial-flow, single stage
Impeller:
Three-blade, oval-edge stainless steel
Thrust:
956 lb
Seating capacity:
Three-person
Load capacity:

496 lb

Fuel capacity:
20.6 gallons
Oil capacity:
5.3 quarts
Storage capacity:
60 gallons
Curb weight: **
932.7 lb
Overall length:
132.7"
Overall width:
47"
Overall height:
45.3"
Color:
Ebony / Metallic Phantom Silver
MSRP:
$11,199
Warranty:
12 months
Kawasaki Protection Plan (optional):
12, 24, 36 or 48 months
Wholesale distributor:
Kawasaki Motors Corp., U.S.A.9950 Jeronimo Road, Irvine, California 92618

949-770-0400 www.kawasaki.com
*Specifications are subject to change. Media are encouraged to visit www.kawasaki.com for most current specifications.
** Includes all necessary materials and fluids to operate correctly, full tank of fuel (more than 90% of capacity) and tool kit (if supplied).
*** Horsepower measured in PS at the crankshaft under controlled conditions. Actual performance may vary.