2016 KAWASAKI JET SKI® MODEL RANGE
Kawasaki developed the market for the personal watercraft category with its Jet Ski® products, and the company is continuing to offer a range of supercharged machines for the 2016 model year that are among the most powerful and exciting on the market. The 2016 Kawasaki Jet Ski range includes the innovative deep-V hull design, generous storage space and a larger fuel tank capable of extended range.
For 2016MY, there are all-new colors and exciting graphics; highlights are described below. All personal watercraft products carry a 12-month limited manufacturer's warranty with an optional 12, 24, 36 or 48-monthKawasaki Protection Plus™ plan.
KAWASAKI JET SKI® ULTRA® 310LX
As the flagship model, the 2016 Kawasaki Jet Ski® Ultra® 310LX personal watercraft (PWC) is the ultimate combination of power and luxury, and boasts impressive specifications, including the JETSOUND® audio system – a first in personal watercraft, allowing riders to listen to music via the 2×20-watt rated amplifier and 30-watt speakers. There is also a waterproof stowage area for an iPhone or smartphone as your music source, and a USB port to accommodate a memory stick.
The Ultra 310LX model has a contoured and scalloped, two-tone, three-passenger LXuryseat, which sports the industry's first heat-resistant cover to help provide comfort in a variety of conditions. Furthermore, the Hydroturf® striped deck matting helps provides comfort and superior grip, even when wet.
At the heart of this machine is an inline 1,498cc four-cylinder DOHC engine. Derived from Kawasaki's Ninja®ZX™-14R sportbike, this engine has been developed to marine grade standard and power is increased thanks in a large part to the intercooled, roots-type Eaton Twin Vortices Series (TVS) supercharger. The three-bladeimpeller that is directly driven from the engine provides superb propulsion, powering the watercraft's deep-V hull and contributing to straight-line tracking and cornering ability.
The Ultra 310LX has industry-leading, 56-gallon storage capacity and a 20.6-gallon fuel tank, which is the largest in its class. It also has separate keys allowing full power operation and Smart Learning Operation, which reduces engine output so less experienced riders can become familiar with the handling and response of the Jet Ski watercraft at a more relaxed pace. The keys are color-coded to help prevent confusion over which setting is in use.
For 2016, the Jet Ski Ultra 310LX watercraft will be available in a new striking color scheme of Ebony andMetallic Carbon Gray.
Color: Ebony / Metallic Carbon Gray
Price: $17,999
Availability: Now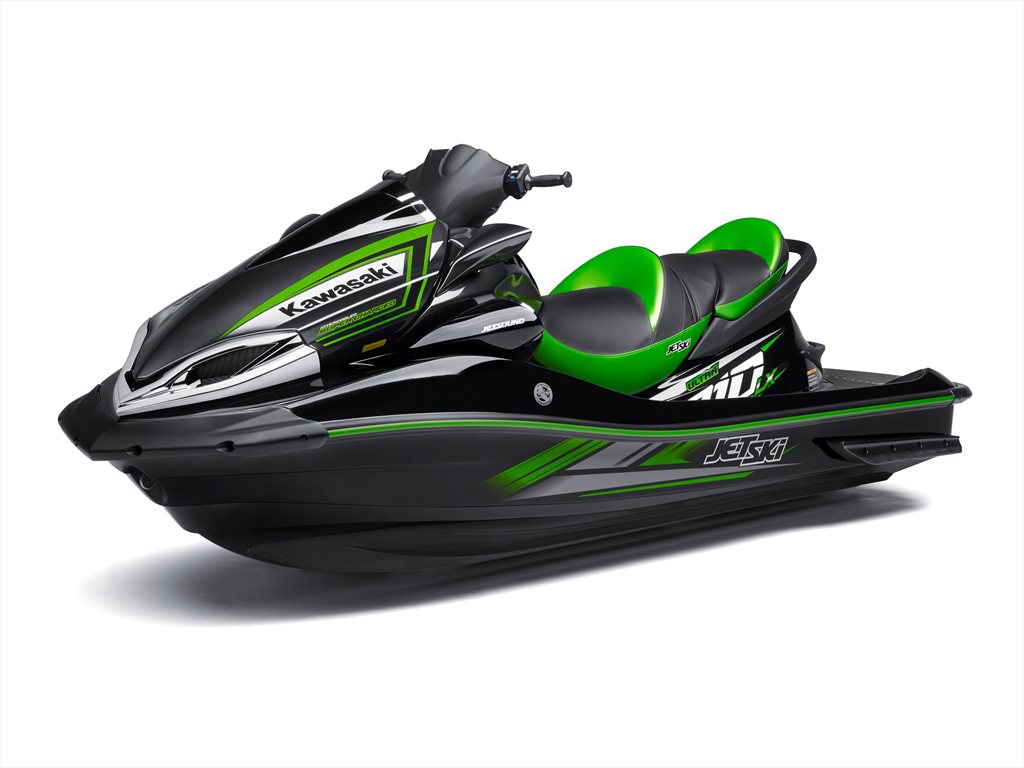 KAWASAKI JET SKI® ULTRA® 310R
The 2016 Kawasaki Jet Ski® Ultra® 310R personal watercraft is the ultimate open-water race replica vehicle in the Kawasaki range, featuring the same 1,498cc supercharged engine as the Ultra 310LX model. It also gets a motocross-style electro-polished stainless steel handlebar inspired by the Kawasaki KX™ range of motocross motorcycles. With a 12-position solid handlebar mount, it can be adjusted for both reach and height to suit the rider, with an optional mount for adjustable positions. Additionally, the sport seat offers a special support bolster and grippy KX-style seat cover. It is no wonder that the Ultra 310R is a popular choice for countless offshore endurance race champions, and has many victories under its belt.
The Jet Ski Ultra 310R personal watercraft also boasts race-inspired graphics as well as other features common to the Kawasaki Ultra 310 Jet Ski family, such as the same 56-gallon storage capacity and 20.6-gallon fuel tank.
Color: Ebony / Lime Green
Price: $16,299
Availability: Now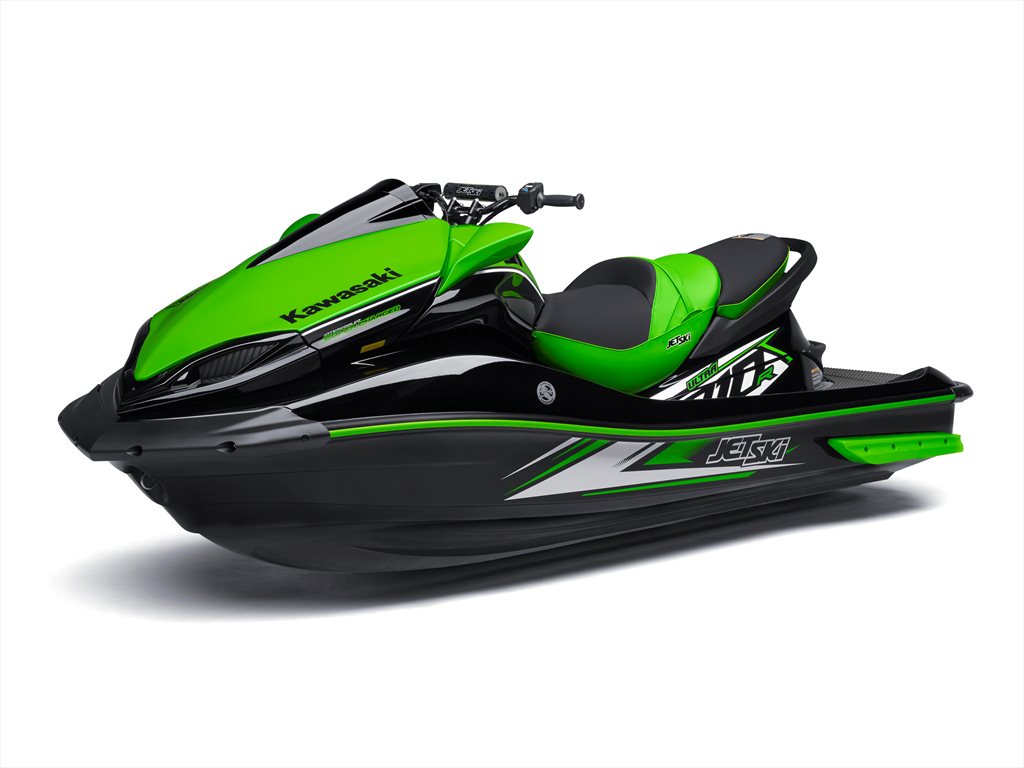 KAWASAKI JET SKI® ULTRA® 310X & ULTRA® 310X SE
Like the other members of the Kawasaki Jet Ski Ultra 310 family, the 2016 Ultra® 310X and Ultra® 310X SEmodels share the same unmistakable supercharged inline 1,498cc four-cylinder DOHC engine with its Eaton TVS supercharger and intercooler. They also have identical three-blade impellers for strong initial acceleration and the deep-V hull design contributes to straight-line tracking and precise cornering.
With 20.6 gallons of fuel capacity – the most in its class– the Ultra 310X and Ultra 310X SE models allow plenty of range for long-distance rides. Up front, a handy storage bin located under the cowl has a generous 54-gallon capacity, and the center console has detachable, dual drink holders.
For rider comfort, the Ultra 310X features a bench seat for greater versatility, while the 310X SE comes equipped with race-inspired graphics and a sport-styled seat.
New for 2016 is a distinctive color combination for the Jet Ski Ultra 310X personal watercraft, which will now be available in Ebony and Metallic Stardust White.
Colors:
Jet Ski Ultra 310X: Ebony / Metallic Stardust White
Jet Ski Ultra 310X SE: Ebony / Candy Burnt Orange
Price:
Jet Ski Ultra 310X: $15,299
Jet Ski Ultra 310X SE $15,799
Availability: Now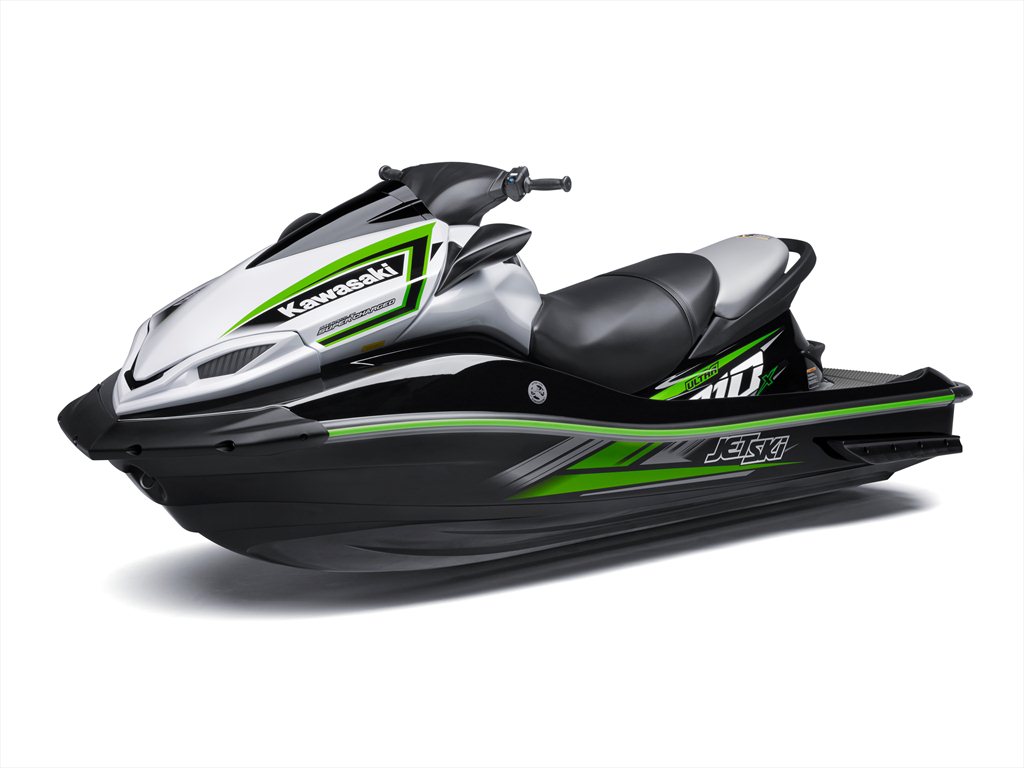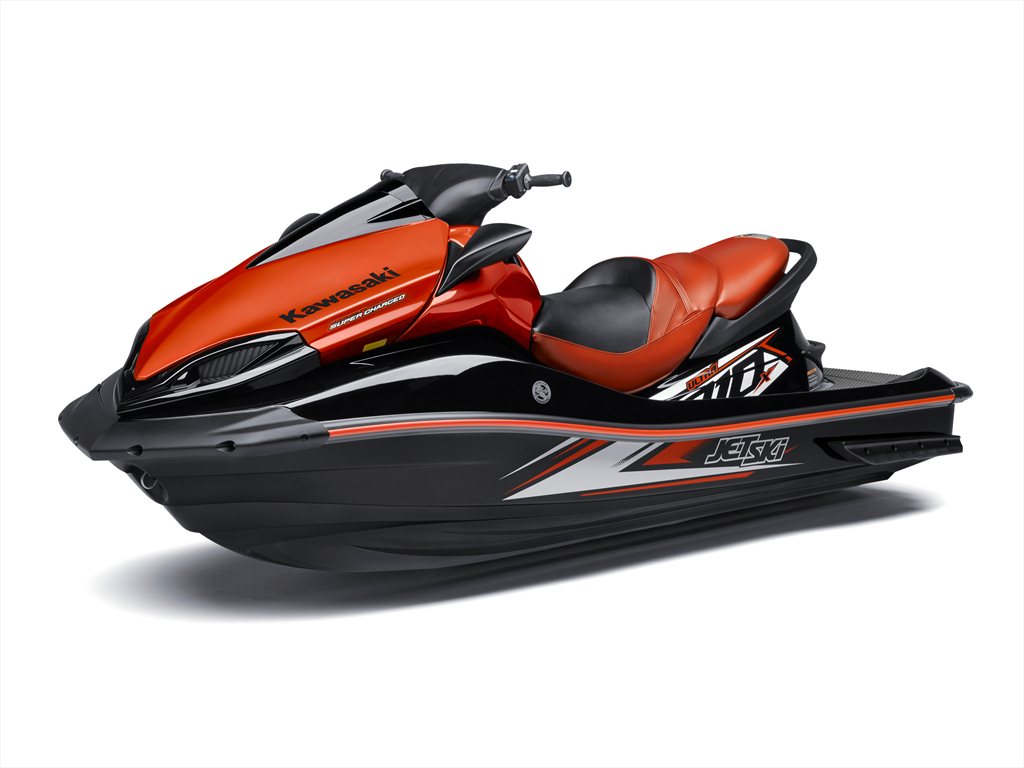 KAWASAKI JET SKI® ULTRA® LX
Family fun with the right amount of power for riders who want the luxury and convenience of the flagship Ultra®310LX will be interested in the 2016 Kawasaki Jet Ski® Ultra® LX personal watercraft powered by a naturally aspirated 1,498cc engine.
The maneuverable deep-V hull contributes to superior handling, and the vehicle boasts industry-leading storage capacity and the largest fuel tank in its class to keep the fun going for longer.
In line with its "LX" specification, this model has a scalloped seat to enhance comfort, and five-position adjustable steering in order to adapt to a variety of riders. With the SLO (Smart Learning Operation) system to limit engine speed when needed for less experienced riders, the Kawasaki Smart Steering® system for turning assistance, splash deflectors to help minimize spray in a variety of conditions, and a retracting rear boarding step make it easy to climb aboard. With so much standard equipment, the Ultra LX provides a great package of features at a lower price.
Color: Ebony / Metallic Phantom Silver
Price: $11,199
Availability: Now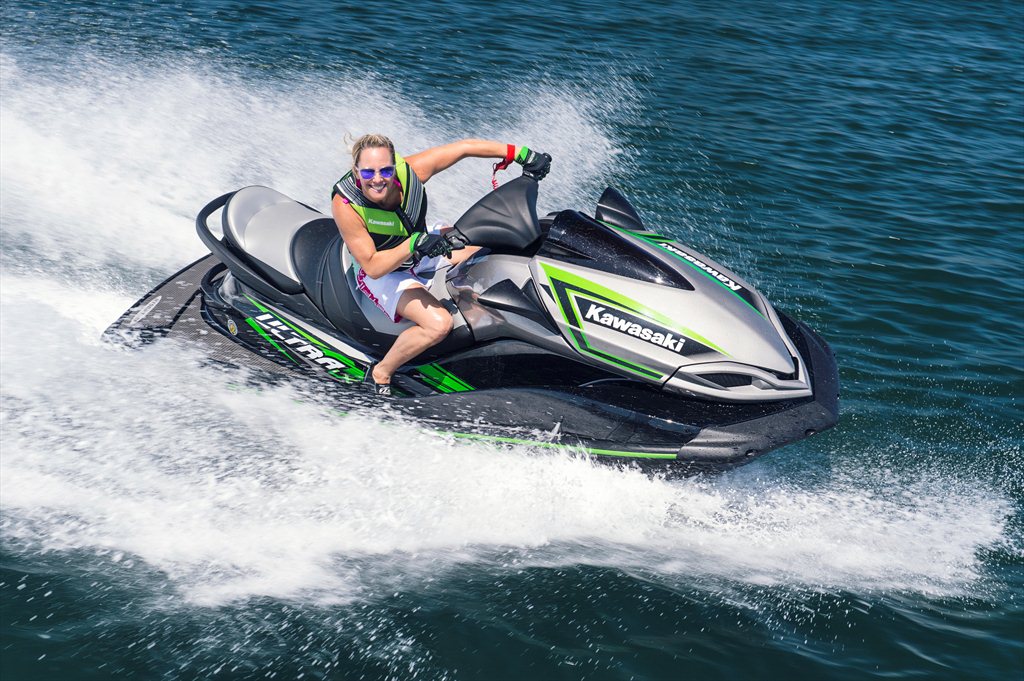 KAWASAKI JET SKI® STX®-15F
Flat-out, flat-water fun; the 2016 Kawasaki Jet Ski® STX®-15F personal watercraft doesn't cut any corners, beingequipped with a powerful engine with DFI digital fuel injection that provides great performance. It also has an agile hull for sporty handling and comfortable ergonomics for extended time in the saddle.
With its ample storage, riders can take the gear they require on each trip. This machine also features the SLO (Smart Learning Operation) system that allows engine speed to be limited when needed, and the Kawasaki Smart Steering® system, which provides turning assistance for easier handling of this extremely capable personal watercraft.
Color: Ebony / Lime Green
Price: $9,699
Availability: Now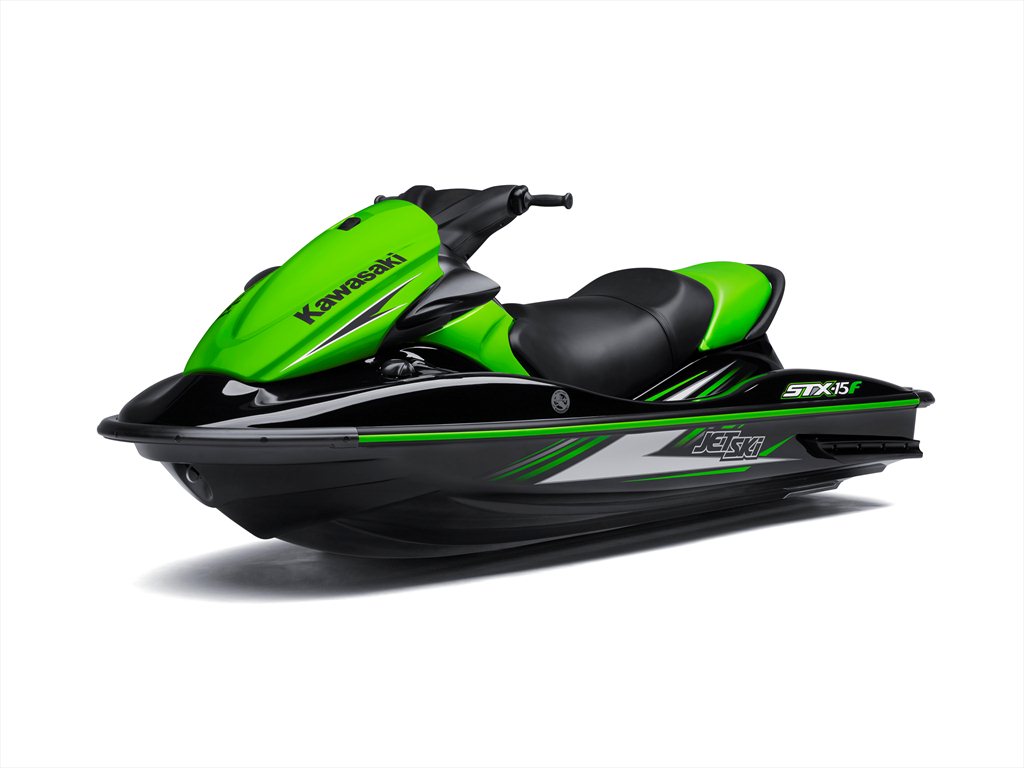 For a full spec sheet on the 2016 Kawasaki Jet Ski® STX®-15F personal watercraft, visit www.kawasaki.com
ABOUT KAWASAKI
Kawasaki Heavy Industries, Ltd. (KHI) started full-scale production of motorcycles over a half century ago. The first Kawasaki motorcycle engine was designed based on technical know-how garnered from the development and production of aircraft engines, and Kawasaki's entry into the motorcycle industry was driven by the company's constant effort to develop new technologies. Numerous new Kawasaki models introduced over the years have helped shape the market, and in the process have created enduring legends based on their unique engineering, power, design and riding pleasure. In the future, Kawasaki's commitment to maintaining and furthering these strengths will surely give birth to new legends.
Kawasaki Motors Corp., U.S.A. (KMC) markets and distributes Kawasaki motorcycles, ATVs, side x sides, and Jet Ski® watercraft through a network of almost 1,200 independent retailers, with close to an additional 7,400 retailers specializing in general purpose engines. KMC and its affiliates employ nearly 3,100 people in the United States, with approximately 300 of them located at KMC's Irvine, California headquarters.
Kawasaki's tagline, "Let the good times roll"®, is recognized worldwide. The Kawasaki brand is synonymous with powerful, stylish and category-leading vehicles. Information about Kawasaki's complete line of powersports products and Kawasaki affiliates can be found on the Internet at www.kawasaki.com.
Like, Tag & Share!