2017 Kawasaki SXR to be Featured on Cover of May/June Spring Issue of Pro Rider Watercraft Magazine!
Pro Rider Watercraft Magazine​ is once again thrilled and honored to have had the opportunity to work with major industry leaders, event promoters, photographers and brilliant authors in the creation of this year's Spring issue and in celebrating the innovation of new PWC technology brought in by the new year.
The 2017 May/June Spring issue money shot goes to Kawasaki and the new 2017 Kawasaki SXR. Since Kawasaki's initial unveiling of the 1500cc 4-stroke powered stand up at the 2016 IJSBA​ World Finals, in Lake Havasu City, Arizona, the SXR has been a hot topic among all PWC enthusiasts. When offered the chance to test the SXR both near and abroad first hand, we leapt at the opportunity to say the least. Read more about the 2017 Kawasaki SXR experience in this issue of Pro Rider Watercraft Magazine!
Pro Rider Watercraft Magazine was recently invited to test the new 2017 Kawasaki SX-R 1500 where Pro Rider West Coast representative, Dan Lindgren​, traveled to sunny California to experience the green machine first hand! On the other side of the country on the beautiful coast of Florida, Watercraft Superstore​ assembled their team and guest panelists who had the privilege of test riding, and reviewing, two pre-determined 2017 models from PWC manufacturers Yamaha, Kawasaki and Sea-Doo for the annual SkyWay Ski Show.
More exciting features include the latest details on the new Krash Industries​ KV997cc engine and complete ski packages, overview of the world's first electric stand-up personal watercraft, the Free Form Factory Inc.​ Gratis X1, racing action from P1 AquaX​, Jettribe USA​ Best of the West Tour, Bud Light JetJam Racing​ 2017 Tour, free ride and freestyle action from the Wave Daze Freeride, UK Battle of the Pilots, JSRA British Freestyle championships and more.
Don't miss this issue's Future Threats, social media top spots, Gear Giveaway Photo Contest, Fitness Tips, Stroker Industries​ Trigger, Optimum Racing Factory​ product review, Pro Rider Products and removable pull out poster to further enhance your experience.
Visit Pro Rider Watercraft Magazine on Facebook, Instagram at @proridermag, and online at www.proridermag.com for news, announcements digital issue access and extras!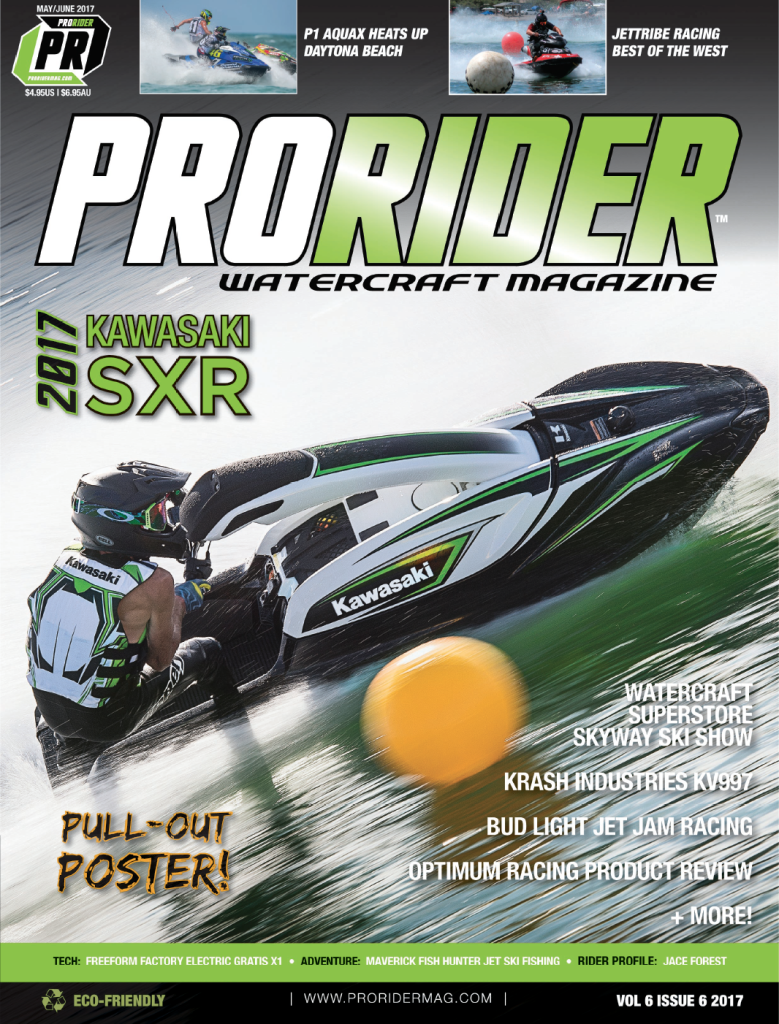 Like, Tag & Share!