REMINDER: The 3rd annual 2014 Spring Bash hosted by the Tampa Bay Jetski Club and the Orlando Watercraft Riders is coming up this weekend! (April 12th and 13th) Prorider is a proud supporter of this event and will be present to show our support as we have from the beginning.   The weekend will be raising money for the Give Kids the world Village again this year.   Give Kids the World Village is a nonprofit resort where children with life threatening illnesses and their families are treated to a cost free fantasy vacation.
This is a worthy cause, so if you are a PWC enthusiast and have nothing to do this weekend, come join the fun and help raise some money while doing what you love.  Last year the event raised approx $3500 for the cause.
There will be an opportunity to demo some of the newest skis on the market courtesy of Cycle Springs Powersports.  Other activities include a poker run and slalom race.  2013 AquaX 250 Class Champion, Ron Jon Levy won the Spring Bash Slalom race last year and rumor has it he will be on hand to defend his Slalom title.  Here is your chance to challenge the champ!
The event will take place at the beautiful Magnuson Hotel Marina Cove in Tampa.
Purchase your event tickets here: www.eventbrite.com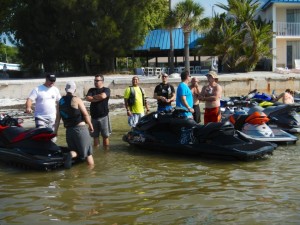 Sponsors and Supporters of this year's event:
CycleSprings Powersports:   www.cyclespringsonline.com

The Jetski Store,  www.thejetskistore.com
BLUE    www.blueoceanfilmfestival.org/
SeaSpecs, Surf monkey bags, Cooper Anchors, Seminole Powersports, Cabot, P1AquaX USA Race series, Prorider Watercraft Magazine,