Brent Venderey is relatively new to the PWC race scene but in those few years that he has been with us he has been very busy on both the race and promoters scene.  Prorider managed to nail Brent down  for 5 minutes to find out what is going on in the Verderley / HydroX world.
PR How long have you been racing and how did you get into the sport?
BV I am pretty new to the sport of Watercraft Racing. 2014 will be my 3rd year/season racing the water scooters! I raced Motocross for about 20 years and had to stop and let my body heal from the list of injuries. I moved to Florida shortly after, and needed something to replace the urge to get back on a bike. I figured, Florida, water… I'll get a jet ski and jump some waves! I bought a '04 RXP in 2010, started riding and competitiveness immediately came back. I kept telling my friends "I think I am pretty fast on these, I think I am going to start racing." I bought a 2012 RXP-X when they first came out and showed up in Tavares, FL. to the Mikey Young's Pro Hydro-X opening round, which was the beginning of the 2012 season.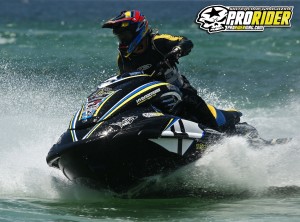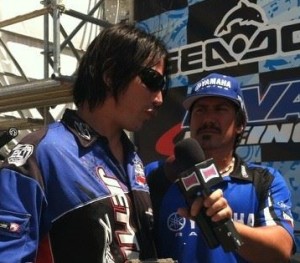 PR What is your favorite race venue?
BV It's hard to choose but two completely different locations stand out for me.
My favorite National Tour stop is Panama City Beach, FL. I love the beaches and atmosphere there. The water is beautiful and for three years running the conditions are always challenging and fun to ride in.
On the regional level, my favorite is Tavares, FL. The city of Tavares is so involved and supportive of PWC Racing and they pretty much give us run of the area when we roll in. It's really nice that everything from the hotel to entertainment is all right at the race site. After racing all day it's nice not having to really go anywhere afterwards.
PR Would you prefer to race or promote if you had to choose one?
BV If I had to choose, there is no question… racing!
I also realize that I can not race forever, so eventually promoting will take racing's place. Don't take me wrong; I am definitely passionate about the promotions side of the sport., and I have some goals and vision of what I would like to contribute to PWC Racing through promoting. However, I will NOT be slowing down my racing schedule until I have some big trophies and titles on my wall! J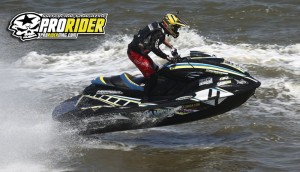 PR The ProhydroX tour Round one is coming up this weekend, can people still enter this round and if so where do they go to do that?
BV Definitely!
Our registration is similar to the National Tour in that you can sign up all the way until the morning of race day. We prefer that everyone pre-register because it makes our lives a lot easier and the race day go a lot faster. We also offer a discount for early registration.
Racers can pre-register through our website www.hydrocross.com by clicking "Register to Race" on the top menu bar. Once racers register through our website scoring and results are almost completely automated, close to "real time" and available via web.
Everyone can also register the Friday night before the event in person at a designated location until 9pm, or for the slackers, the morning prior to racing.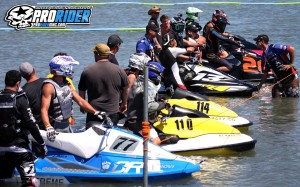 PR What is the wildest thing that has happened to you on tour?
BV Man, this is a hard question. Each weekend there are about 20 different memorable, funny, ridiculous stories, pranks and inside happenings that come to mind. Each morning, especially Sunday in the pits is basically a recounting of all the Saturday day and night's drama and entertainment. It's almost like a giant traveling rock band full of lead signers and guitarists! (band joke)
I think the wildest thing so far was after 2013's National Championship round in Charleston, WV. The "Golden Circle" crashed the hotel restaurant after the crowning of the National Champions for the season. Optima Racing Mike had us dying of laughter impersonating Dean Cherrier, Rob Flores, AJ, Cliff and a lot of other "characters" on tour. Once the restaurant got tired of us and kicked us out, the party moved to the hotel parking lot and into the back of Flo's trailer. It went on until the early morning. I remember stumbling out the hotel entrance early the next day and seeing the ridiculous and hilarious aftermath in the parking lot and thinking "hurry, get to the truck before someone sees me and I get blamed!"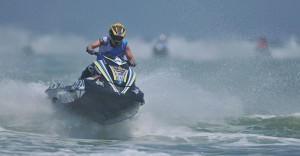 PR What advice would you give to someone who is new to the sport?
BV First I would say do not be intimidated. PWC Racing, and the people involved in it, are some of the most fun, laid back, helpful and approachable people in any motorsport I have ever seen. It is part of the lifestyle and a huge part of what makes it awesome! The "Water Scooter Traveling Circus" is my second family!
Second, get some seat time on your machine; spend some time turning it around a buoy or two, ride with someone and learn how your machine is going to handle while riding in a wake, and most of all spend enough time to get a little comfortable on it. Come race day, you want your reactions to be as ingrained in your mind and automatic as possible.
Last and I think most important of all… have fun and be passionate! Your heart has to be in this because there will always be ups and downs. It is easy to be on top of the world when you are standing on the podium, and you have to have fun with the journey to glory or you will burn out.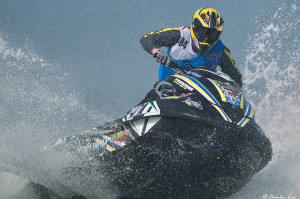 PR What do want to achieve this year on the race scene and what do you want to achieve on the promoters scene?
BV On the race scene, I am not much different than every other racer out there, my first goal is to win and get my Yamaha and me on the top of the podium! I think the immediate goal I need to achieve to get there is consistency on race day. My riding is getting pretty consistent with all the practicing I do. However I need to step up my boat preparation, testing between races, and preparedness for each of the tour stops pits, and the mechanics involved with getting to the starting line and being able to remain focused on winning.
On the promoters scene consistency is my main goal as well. I want provide our racers with great events, in great locations, with great racing for years to come. For 2014 we scaled back our tour to three weekends to able to really focus in on racing, and putting on a great event in cities that are as passionate about what we do as we are. From my perspective PWC Racing is in a rebuilding cycle, and sponsors are key to its success until we have more racers joining the sport. The Cities that want us there, and want to see the show that is watercraft racing are becoming our biggest sponsors. So the main goal for 2014 is to provide our Racers, the Cities and spectators a great racing event each time we show up!
PR Anything you would like to add?
BV First, I would like to thank my race and series sponsors: SeaDoo, Streetmoda.com, Fulmer Helmets, Shiro Helmets, Exotic Signs, PWC Muscle, Kaotik Racing and Prorider Watercraft Magazine.  I would also like to thank Yamaha, Deans Team, RIVA Racing, Exotic Signs, Streetmoda.com, Black tip Jetsports and Kaotik Ravcing,  for their race support.  I think the only other thing I would add is I love competing, promoting and in general being a part of this sport, and what I affectionately call my "race family." Even if it is dysfunctional at times it is such a great time and full of great, exciting, adrenaline filled racing every single weekend. Now let's get in the summer X Games!