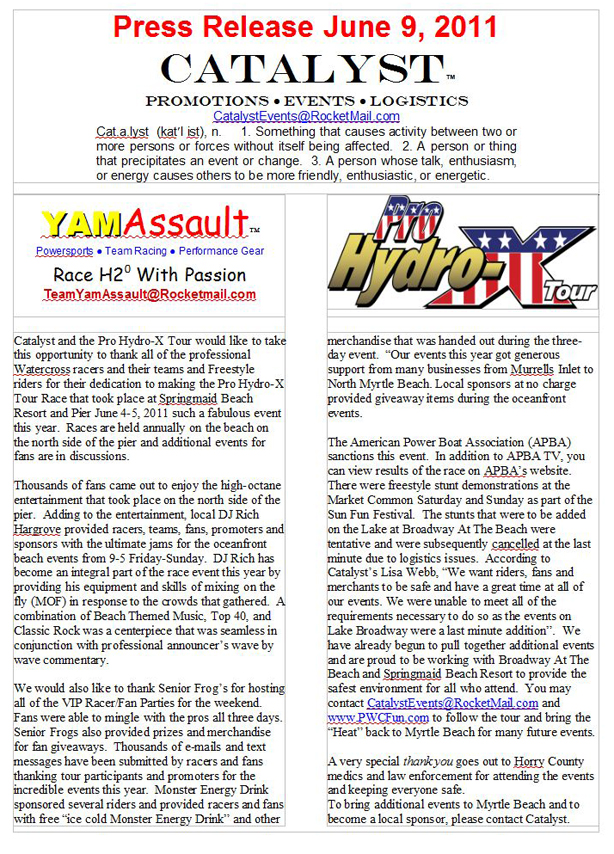 SunFun Surf Nationals a huge hit with the Myrtle Beach Fans!
The SunFun Surf Nationals, presented by the Myrtle Beach Area Chamber of Commerce, Sea Doo, RIVA Racing, Hydroturf, and Blowsion, were held in Myrtle Beach, South Carolina on June 4th and 5th as a part of the APBA'S Triple Crown. There were thousands of fans in attendance throughout the weekend at the Springmaid Pier to cheer on their favorite racers and freestylers as they battled the challenging surf of the Atlantic Ocean, while listening to DJ Rich and the Pro Hydro-X (pronounced hydrocross) tour announcers Mike Young and Jason Stoyer. The weather was most excellent for racing with temps in the 90's and a slight breeze out of the northwest and bikinis as far as the eye could see and a killer racer party at Broadway on the Beach's, Senor Frog's!!!
Moving on to Pro Racing…King "D" aka Dustin Farthing was the the big money winner of the weekend taking home over $1k and he lead every lap in the Pro Runabout Stock and Open Classes. Dennis "D-Mac" Mack, sponsored by Judge Motorsports, took a pair of second place finishes, and the "Filthy Pirate" Rob Greenwald took the third place booty in that class! Amy Green, one of the fastest ladies on the water took the Pro Womens Runabout Class over Naut Wukin's Erika Olde, of Canada. Amy also won in the Expert Runabout Ltd Class on both days. Pro Ski rider, Jimmy Wilson, of North Carolina took the GP Title for the weekend and Mike Nolan and Matt Price swapped victories in the Stock Division. Pro Freestyle was dominated by Mike "Rat Tat Tatti" Ratti who took his EME sponsored boats to new heights this weekend by beating X-Scream's, Jason Stoyer, who was plagued with "issues" all weekend. "Jammin" Jeff Lutkter, a Wamilton's sponsored freestyler, took second on both days.
In the Amateur ranks, former National Arenacross Champion, Jim Chester, who rides for WPS/Fly Racing was not to be denied in the ski ranks and Jordan Carroll, of Georgia, and Kevin Scott, of Florida, also had a good weekend.
This was an amazing weekend for all who attended event at the Springmaid Beach Resort. A special thanks to the staff of the Pro Hydro-X Tour, Lisa and Nick Webb, DJ Rich, the Springmaid Pier crew, and Happy Birthday wishes to Chief Scorer, Betsy Wall. Also thanks to the Tour sponsors…Rick Roy Products, Thrust Innovations, Ronnymac.com, Pro Rider Magazine, Exotic Signs, Jettribe, and newest sponsor…X-Scream. Kudos to Lack's Beach Service for the use of the pit area! There were four local TV stations that came to cover the event and I-Ball Productions will be producing two, thirty-minute shows for MAV TV. The next stop on the Sea Doo Pro Hydro-X Tour will be in Tavares, Florida, go to pwcfun.com and click on the Hydro-X Tour logo for details and entry info! See you in the Pits! Mike Young