So what do you think of when you think of Austin, Texas? Do you get visions of many places to go shop and eat? Or maybe a stroll through a field of wildflowers comes to mind? Or maybe you want to take a pit stop on 6th Street for some wild, stupid fun?
Story and Pictures by Matt McGovern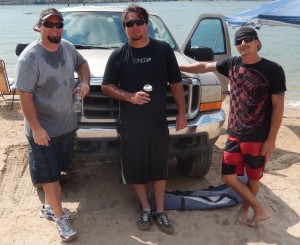 Well here's something you probably didn't know. Austin is one of the best places in the country to ride a standup jet ski. The scene in Central Texas is a lot bigger than you would think, and this was made very clear at the 6th annual Lake Travis Jet Ski Extravaganza. The event is held every year by a man whose name may sound familiar to some of you – Joe Gregorek.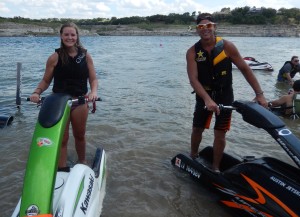 Joe is a former champion who placed 3rd in the Expert 550 IJSBA competition at Lake Havasu in 1986, as well as placing 3rd in the Lake Havasu Expert Roundabout 1200 in 2000. He is also a multi-time Texas Endurance Regional Champ. These days you'll find Joe minding his business, Austin Jet Skier, currently in its 24th year.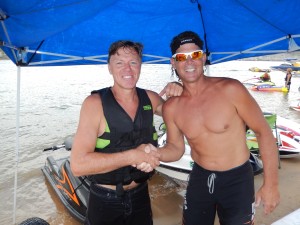 Six years ago, Joe decided to gather up some friends who share his passion for standup skis and every year the turnout gets bigger and better. The majority of the crowd at this year's event was just everyday people looking for an excuse to ride with others. However, I had the pleasure of meeting past champions like Joe, as well as Avery Williams, Doug Haggard, DL Wood, and Randy Niemann. I even got to meet current Freestyle champion Jace Forest. He was the guy everybody couldn't take their eyes off of. You couldn't miss him.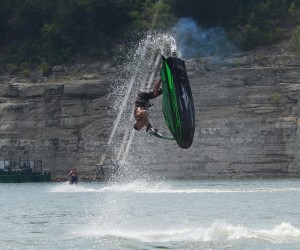 I live in Laredo, Texas, which is basically on the Mexican border. I went through a four-hour car ride to get to the lake. I'M THAT DEDICATED TO THE SCENE. At the high point of the day, there were at least 80 people out riding and having fun with their standups. The first half of the day was very informal. Just people having fun with no rules to go by. I never thought I'd see a dog riding a PWC, I'll tell you that right now, Keep Austin Weird.
And speaking of dogs, there were a ton of them at the event. This is not only because Austin is a town that loves dogs (VERY TRUE), but also because the Extravaganza has started taking donations to benefit the Austin Animal Shelter in recent years. People graciously donated to the cause, and half of the proceeds from the raffle of free stuff such as life jackets, oils, and piston kits, also went to the shelter.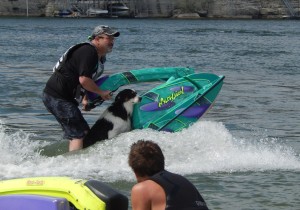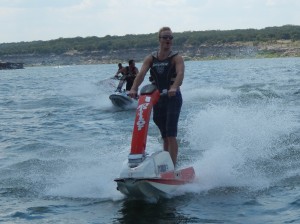 I was lucky enough to be offered a ride on a pontoon boat to get a few group shots of all the riders coming at us at the same time. This was awesome. It was like "The Perfect Storm". I felt like I was about to get ambushed by the coolest outlaws on the water.
After everybody had their fun with pictures, Joe decided to put together a closed-course timed event. For a small fee, all riders had to choose between a Kawasaki X2, a Yamaha FX-1, or a Kawasaki 800 SX-R and go for the best time. 50 percent of the prize money was to go to the overall winner, while the other half went to the Austin Animal Shelter.
The buoys were all set up, and all riders got one practice lap, followed by one timed lap. After watching many awesome, action-packed runs, with a few wipeouts here and there DL Wood managed to take the win with Joe Gregorek second and Randy Niemann coming in third.
So after all the action, plus several pounds of grilled meat in all our bellies, everybody started packing up the standups and headed out. And at the end of the day, we were able to raise $1,105 for the Austin Animal Shelter.
As I was making my way back to Laredo on another four-hour drive, there were three things going through my mind – how bad the sunburn on the back of my neck was going to be, how much of a sweetheart Doug Haggard's daughter Lexxye was (you don't meet girls like her every day), and the statement that was no doubt on everybody's mind……"I can't wait for next year!"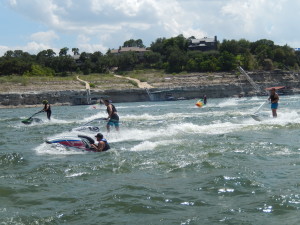 If you want to find out more about the Jet Ski Extravaganza, call Austin Jet Skier at 512-288-7424, or visit their Facebook page.
Oh, and if anybody reading this article is looking for a spot for a major event……COME TO TEXAS!!!!! WE NEED YOU!!!!!!!!!