Pro Rider Watercraft Magazine is once again thrilled and honored to have had the opportunity to work with major industry leaders, event promoters, photographers and brilliant authors in the creation of this year's Summer issue and in celebrating the innovation of new PWC technology.
The 2017 July/August Summer issue money shot goes to pro freerider Abraham Hocstrasser, captured in  mid-flight by Pro Rider contributing photographer John Baker, while competing at the UK Battle of the Pilots Newquay, England tour stop of the IFWA World Freeride Tour. Follow Abraham Hocstrasser, fellow free riders and the IFWA World Freeride Tour in this issue's IFWA feature!
More exciting features include the latest details on the new Belassi Burrasca, Sealver WaveBoat, SBT aftermarket engines, racing action from P1 Aqua X, HeyDay Pro Watercross National Tour, Jettribe Racing Best of the West Tour, Bud Light Jet Jam 2017 Tour, AJSBA Watercross Nationals, free ride and freestyle action from the US Freestyle Championship, European Freestyle Championship, UK Battle of the Pilots and more. Don't miss this issue's Future Threats, social media top spots, adventure feature, jet ski fishing, Gear Giveaway Photo Contest, Fitness Tips, Sand Docker lineup, BbTalkin' USA's waterproof communication systems, Pro Rider Products and removable pull out poster to further enhance your reading experience.
Visit Pro Rider Watercraft Magazine on Facebook, Instagram at @proridermag, and online at www.proridermag.com for news, announcements digital issue access and extras!
All of us at Pro Rider Watercraft Magazine extend our thanks and appreciation to everyone who makes it possible for us to provide this quality publication and work with such talented and passionate individuals. It is extremely gratifying to receive and share your letters, photos, event announcements and product information.
Please be sure to take a moment to visit our advertisers in person or online. With their support, the team and contributors at Pro Rider Watercraft Magazine are able to deliver nothing but the best, high quality content to you. We welcome your feedback, suggestions and submissions.
We hope you enjoy the 2017 July/August Summer issue of Pro Rider Watercraft Magazine!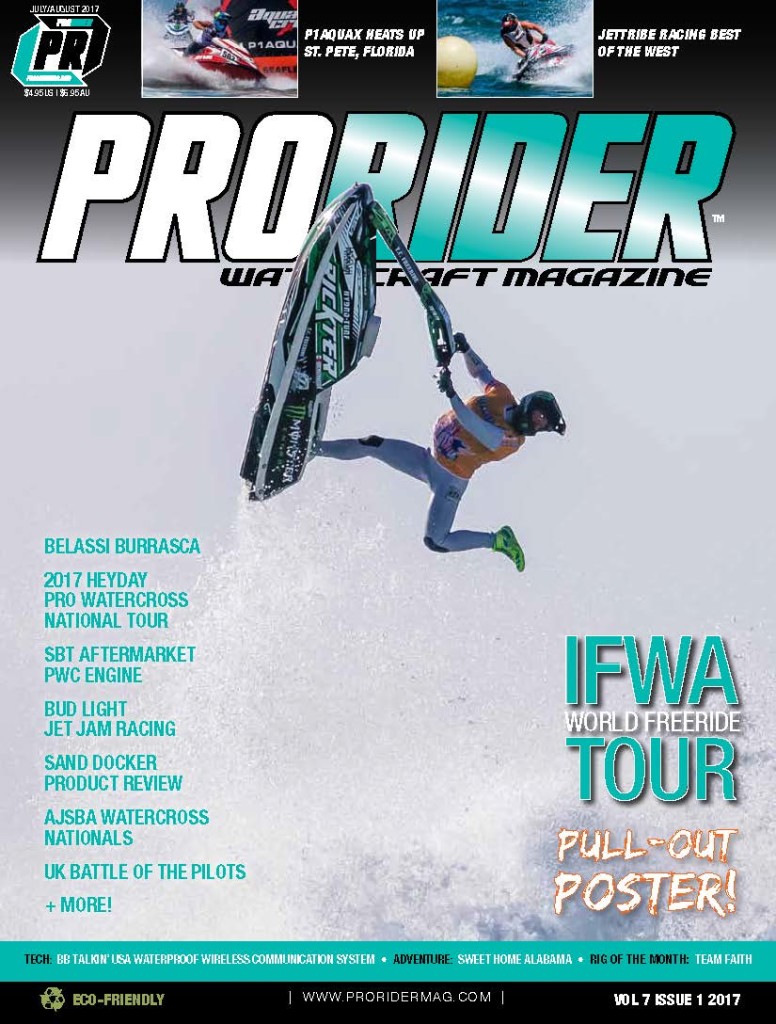 Like, Tag & Share!