A star-studded gathering of World, European and National Champions head up a stunning international field of 91 riders from 19 countries at this week's Grand Prix of Italy at Idroscalo in Milan, 5-8 June, round 2 of the UIM-ABP Aquabike Class Pro World Championship.
Of the 22 Italian riders entered, hopes of home success falls squarely on the shoulders of Mattia Fracasso, Alberto Monti and Valerio Calderoni, but all three are facing stiff challenges in their respective categories.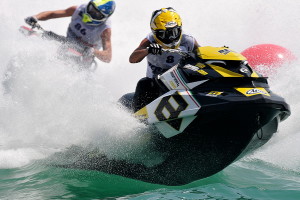 In Runabout it is Fracasso's Marina4 team-mate Cyrille Lemoine who will start as one of the hot favorites. The 36-year-old from Lyon in France leads the title race from countryman Teddy Pons by seven points after the duo traded wins in Qatar and both will be looking to take advantage of the absence of defending World Champion Yousef Al Abdulrazzaq, out through injury. 11-time World Champion Lemoine will be confident of extending his lead, and arrives in Milan on the back of wins in the opening rounds of the French Championship.
Fracasso sits in seventh in the points chase, a place and three points ahead of countryman Lorenzo Benaglia, and is another rider boosted by success in National races and will be determined to deliver the vital home win he needs to put himself right back in the mix for the World title.
The 34-year-old from Vicenza is the defending European Champion and was impressive in the season-opener in Qatar and looked to be back to his best and produced the kind of form that took him to the 2011 UIM-APP World title, but was thwarted and frustrated in race 2 by bad luck and mechanical issues. 'A win in Milan is very realistic and is the target,' said Fracasso. 'I have been training hard and the team has been working on upgrades on the bike and engine. We will be ready.'
In Ski GP1 the line-up is littered with potential race winners, but the intrigue will surround round 2 of the battle between two of the sports superstars, double World Champion from France, Jeremy Poret, who leads the points' standings after winning both races in Qatar and America's multiple World title holder, Chris MacClugage.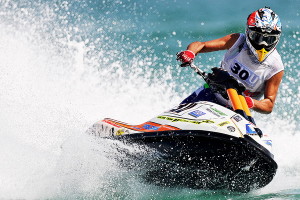 The American is a giant of the sport and will be out to make up for his frustrating near-miss on his UIM-ABP debut in Qatar in March when he broke within one lap of the win that would have given him the GP title. 'Now it's all about Milan. We will have some new engines for the race and looking for a great result.' he said.
But if the duo loses sight of the talent lining up beside them, the way is open for a handful of riders to steal their thunder, the chasing pack likely to be headed by Portugal's Tiago Sousa, the defending European Champion who sits in second place 14 points shy of the leader, and defending World Champion Mickael Poret in fifth place.
Italy's Alberto Monti is in fourth place and is one of the most experienced racers on the tour and has been a consistently strong performer over the last two years finishing third in the title race and will be looking for his first win since Qatar 2013.
Looking to make up for a frustrating time in Qatar is 21-year-old Spaniard Nacho Armillas who lost out on third overall after his bike failed scrutineering, the youngster from Besalu maturely taking it on the chin and vowing to hit back in Milan.
In Ski Ladies the line-up is boosted by the welcome return of triple World Champion Julie Bulteau who takes on two of her countrywomen, the current points' leader Jennifer Menard and second-placed Estelle Poret, Italy's Marta Sorrentino and Swedish newcomer Jonna Borgstrom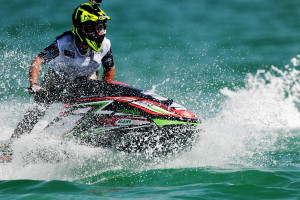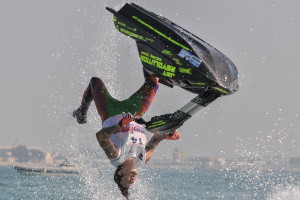 Facing probably the toughest challenge of all is Italy's flamboyant Freestyler, double World Champion Valerio Calderoni, who has the daunting task of trying to dislodge the seemingly unbeatable current World Champion Rok Florjancic, and overcome 2012 World Champion Nac Florjancic.
The Slovenian brothers have dominated Freestyle over the last two years on the UIM-ABP tour, Rok unbeaten in 18 starts winning nine GP titles and Nac picking up one GP title and finishing second six times.
The Grand Prix of Italy will undoubtedly deliver four days of spectacular racing, but also entertainment with the inaugural Aquabike Music Festival (AMF) and a host of internationally renowned musicians and up-and-coming DJs sharing centre stage with racing's elite.
The action kicks off on Thursday afternoon at 14.30hrs (local) with qualifying for round 2 of the Runabout and Ski World Slalom Championship, which along with the Freestyle Show takes place at 20.00hrs (local).
For more information visit: aquabike.net
For further information about the Aquabike Music Festival visit: amfevent.com