AquaMoto Grand Prix saves the day!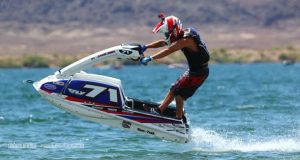 When we heard that Chris "the fish" Fischetti was up to no good we knew we had to get in on the action.  Just before Chris' run at the Mark Hahn he told us about his plans for the AquaMoto vintage race which was going to run along with the Lucas Oil Drag boat races. It all sounded like a really cool and unique event with the only downfall being a clash date with the Jetttribe Parker event.  Even so, the Aquamoto drew in a great line up with the likes of Victor Sheldon, Mark Gomez, Larry Hoesli, Tommy Bonnacci raced his blaster in Sport Vintage.  Not a line up you would see every day.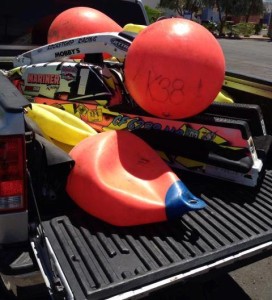 When the wind blew up Saturday afternoon at Rotary Park Lake Havasu the drag boat racing had to stop as the water became choppy and not safe to race.
Aquamoto then stepped it up with additional races to entertain the crowds including a sudden death two ski, two lap races.  "I bracketed the racers and ran two at a time." Chris explained, "It was great, a lot of fun and very competitive it was really cool."  When asked how he managed to even the playing field in the death match between the skis he said "I would have the slower skis take off from the start line and the faster skis would start with the lanyards out.  It worked out really well."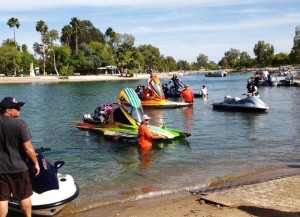 Event sponsor Jettrim was present with their vintage ski display which was a crowd pleaser as always. "We had a great vendor area." said Chris,"it was perfect."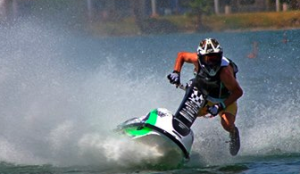 "I am very pleased with the way it turned out. We had some vendors come out which gave it a great feel."  Aquamoto is going down in history as the race that saved the day for Lucas Oil Drags by being able to keep the spectators on site as Mother Nature did her best to ruin the weekend.  But what is next for the fish?  "Hmmmm…you never know. There may be things brewing."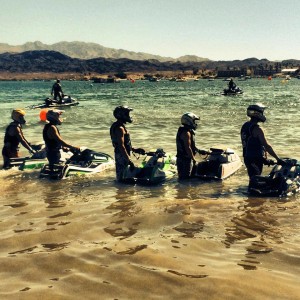 Chris would like to thank the supporting sponsors for AquaMoto:  Jettrim, TechOne, SkatTrak, Gasket Technologies,  Liquid Militia, AZ Cyclesports, Watcon.com, Hookit, K38 Rescue, Bomber Eyewear, ACS Graphics,  Lucas Oil and Prorider Watercraft magazine and Ronnymac.  More to come on the AquaMoto!….Stay tuned.