It has passed.  The first round of the AquaX USA presented by the US National Guard was a whirlwind of racers, surf and sun.  The world famous Daytona Beach was a hive of activity over the weekend as racers from all over the world converged to battle it out on the surf.
Photos by Charlie Lai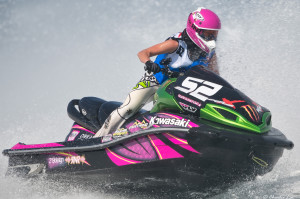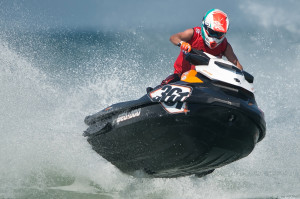 As round one weekend drew near, racers grumbled about the predicted ankle lappers sized waves that and glass like water conditions but as it was last year, if you wish for something, it may just come true.  Although we did not get 6ft rollers AquaX experienced last year, we did get fast breaks causing difficult conditions and choppy waters.  This year's race was most definitely a challenge for the 45 runabouts that showed up to race.
"Last year's conditions were easier to negotiate," explained 250 Class winner Eric Lagopoulos, "The waves were bigger but they we rolling evenly.  This year the water was choppier making the conditions a challenge."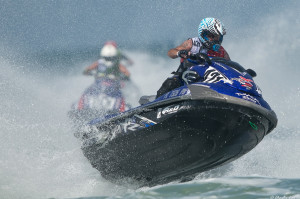 The series broke its own entry record this round with 45 runabouts causing a split of the classes.  Twenty six 300 class racers put on an amazing show as they roaring along there shoreline to the first turn buoy. Some described it as giving them goose bumps it was that impressive. The 250 and the 200 class were run together and was equally impressive to watch.
AquaX USA new comer and overall winner of the 300 class, Stuart Rasmussen put on a stellar performance on his Kawasaki Ultra in the 300 class along with Eric Francis and Aero Aswar.
"That was the toughest and longest I've ever raced. I Loved it. You must be in good shape to win. I love that it's stock skis only." Said Rasmussen.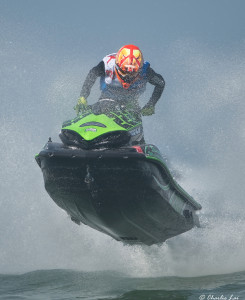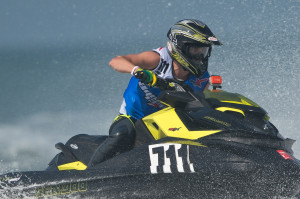 The 200 Class overall win went to Rob Greenwald who was racing AquaX USA for the first time on his Yamaha VXR,  Jason Maxson and Kelly Belval rounding out the podium.Eric Lagopoulos rode flawlessly on his SeaDoo GTR and took the overall in the 250 class followed by "RonJon" Ron Levy and Tim McKercher rounding out the podium.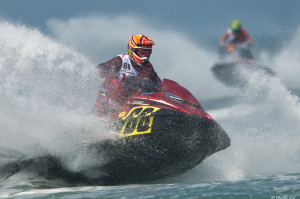 Daytona AquaX USA debuted its first stand up ski race and what an entertaining race that was! There was a small entry for this round and almost reminiscent of last year's first ever AquaX.  Something tells me that the Cocoa Beach round may have more stand up racers on the water. Congratulations to Kirk Britto for the win in the ski class with Jeremy Schandelmayer in a close 2nd!
The Daytona round will be airing on Florida FOX sports network and MAVTv.  You can also watch the footage that was taped and aired on live feed during the race on the P1 Superstock Youtube channel.
A full account the event will be published in AquaX USA official Media sponsor Prorider Watercraft Magazine.  Make sure you get yours!