Australian Kawasaki Team to be Featured on the Cover of the 2015 Spring PWC Review May/June Issue of Pro Rider Watercraft Magazine
Cover Photo: Andrew Donovan
Graphic Design: Troika Studio
Pro Rider Watercraft Magazine is proud to unveil the cover of the highly coveted 2015 May/June Spring Review issue! This issue's money shot is the work of the very talented Andrew "Skip" Donovan from Gold Coast, Queensland, Australia. Andrew is a well known photographer throughout Australia and abroad for his jet ski and lifestyle photography.
As an affiliate of Pro Rider Watercraft Magazine, and supporter of the AJSBA Yamaha Australian Jetcross Championships, Andrew selflessly travels to all rounds of the tour and was in Sydney during Round 3 and 4 when he snapped the money shot of Dane Alberti who was racing the Show Room Stock class for the Brisbane Kawasaki Racing Team atop a Kawasaki Ultra 310X. Dane was also nominated for the Pro Rider Rising Star award during the weekend. 
Andrew explained, "I was chest deep in the water with all of the riders coming at me. Due to a light wind, I had to constantly turn around to protect my camera equipment from the spray that was coming in from the boats. I wanted to get as many shots of everyone in attendance as possible so they could all see themselves after the race".
Don't miss out on truly epic features including coverage from the 11th Annual Hot Products Mark Hahn 300, Watercraft Superstore Skyway Ski Show, Tangalooma Australian Aquatic Adventure Safari, Devas Bling, Virginia Beach Wave Daze Freeride and the 2015 Pro Rider Aftermarket Hull Review Guide.
Subscribe or renew today at www.proridermag.com!
Domestic and international packages available.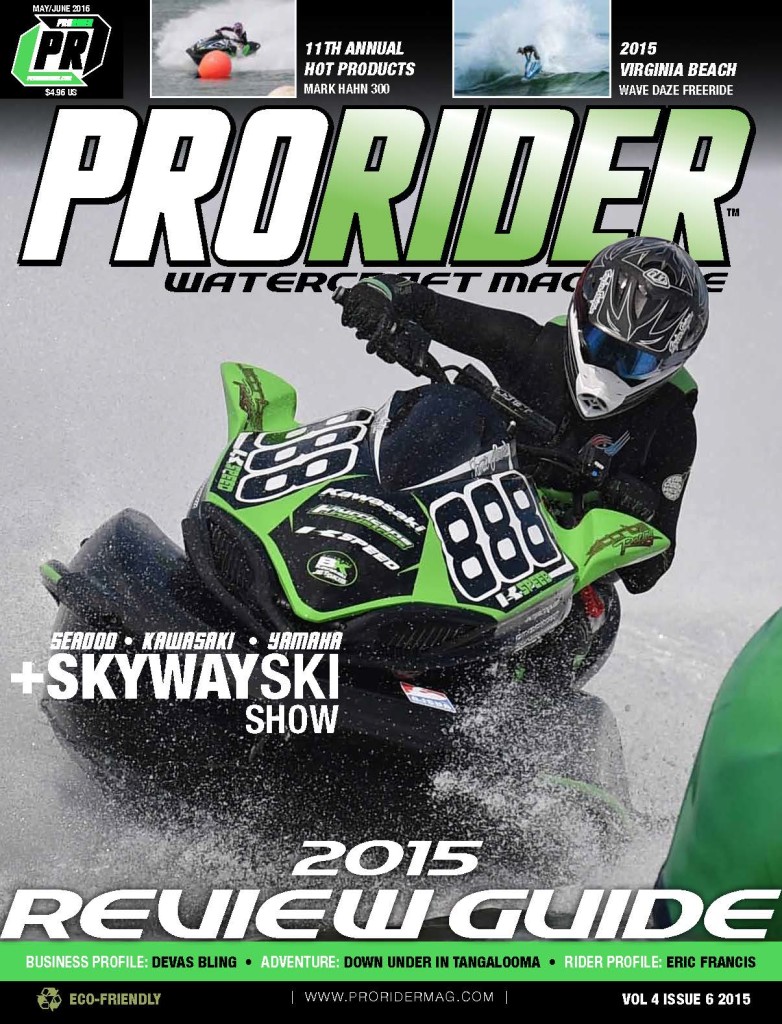 Like & Share!