Big Waves and Beautiful Days at Pensacola Beach! Hidden Trails Pro Watercross National Tour Update
Story & Photos: Pro Watercross Tour Media
The 2nd round of the Hidden Trails Yamaha Pro Watercross Tour was held in Pensacola Beach for the 2nd consecutive year with the assistance of the Pensacola Sports Association and Santa Rosa Island Authority.  The surf was huge due to a storm in the Gulf of Mexico and the waves were breaking between 6-8 feet, however the weather was outstanding…sunny with a nice breeze.  The racers would once again have to battle the water conditions which made for some extremely exciting racing on the Emerald Coast.
The Pro Ski GP Class, with the new format, which qualifies down to 1 main event, was absolutely thrilling and it was a battle of attrition to make it to the podium. Chris MacClugage, sponsored by Monster Energy/Macc Racing/Bullett Racing would have a rough start, suffering a breakdown in the qualifier, which would send him to the end of the starting line that would not dampen the spirits of the fearless racer!  Dustin Motzuris, riding for the Kommander/Rockstar camp would grab the holeshot and win a Flounder's Restaurant gift certificate, but on the second lap would take a water sample and Macc was back in business and the lead and would continue and dominate in the surf conditions to land him in 1st Place.  Motz held on to 2nd, and Rob Flores and Bill "Hurricane" Haig, sponsored by Imagination Fabrication, battle through the intense surf and Haig would come out on top for the final spot on the podium.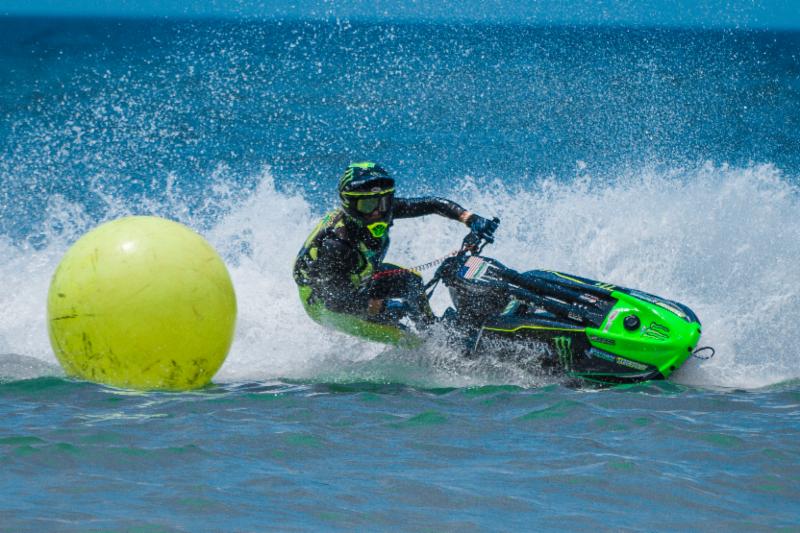 Pro Freestyle was off the chain in the surf as Jace Forest, of Austin, Texas, would face off against, "The Destroyer" Jason Stoyer, of Clearwater, Florida.  Stoyer would be the 1st to take to the water, after having a broken nozzle on Saturday, cutting his routine short.  Jason performed 21 tricks, with a good mix of flip and helicopter variations mixed with old scholl surf tricks and flair and the judges awarded him a 27.8 out of a possible 30 and the bar was set.  Forest, sponsored by Team XScream knew exactly what he needed to do!  Forest opened with a nice 4-trick combo and had momentum, then went silent for 30 seconds, leaving a short lull in his run, to the displeasure of the judges…and it would be that lull that netted him a 26.9 and just short of a win.  Congrats to Jason and "Pop Tart" Chris Langlais, who won Amateur, and special thanks to judges Robby G, Kamikaze Kantz, and Chris Anyzeski.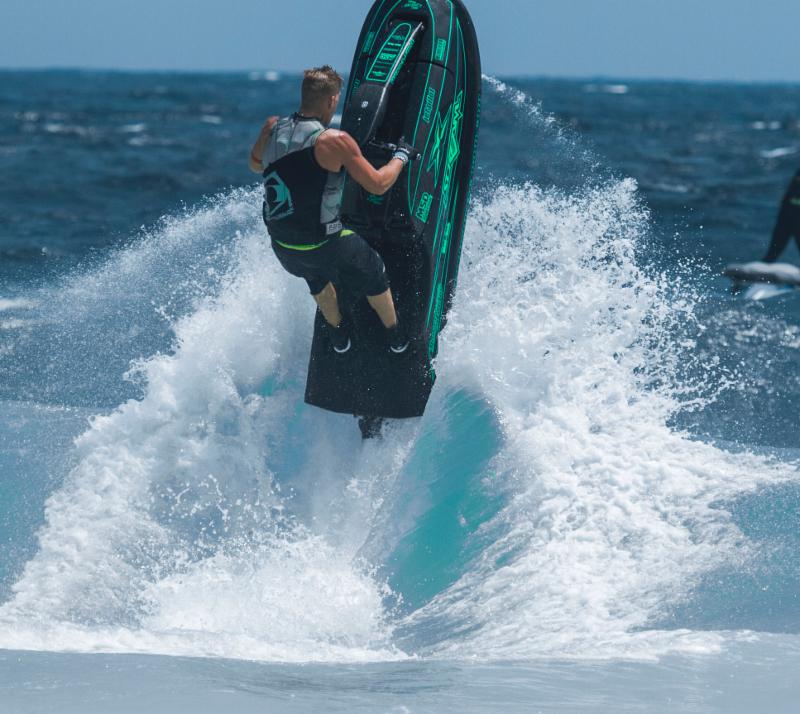 The Pro Runabout Stock offered up the most exciting racing of the weekend exciting as Eric Francis, Abdullah Alfadhel, and Brian Baldwin, would do battle on the ever-changing course.   Alfadhel, of Kuwait City, Kuwait, would earn the holeshot in the 3rd moto, but he needed help after getting separated from his boat in the 1st moto and placing 4th.  Alfadhel's Dean's Team teammate, Brian Baldwin started in 2nd place and Francis in 3rd.  There were major battles between the 3 during the 8 laps of frenzied madness.  Francis needed to get past Baldwin to take the Overall and Baldwin managed to hold him off until the last lap and the Kawasaki pilot was able to negotiate his Ultra 310 around Baldwin and hold on for a Alfadhel in 2nd and Baldwin in the 3rd place position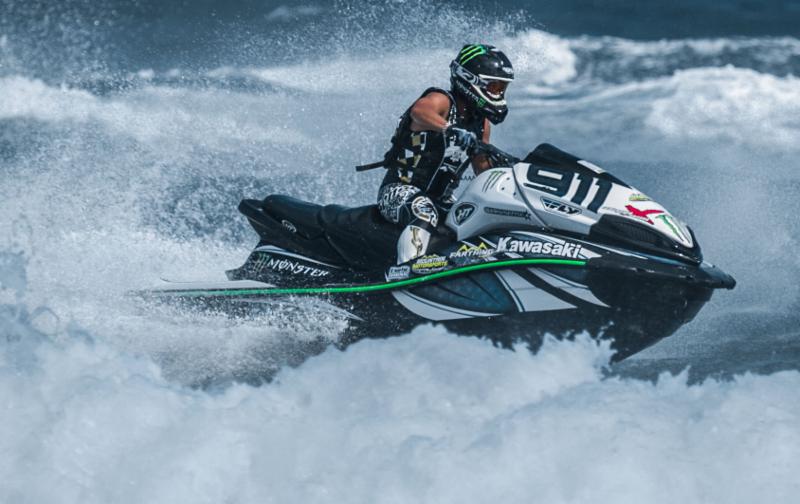 The Pro Runabout Open Class was again another battle between Francis, Alfadhel and Baldwin, and there wouldn't be much difference in the Stock Class with almost the exact same results. It was not only a battle of OEM's, but a battle of pride which made spectator-friendly racing during the weekend. Francis and Alfadhel traded moto victories in the 1st two motos, so it would come down to the 3rd and final moto!  Alfadhel, of Kuwait City, Kuwait, would grab the holeshot and hold on for most of the race, but the heavier Kawasaki proved to be the "wave crusher" on this particular weekend, same results for you top three as the Stock Class!
The newest Class of the "Pro Show" the Sport GP Class and they have earned their recognition by coming to the races in full force!  Kelly Smith, of Team Faith Racing, appeared to be the one to beat after winning the 1st 4 moto's of the season and crusin to a holeshot in the 2nd moto, and that is when depression sat in, K. Smith would get separated from his HX and end up in 7th, leaving the door open, but it wouldn't be for race favorite, Glen Jung, sponsored by optimaracing.com, as Jung had a mechanical problem in the 1st moto that landed him in 9th place, but finished strong with 2nd place finishes in the final 2 motos.  Sam Nehme, of Broward Motorspots, looked to be the favorite headed in the 3rd moto with a 3/1 finish in the 1st 2 motos, then Sam went for a swim at a most inopportune time during the 3rd moto and Chris Hyslop, of Tom's River, New Jersey would charge hard, but Nehme edged him out for 2nd place.  The "Ironman" of the weekend, would prove to be the "other"  Smith, Johnny, who races for Trinity Composites and Jet Pilot USA…Johnny rode brilliantly and stayed consistent with a 3/2/1 finish giving him the Overall and his 1st tour victory, well deserved!!
A very special thanks to all who attended the event in Pensacola Beach and a great job to the hard-working staff that had to overcome many obstacles to make this a successful event!   The next stop  is in Reno, Nevada, and we hope to see you there!!!
Each Pro Watercross Tour Stop is filmed for TV which air around the world through various regional sports networks and international distribution.
Can make the race… anyone can enjoy the race action each weekend though LIVE web streaming at www.ProWatercross.com/live and if you just couldn't get enough of the race action this weekend… watch it again at Pro Watercross Live Web Streaming Recap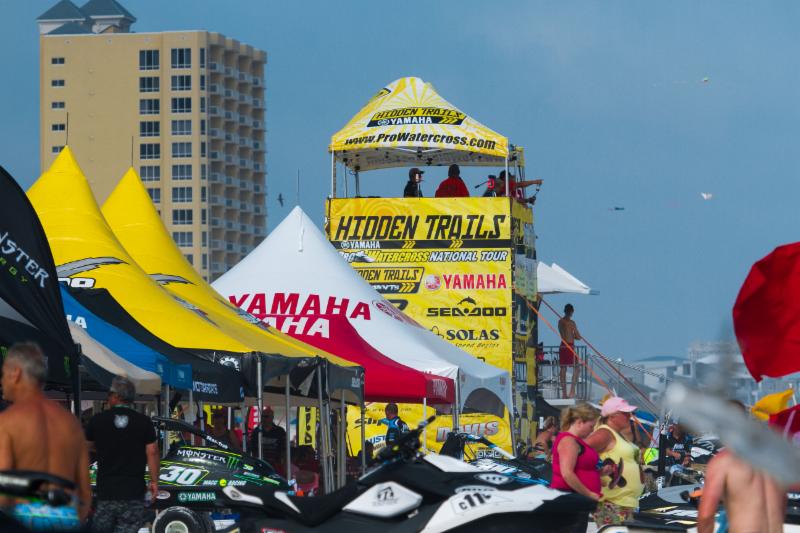 What's Next?
Round 3 for the Pro Watercross Tour heads west to Sparks, NV onJune 20-21 on the Sparks Marina Lake. This beautiful site brings to challenges to competitors; from sea level to an elevation of over 4000 ft.
JETRENU 20% OFF COUPON
ORDER TODAY!
Check out the JetRenu website for all of their great cleaning products for you watercrafts, motorcyles, cars and more at www.jetrenu.com
Use this 20% off coupon code… "Spark2015" on your order today!
ROUND 3: June 20-21, 2015
Sparks, NV(Reno)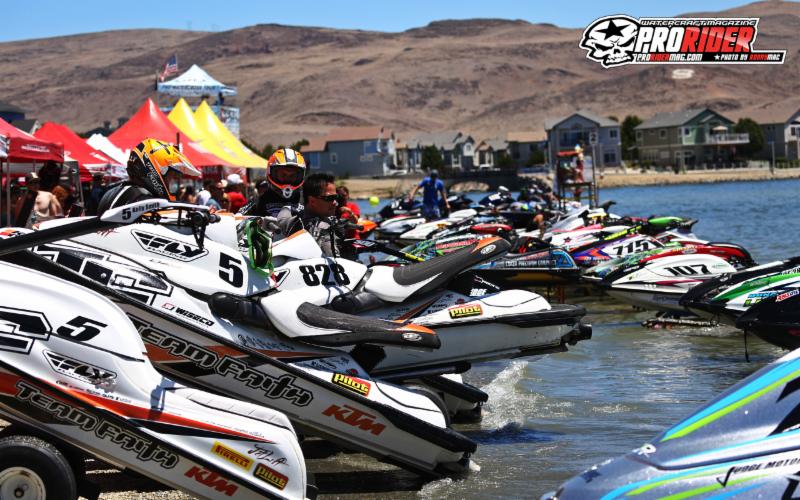 Western Village: 800-648-1170
Reservation code: LWNT15
Wednesday: $35 + tax
Thursday: $35 + tax
Friday: $69 + tax
Saturday: $69 + tax
Sunday: $35 + tax
Holiday Inn: 775-358-6900
Reservation code:
55 E. Nugget Ave., Sparks, NV
Wednesday: $79 + tax
Thursday: $79 + tax
Friday: $79 + tax
Saturday: $79 + tax
Sunday: $79 + tax
ROUND 4: June 27-28, 2015
St. George, UT
RESERVATION CUTOFF DATE: MAY 26
HOLIDAY INN EXPRESS
435-986-1313
$99 per night + tax
This rate will be available from June 22-June 29.
Ask for the "Pro Watercross Tour" room rate and CALL TODAY!
There are limited rooms at this rate, which will book up quickly and this rate is only available until 5/26/2015.
CORAL SPRINGS RESORT: We are very excited about the upcoming Pro Watercross Tour. We think that our property is an ideal location for the racers and tournament organizers. Below you will find special tournament rates and information regarding the property.
Weston Sill | Coral Springs Resort
98 North 6690 W. St. George, UT 84737
Office: 435-879-5839
Ask for the "Pro Watercross Rate"
Coral Spring Resort's suites are brand new and offer resort luxuries and comforts, including central air conditioning, fully-equipped kitchens and complimentary wi-fi in every suite. The Suites are perfect for sleeping entire families and multi-room groups. Each suite features a full kitchen, outdoor fireplace, wireless Internet and cable TV. On site, you can enjoy the indoor and outdoor pools, spa, fitness center, tennis court, and basketball court.
The rates are included below:
1-Bedroom / 1-Bath: $199/night plus a one-time $65 clean fee (Sleeps 2)
click to view photos
(Master Suite w/king)
Nightly Rate: $159/night
Weekly Rate: $799/week
***Note: There is no Jacuzzi tub or fireplace in the 1 bedroom suite. They are all ground level West facing suites. They are accessible for mobility-challenged guests.
2-Bedroom / 2-Bath: $299/night plus a one-time $75 clean fee (Sleeps 4-10)
(Master Suite w/king; 2nd bdrm w/ 2 double bunks or queen bed & detached full bath)
Nightly Rate: $239/night
Weekly Rate: $999/week
3-Bedroom / 2-Bath: $399/night plus a one-time $85 clean fee (Sleeps 8-12)
click to view photos
(Master Suite w/king; 2nd bdrm w/ Queen; 3rd bdrm w/2 double bunk beds)
Nightly Rate: $319/night
Weekly Rate: $1199/week
***Coral Springs is ideal for these types of events: Lockable Storage closets for equipment, tons of outdoor parking for trailers, garage parking that can fit trailers.
ROUND 5: July 18-19, 2015
Lewisville, TX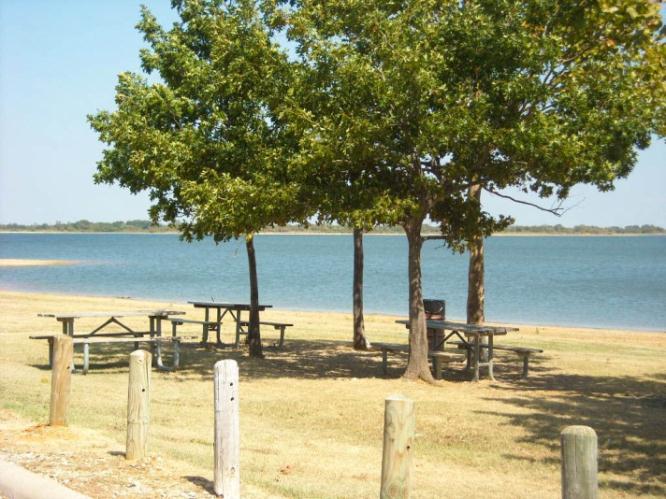 Trailer/Truck Storage:
Hampton Inn & Suites
972-315-3200
Reservation Code: "Pro"
2650 Lake Vista Drive
Lewisville, TX 75067
$ 109.00 per night + tax
Click here to book online
Springhill Suites
972-221-2999
Reservation Code: "Pro Watercross"
720 Vista Ridge Mall Drive
Lewisville, TX 75067
$105 per night + tax
Click here to book online
Suburban Hotel
972-459-7777
Reservation Code: "Water"
1920 Lakepointe Drive, Lewisville, TX. 75057
$59 to $89 per night + tax
First floor room available.
Click here to book online
For more hotel information for Lewisville go to www.prowatercross.com/lewisville
Hidden Trails Rider Support Program for Pro Watercross Member

We are pleased to announce that Hidden Trails Motorsports / Yamaha will be the title sponsor of the 2015 Pro Watercross National Tour.  The Pro Watercross Tour is the premier closed course racing series in the United States and we are excited to partner with a series that offers a spectator friendly atmosphere and incorporates the finest professional and amateur racers from around the world.  As this sport continues to improve, we look forward to being a positive force behind its growth.
As the title sponsor of the Pro Watercross Tour, Hidden Trails Motorsports wants to offer all Pro Watercross Tour members a very unique benefit.  For the entire 2015 race season, we are offering all racers the opportunity to purchase Units at our Invoiced Cost, plus Setup and Doc fees.  We are not just talking about PWC's, we are talking about any model, any brand, ATV's, UTV's and Motorcycles that we have available in stock.  Racers will also receive 15% discount on all OEM parts.  HTM currently carries the following OEM's:
–         Yamaha
–         Can-Am
–         Sea-Doo
–         Spyder
–         Suzuki
–         Christini
This kind of support has never been offered before on such a large scale and will be the closest many racers ever get to receiving "Factory Support".   We are proud to be able to give back to our PWC Family and look forward to supporting the industry that brought us so much over the years.
All questions regarding full details for this Pro Watercross Tour – HTM Racer Support Program, please contact Trey Frame by e-mail:   trey@hiddentrailsmoto.com