BROWARD MOTORSPORTS PRO WATERCROSS WORLD CHAMPIONSHIP SITE INFO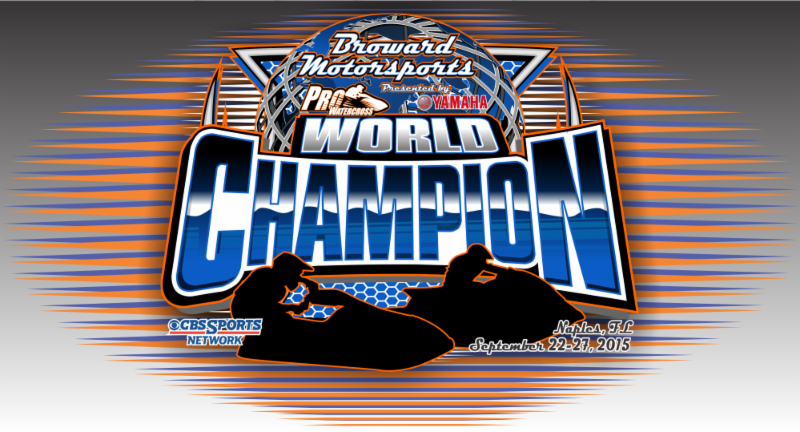 TUESDAY
Check-in/Registration:9:00 am – 3:00 pm
Rider's meeting Roll Call:11:45 am
Rider's Meeting: 12:00 pm
Tentative Devotional with Team Faith:Immediately following rider's meeting
Practice:1:00 pm
Racing: Immediately following practice
WEDNESDAY – FRIDAY
Check-in/Registration:7:00 am – 3:00 pm
Rider's meeting Roll Call:7:45 am
Rider's Meeting:8:00 am
Tentative Devotional with Team Faith:Immediately following rider's meeting
Practice:9:00 am
Racing: Immediately following practice
SATURDAY
Check-in ONLY NO REGISTRATION:7:00 am – 8:00 am
Rider's meeting Roll Call: 8:15 am
Rider's Meeting:8:30 am
Devotional with Team Faith:Immediately following rider's meeting
Practice:9:30 am
Racing: Immediately following practice
SUNDAY
Rider's meeting Roll Call: Announced at Saturday's riders meeting
Rider's Meeting:Announced at Saturday's riders meeting
Devotional with Team Faith:Immediately following rider's meeting
Racing: Announced at Saturday's riders meeting
Awards Banquet: 6:00 pm
The 2015 Pro Watercross World Championships is sanctioned and governed by Pro Watercross and run according to the Pro Watercross rule book. All participants must be a current Pro Watercross competition member and must present proof of valid membership to compete. Please bring your Pro Watercross membership cards with you.
REGISTERING OR CHECKING IN TO RACE
You may register to race up until 8:00 am on the day of the schedule race.
Registration is open from 7:00 am to 3:00 pm Tuesday to Friday.
BEFORE GETTING ON THE WATER
Check in or register for the event – must have wristband and tech decal
You are required to abide by all the rules set forth in the Pro Watercross Rule Book, this include knowing the code of conduct and all safety rules.
ON RACE DAY
Riders Meetings is mandatory that all participants attend the published riders meeting at the scheduled time for each of the classes entered. Roll call will be taken to insure that everyone's smiling faces will be in attendance.
Mandatory Post-Race Tech Inspection after each moto: Every participant that finishes the race and receives the checkered flag, must immediately proceed to the tech inspection area, and submit their watercraft for inspection. Failure to submit your watercraft for inspection may cause you to be disqualified.
Pit area is for tow vehicles & trailers only:
No ATV/UTV on grass except where directed
No one under the age (stated below per Florida regulations) driving an ATV/UTV
Minimum Age ATV Size
6 years & older……………….. Under 70cc
12 years & older……………… 70-90cc
16 years & older……………… Over 90cc
EVENT PARKING
Competitors are to park the tow vehicle and trailer within the pit area, all other personal vehicle must be parked outside the pit area. Competitors will be expected to stay in the park until the completion of days racing due to the heavy foot traffic in the area.
PIT VEHICLES
Because of the tremendous number of people that will be attending World Championship, pit vehicle rules will be strictly enforced. ATV/UTV's, Mules, golf carts, beach carts, etc. will be allowed to transport equipment to the beach. There will be a 5-mile per hour speed limit set and it will be strictly enforced. Fines will be accessed to those breaking this rule. All pit vehicles must remain in the pit area and follow the correct pathway to the race area. Please observe the speed limit signs and watch out for pedestrians and do not wreck this privilege for all racers. Those racers abusing the privilege will be fined and/or have their pit vehicle impounded.
AWARDS
The Pro Watercross World Championship awards will be presented to the top 10 riders in each class at the Awards Banquet to be held at the Naples Beach Hotel & Golf Resort and is scheduled for 6:00 pm on Sunday, September 27th. Each competitor is required to pay a $75 banquet fee; additional banquet tickets will be $40 each and must be purchased by 10:00 am on Thursday, September 24.
PLEASE NOTE:
Do not bring any trailers to the Naples Beach Hotel.
Riders that do not pick up their awards can have them mailed to them for a handling fee plus the cost of shipping. Awards not claimed by November 1, 2015 will be forfeited.

Like, Tag & Share!