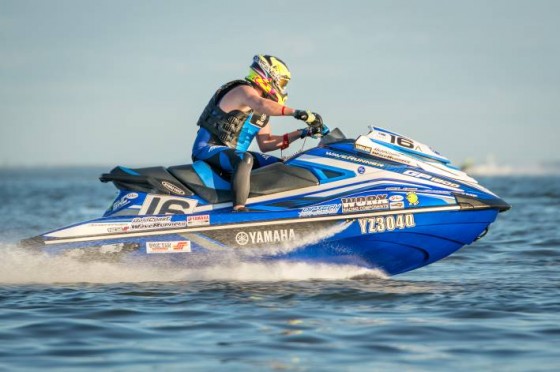 Yamaha Racers Win 2017 AJSP Australian Championships 12 May 2017
The 2017 AJSP Australian Watercross Championships held at Redcliffe Beach, Queensland on April 29-30 2017, attracted racers and spectators from all around the Nation. Yamaha Racers dominated the scene sweeping six classes in total. Of those six classes, three of those classes were dominated by seven all-new GP1800 WaveRunners, proving to be the most successful model of the Championships. [..]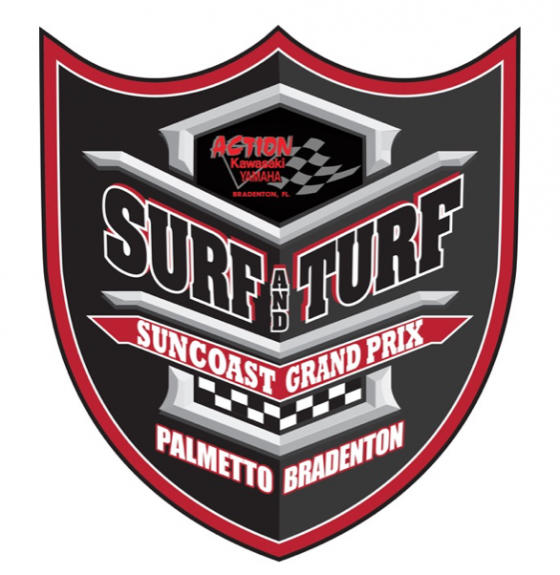 The 3rd Annual Bradenton Area River Regatta
By: Mikey Young
Photos: Pro Rider Watercraft Magazine
The 3rd Annual Bradenton Area River Regatta will be held on Saturday, February 4th and there will be plenty of action for all ages, including F-2 boat racing, the Action Jet Sports Mayors Cup, which is the 1st round of the Hydro-Turf Surf and Turf Championships. There will also be Flyboarding, Wakeboarding, Jet Ski Freestyle, Extreme Pogo demos, several concerts, 5K Run, children's fishing tournament, fireworks and much more! Over 80,000 spectators are expected!

BEAUTIFUL BEACHES, BIG SURF, THE BLUE ANGELS…
AND A WHOLE LOT OF BRAAAP

Pensacola Sports Association/Pensacola Beach, Florida has committed to a three-year contract with Pro Watercross, and will host the opening round of the 2017 season. Pensacola has been one of the tour's favorite stops for athletes, and thousands of fans lined Pensacola's sugar sand beaches and crowded the pier over the turquoise waters for the Tour's 2016 Grand Prix of Watercross. [..]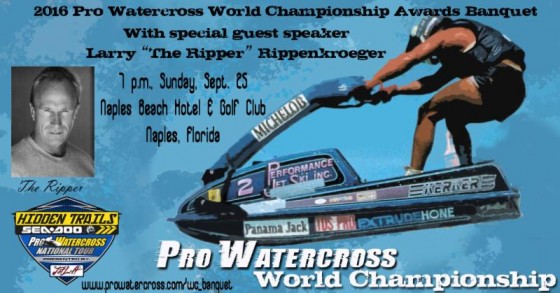 Look who's coming to dinner…
Inspirational, indomitable and influential, Jet Ski legend and stuntman Larry Rippenkroeger will join Pro Watercross for the 2016 Pro Watercross World Championship Awards Banquet and Ceremony in Naples, Florida, on Sept. 25.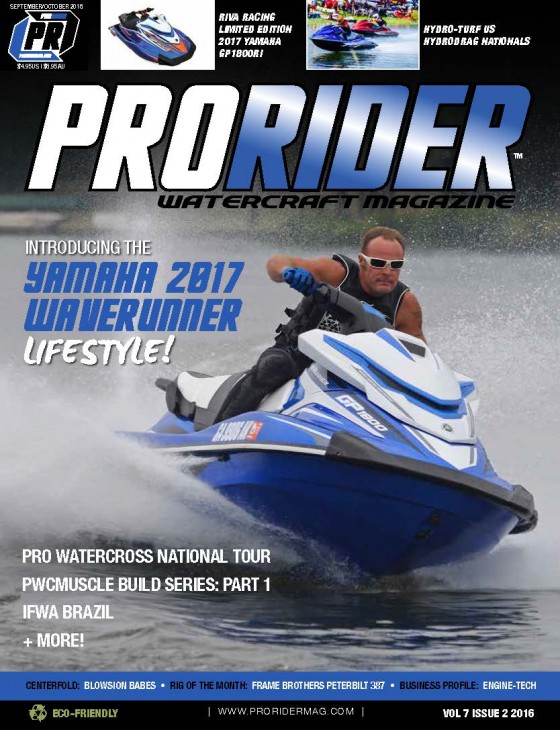 Pro Runabout Racer Brian Baldwin and Yamaha WaveRunners GP1800 to be featured on the cover of the 2016 September/October print and digital issue of Pro Rider Watercraft Magazine!
Pro Rider Watercraft Magazine is proud to present the annual 2016 September/October print and digital World Finals issue! This year's September/October issue is bigger and better than ever before. You will experience the latest PWCs from top world manufacturers, custom ski builds, the world's best racers, freestylers and more! Pro Rider is also coming to you with an upgraded spine and special Riva Racing MaptunerX Gear Giveaway.
This issue the money shot goes to Yamaha and Brian Baldwin, three time Pro Runabout World Champion and seven time Pro Runabout National Champion. This shot was taken by Digital Marketing and Communications Manager, WaterCraft Group Yamaha Motor Corporation, USA and part-time semi-pro photographer, Andrew Cullen. The Pro Rider crew accompanied Andrew on board a brand spanking new supreme handling Yamaha 212 Series boat on Lake Oconee during the 2017 Yamaha Reveal to capture some amazing images of Brian cutting it up on their all new super high performance GP1800. When asked for his initial reaction, Brian, who's been racing and winning on Yamahas for years, needed little encouragement to demonstrate multiple high speed runs and had this to say, "This ski is awesome! The new hull turns like it's on rails but is a comfortable ride. It's super-fast and the ride system is killer!"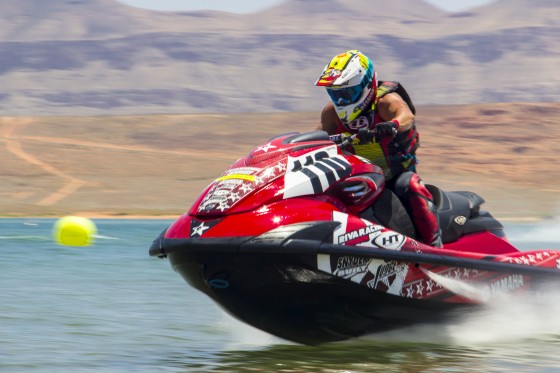 Sand Hollow State Park Hosts Pro Watercross Racing Event, June 24-25
Hurricane, Utah (June 20, 2016) – More than 125 professional and amateur watercraft racers are set to descend upon the red rocks and glistening blue beauty of Sand Hollow State Park June 24-25 the Pro Watercross National Tour's Red Desert Championship.
"We are so thrilled to bring our racers back to Utah," said Nicholas Handler, Managing Director of Pro Watercross. "Sand Hollow is one of Utah's most gorgeous state parks and is an epic site for racing."
The natural beauty in and around Sand Hollow has attracted Pro Watercross to the Hurricane, Utah, site for the second consecutive year. The location is also ideal because of the adjoining sand dunes and trails for ATVs and OHVs.