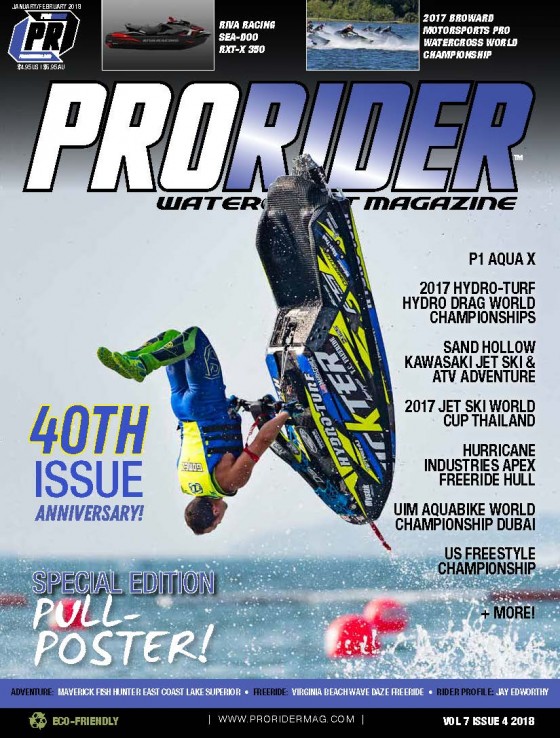 Pro Rider Watercraft Magazine is honored to have had the opportunity to work with major industry leaders, event promoters, photographers and brilliant authors in the creation of this year's inaugural January/February 2018 issue and in celebrating the innovation of international events, products and the shared passion for all things personal watercraft.
The 2018 January/February print and digital issue money shot goes to Pro Freeride World Champion, Pro Freestyle World Champion and 2017 Jet Ski World Cup Pro Freestyle Champion, Mark Gomez. The image was captured by the lens of Pro Rider contributing photographer Andrew Donovan, of Photo by Skip, who was on site with Pro Rider at the 2017 King's Cup Jet Ski World Cup in Pattaya, Thailand. Don't miss extensive coverage of the 2017 Jet Ski World Cup. [..]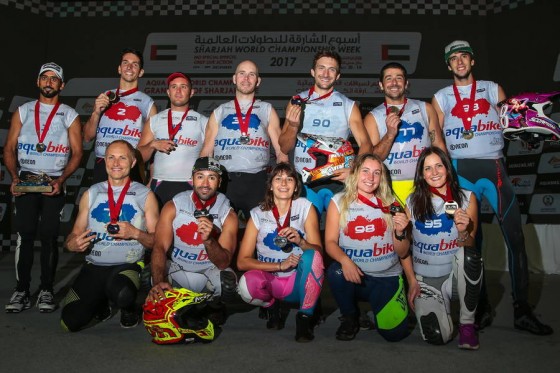 Wednesday, 20 December, SHARJAH (UAE): Sharjah served up a fitting finale to close out the 2017 UIM-ABP Aquabike World Championship, with today's final Moto deciding the Sharjah Grand Prix winners and the event closing with the crowning of the world champions.
It was a day for champions with Yousef Al Abdulrazzaq, Quinten Bossche and Emma-Nellie Ortendahl reaffirming their status as worthy world champions taking the Sharjah titles in Runabout and Ski. [..]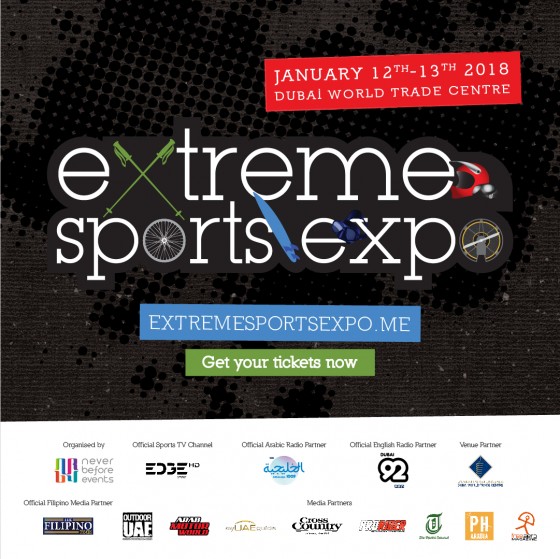 Action sports & outdoor adventure fans listen up! The Extreme Sports Expo takes place at Dubai World Trade Centre, January 12 & 13, 2018 featuring action sports across land, sea and air! For more info visit www.extremesportsexpo.me @extremesportsexpo #ExtremeSportsExpo #ExtremeSports#ActionSports #Dubai #MyDubai #xdubai
Like, Tag & Share!

Fifth and the last stop of the MotoSurf WorldCup 2017 arrived in Florida. Naples hosted the season final giving the final answers on two very important questions – who will become the Men and Women class World Champion?
For the season finals, MotoSurf series joined forces with the ProWatercross to bring the event to the beautiful Sugden Regional Park. Four protagonists in the men class still could take the World crown. Sebastian Kubinec came with a point lead from Lukáš Záhorský, Petr Vencovský and Jakub Kornfeil. The game was not over either in the women class, where reigning Champion Aneta Šacherová still had a chance to fight for the title against current leader Martina Bravencová. [..]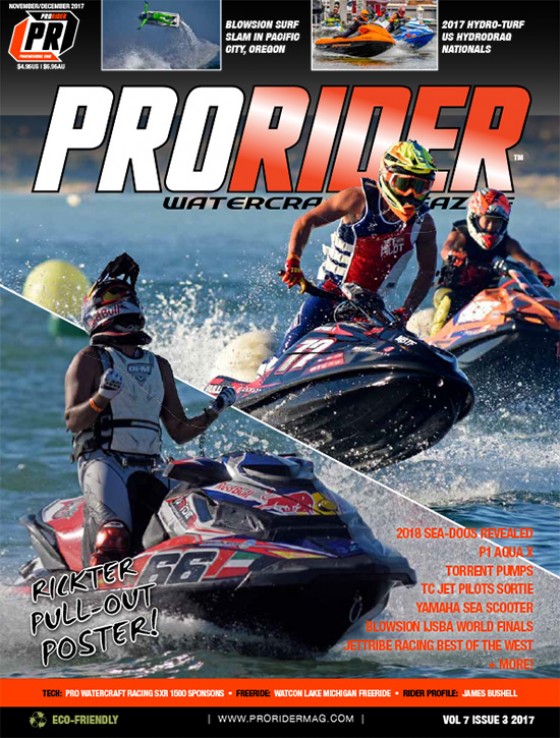 The 2017 November/December issue money shot goes to repeat Pro Ski World Champion Jeremy Poret and first-time Pro Runabout World Champion Mohammed Burbayea! These images were captured by the lens of Pro Rider contributing photographer Jessica Waters who was on site at the 2017 Blowsion IJSBA World Finals in Lake Havasu City, Arizona. [..]

Although it may be the anniversary of his death, we will always remember the great things he gave to this world and the world of jetskiing! Ride in peace, Cesare!
Like, Tag & Share!