Our Euro Jettribe Cup in Belgium was a great success. Lots of pilots from all over Europe competed in 16 categories. We had a 100 pilots and more than 150 entries, without a doubt Europe's biggest jetski event so far!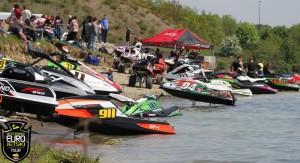 By Peter De Smet  and  Deborah Holtzer
Images by Jetskinworld
We had 14 different nationalities at our starting line. Even though it was cold on friday, we had a sunny weekend. No rain! All spectators loved it and cheered for their favorite pilot or team. The water was rough as some days we had a lot of wind. Everything took place as we only could have only hoped for. No delays, no big discussions only good spirit and good team work!
James Bushell won the Sea-doo spark class, a class we introduced this season, along with Peter De Smet ,Bart Meurrens and others they will compete in Austria to win the first European Champion title. Sport Class was won by Lee Adam. Many Juniors competed in our first Euro Jettribe cup. Marten Männi from Estonia won in Juniors 10-12 Lites. Guilbert Pierre took his first title in Juniors 13-15 Lites and also did great in Ski Lites Pro-Am ending up second. Anthony Beernaut won this category, Kevin Reiterer from Austria came in third. In Ski Pro Gp Valentin Dardilat came in first, Kevin Reiterer second and Almur Bin Huraiz from Dubai third. Our podium was filled with girls from only Sweden in Ski Ladies Pro-Am. Sandra Borgstrom took first place. Ski Expert GP and Ski Promotion Expert were won by pilots from France. Bétès Matthieu won Ski Expert Gp, Valentin Limon ran with first place in Ski Promotion Expert.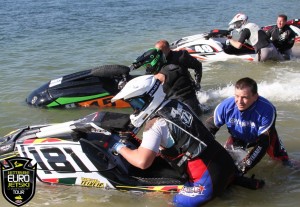 The crowd was excited when we announced our final moto on Sunday for Run Pro GP. Lots of people cheering and lots of decibels when pilots started their engines. Despite a first win in the first moto, Kasza György lost his postion due to mechanical problems in moto 2 and 3. James Bushell took second place leaving Khalifa Belselah form Dubai to win this weekend's title. Their competition to win the European title will continue in Austria and UK. We got to see a wonderful show given by all freestylers. The crowd loved them. Rashid Ali Almulla showed us an amazing routine on both Saturday and Sunday, this weekend's winner from Dubai was too strong for the other competitors. In Austria we will host the final of the European Freestyle Championship 2014. Ilias Bousselman from Belgium did an amazing job in Ski Stock Expert and Ski Limited IJSBA Expert taking two first places on our podium. In Ski Veterans Dufaud philippe won against Lagardere Bruno and in Run Veterans 35+ GP the only German pilot Wittling Frank took first place. In July we have our Eurotour Jettribe Finals, they will take place in Austria. Without a doubt it will be the jetski event everyone will be talking about. 5 days of racing in 19 categories! See you in Austria!