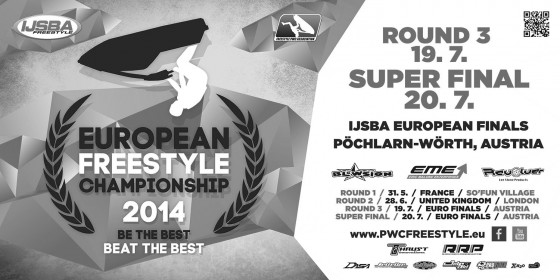 The best European Freestyle action could have been seen over the third July´s Weekend in Pöchlarn, Austria.
Story & Photos: European Freestyle Championships
European Freestyle Championship joined up with IJSBA European Finals of watercross racing for its last event of the season. On Sunday only top 5 qualified riders from each freestyle class competed against each other to earn the titles of 2014 European Freestyle Champions.
Official results:
FREESTYLE 1200 1. Kavanagh Jonathan /GBR/ 2. Niels Willems /NED/ 3. Stone Lee /GBR/ 4.Wijdeven Jessi /NED/ 5. Verhej Tim /NED/ FREESTYLE 900 1. Mellott Liam /GBR/ 2. Mykhailov Ruslan /UKR/ 3. Doorbar Joel /GBR/ 4. Ogden Darren /GBR/ 5. Hussain Tanvir /GBR/ FREESTYLE 800 1. Van Heijningen Albert /NED/ 2. Ames Chris /GBR/ 3. Frenzel Frank /GER/ 4. Badura Gregor /AUT/ 5. Chesnay John /FRA/
You can find more pictures and videos on official website and facebook page of the championship: