Grover Beach police are looking for three men who made off with a bright orange jet ski from the parking lot of the Sea View Inn in the dark of night.
Surveillance footage taken around 3 a.m. Thursday at 150 N. Fifth St. showed three men stealing the jet ski, which they took off a truck and loaded into their own newer model white Ford Ranger.
Valued at $10,000, the jet ski is an orange and blue 2012 Ski Clinic Bob Gen3 and very distinctive in appearance, according to a news release.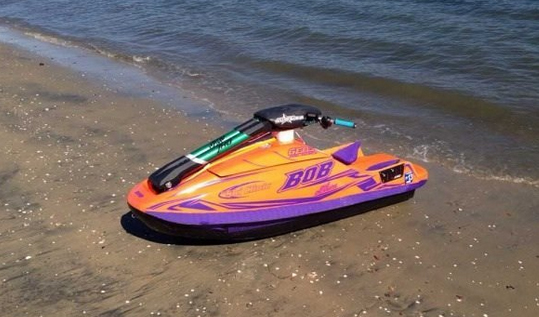 Police are encouraging anyone with information about the theft, a felony, is encouraged to call Officer Reggie Bio at 473-4511 or CrimeStoppers at 543-7867.
UPDATE:
The ski was found abandoned.  A few parts missing and beat up a bit but recovered non the less. Thanks to everyone who helped get the word out about the ski. It's possible the thieves saw the viral support on the lookout and thought it best to dump it.  Hopefully they catch the thieves as well.