When Dustin Motzouris decided to make the trek from South Africa to the USA and team up with Kommander, Jared Moore decided to tag along and race the Hydroturf ProWatercross Series along with his friend. 30 year old Moore certainly got the attention of spectators and racers when he charged to the top of the podium in Panama City Beach after a rough start in round one of the tour the weekend before.    We caught up with Jared to find out what makes him tick.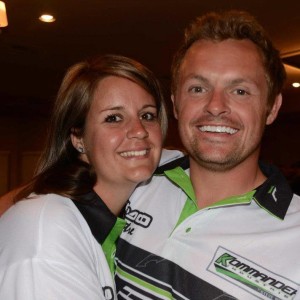 PR: Jared, you took out the competition in the Pro Open Runabout class aboard your Kommander Industries-Rock Star Sea-Doo RXP-X in round 2,  what made you decide to cross the globe to come race the US tour?
JM:  Well when Motz made the move and decided to race the tour, of course I hitch along for the ride!
PR: How long have you been racing?
JM: Damn, I've been racing for so long I can't remember. The first time I raced world finals was 2001 and slowly climbing the ranks since then.
PR: Have you always raced SeaDoo?
JM: I used to ride Kawasaki in the 2 stroke days and a little 15f stuff. Did the switch in 09 to SeaDoo and haven't looked back.
PR:  Can you also tell me what it was like racing the first two rounds in Panama City Beach and Pensacola for you?
JM:  Racing here by the beach is always good, last weekend (Pensacola) I had a small electrical problem with my ski so I rode Shante Bukes' stock ski in the open class. I got a 5 th overall, and ejecting myself in the last moto not my best day but we got some points.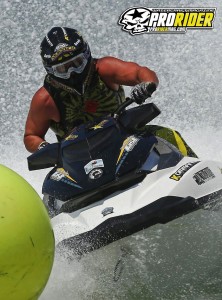 PR: The rest of the ProWatercross season is flat water, how do you predict you will do compared to the surf type courses?
JM: The flat water races will be tough I'm sure with so many fast ski's in the field but we got some good power and we can lift the nose of the ski a little to help get some more speed. But we are really looking forward to the races.
PR: Will you going to Reno to race?  If so what are you going to do to combat the higher elevation compared to racing in Florida?
JM:  I will be going to Reno and where I live in South Africa we are at high altitude (5500ft) all the time.
So we have a few tricks that we do to the pump and motor set up that should give us some good power.
PR: Well we are happy you made it to the US to race with us. Is there anything you would like to add?
JM: If I can just want to thank everyone for helping get us here.  The motz's, Webster's, Bukes and don't forget the Moore's. I Can't forget all our sponsors Kommander Ind, SeaDoo, Seadoo Centre, Burn, Rockstar, TM Trucking, LPS and Villon clothing.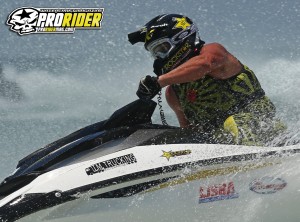 Thanks for your time Jared!  We will see you in Reno!