Pro Rider Magazine was invited to cover the second Flyboard World Cup last week in Doha Qatar.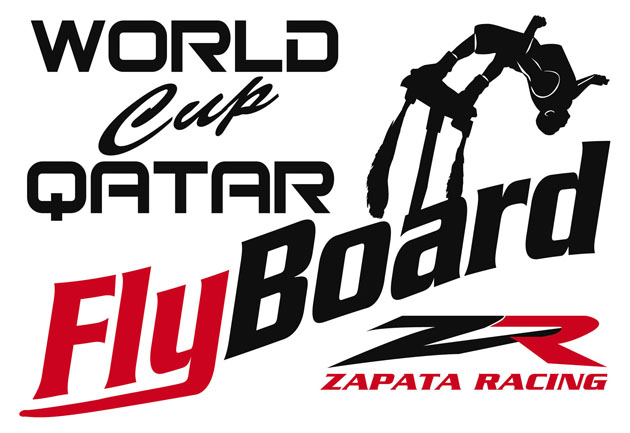 If you have been involved in PWC racing in the past 10-20 years you know the name Franky Zapata. Franky left his mark in the PWC world with multiple Titles and World championships worldwide. His invention The Flyboard is the hottest new sport on the water.
If you attended the World Finals in Havasu in October you got to see Franky rip it up on the Flyboard several times throughout the week. Franky is by far the best rider in the world, but does not compete in the World Cup as Zapata Racing is the promoter of the event.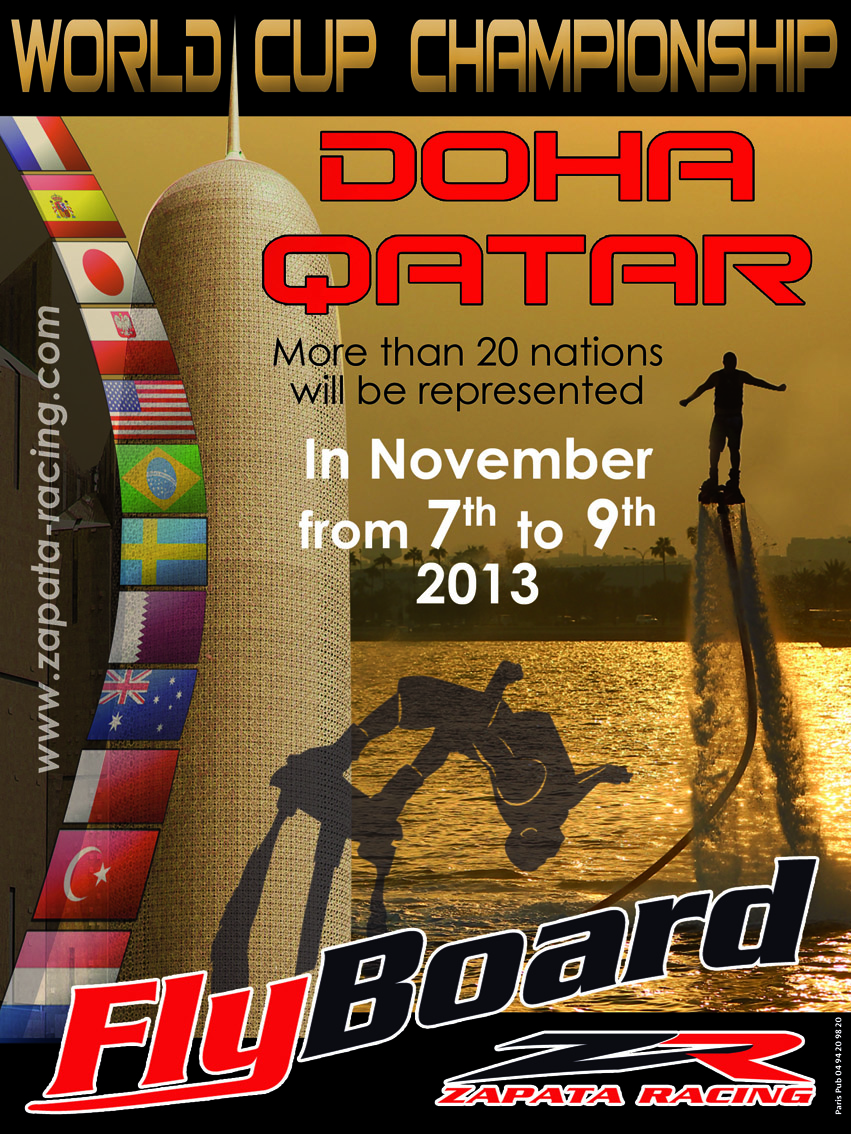 To describe the event, the phrase "First Class" is the only word to do it justice. From the picturesque event site to the 5 star host hotel, the participants were treated like rock stars during their stay in the booming city of Doha.
While I could go on and on about this event, I must save it for the legit in print magazine. For now check out the top 16 bracket results, rider list and a sample of photos. Be sure to get the Jan/Feb issue of Pro Rider for full coverage of the event. Special thanks to Franky Zapata for inviting Pro Rider to attend. Check out Zapata Racing for more info.
-RonnyMac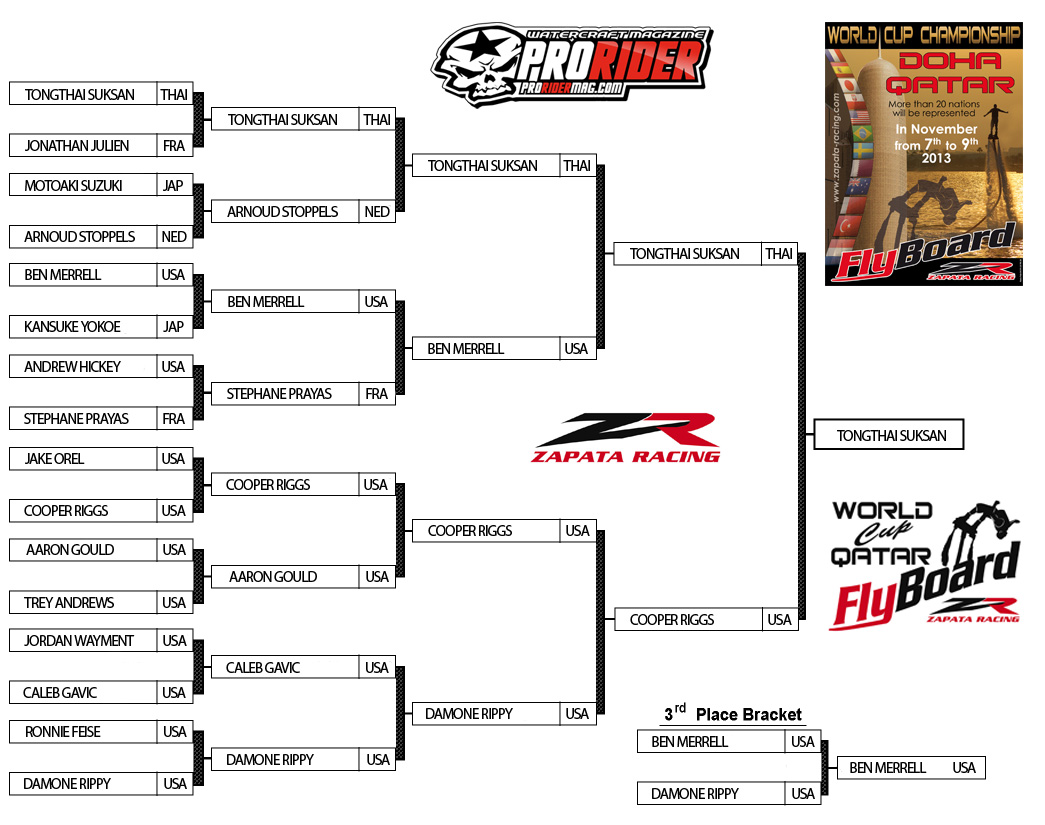 Rider list:
Argentina SCHIARITI
Argentina SPINELLI Fernando
Australia HENDRA Peter
Australia JEFFERY Dale
Australia EGAN Corey
Canada WELLS Brody
Canada BIGGAR Rodney
Canada BOUCHER Adrian
Canada ANDERSON Braden
Columbia ALFONSO Geovanny
Croatia PERKOV Josip
Croatia KNEZ Rony
Croatia ZURIC Josip
Egypt ABDOU Wael
Estonia KRUBERG Annes
Finland SEPPANEN Erik
France SELMI Ramzi
France BAIKOGLU Alexis
France CORBET Oceane
France PRAYAS Stephane
France JULIEN Jonathan
France PORET Jeremy
France CORRE Jimmy
France CANDAVOINE Mathis
France CALLIOT Laurent
France ESNARD Patrick
Italia NATALE Luigi
Japan SUZUKI Motoaki
Japan YOKOE Kansuke
Japan OSADA Jun
Malta DESIRA Simon
Morocco VITTECOQ Pierre-Alexandre
Norway JOHANSEN Carl Jacob
Nederlands STOPPELS Arnoud
Nederlands KROOK Bo
Nederlands WEISTRA Remco
Poland JASZCZOLD Robert
Poland SIKORSKI Kajetan Jan
Qatar AL KUWARI Saud Abrahim Giham
Qatar AL KHOLAIFI Abdulla
Qatar AL KUWARI Khalid
Qatar AL KUWARI Rachid Abdullah
Qatar HASSAN Mohammed
Russia TOLKACHEV Matvey
Russia KORNILOVICH Denis
Saudi Arabia DAKHIL Ahmad
Spain MC QUEEN Lindsay
Spain MARTINEZ YAGÜE Antonio
Sweden ALBINSSON John
Sweden SCHÖNBERG Oscar
Thailand SATAPORN Srirang
Thailand SUKSAN Tongthai
Thailand PICHAI Silaphat
Thailand ANON Chomsen
United Kingdom DEAR Mike
USA ANDREWS Trey
USA GOULD Aaron
USA WAYMENT Jordan
USA FINNE Bryan
USA FINLEY Jordan
USA MERRELL Ben
USA BULKA Paul
USA RIGGS Cooper
USA HICKEY Andrew
USA GAVIC Caleb
USA MARAVEGIAS Alexander
USA SOLTADO David
USA FEISE Ronnie
USA OREL Jake
USA RIPPY Damone