FLYBOARD® WORLD CUP DUBAI 2014 
Stories and Photos: Courtesy of Fly Board Media
SUKSAN TONGTHAI KEEPS HIS TITLE WITH A WORLD PREMIERE
Representing Thailand, Suksan Tongthai did not surrender his title and was for the second consecutive year the Flyboard® World Champion. He offered the public and the judges quite an amazing surprise: the first triple blackflip ever seen in a competition or on video.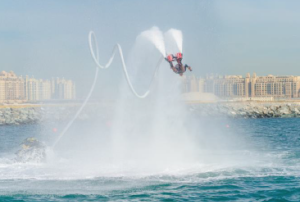 A FREESTYLE COMPETITION WITH 29 COUNTRIES REPRESENTED
For the third consecutive year, Zapata Racing gathered the best Flyboard® riders to compete for the Flyboard® World Cup which took place on December 4th, 5th and 6th in Dubai (UAE), co-organized with X-Dubai.
This competition counted 86 participants from 29 countries, selected beforehand on video. For this 3rd edition, Ladies and Veteran categories were added to allow other competitors to shine in this sport.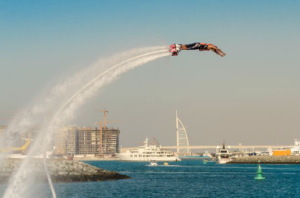 100% FREESTYLE COMPETITION
Participants were judged by a jury of 5 professionals that scored them based on the following criteria :
 Technical execution of the tricks (risk taking, technical difficulty, innovation)
 Amplitude (height, use of the space)
 Showmanship (presence, facial expression, interaction with the public)
 Energy (number of tricks, speed and pace of execution)
 Artistic aspect of the tricks and sequence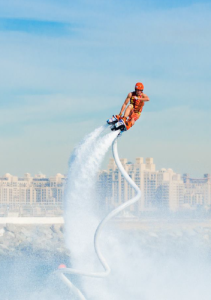 FINAL RESULTS
Pro Category 1. Suksan Tongthai (Thailand, World Champion 2013) 2. Damone Rippy (USA, North American Champion 2014) 3. Jake Orel (USA) 4. Stephane Prayas (France, World Champion 2012) Ladies Category 1. Da-Yeob Kim (South Korea) 2. Stephanie Wells (Canada) 3. Yolanda Baker (USA) 4. Claudia Osternaud (France)
The Best Newcomer award was given to Hunter Verlander, (USA) who was also the youngest competitor (15 years old).
Veteran Category 1. Laurent Calliot (France) 2. Martin Von Steednik (Sweden) 3. Dong-Won Yang (South Korea) 4. Antonio Martinez-Yague (Spain)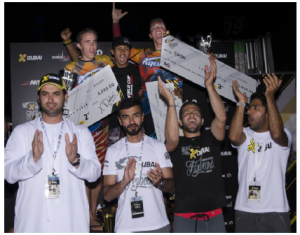 FLYBOARD® IN BRIEF
In under 3 years, Flyboard® has become an must in extreme sports. The user can defy laws of gravity by flying over 12 meters high as well as diving in and out of the water just like a dolphin.
Technically, Flyboard® is a deck mounted on two nozzles, linked to the PWC pump via a fire-type hose. The water coming through the pump is routed through the hose and the nozzles creating the thrust. The PWC power is controlled via a hand-held controller, and the movements are achieved by tilting and moving the feet.