*Rok Florjancic wins and extends unbeaten run to nine Grand Prix
Saturday, 8 March, DOHA (Qatar): The Grand Prix of Qatar ended in sensational fashion with two spectacular final heats in Runabout and Ski as French riders Cyrille Lemoine, Jeremy Poret and Jennifer Menard completed a clean sweep of the titles.
Second place today for heat 1 winner Lemoine after a thrilling race finishing just 10ths of a second behind Teddy Pons was enough to secure the points to give the French rider his third Grand Prix win in Qatar in four years.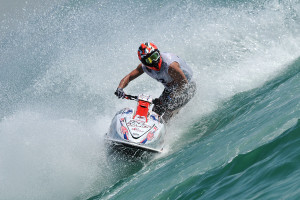 In a dramatic race in Ski the title looked to be heading to the USA when race leader Chris MacClugage stopped on the final lap, gifting the win and the title to heat 1 winner Jeremy Poret, with Jennifer Menard taking maximum points in the ladies division to take her first UIM-ABP GP title, Estelle Poret taking second overall ahead of Marta Sorrentino.
Heat 2 in Runabout was a thriller and filled with incident from the start with a degree of chaos and carnage as riders muscled their way around the opening lap, with Lemoine's challenge almost ending after colliding with a stationary bike.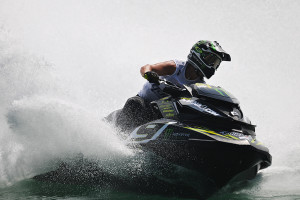 Mattia Fracasso made the better start to lead form Teddy Pons and Lemoine but the Italian's [Fracasso] challenge came to a shuddering halt at the end of lap 3 when his engine let go.
Kuwait's Yousef Al Abdulrazzaq meanwhile was on a mission to try to take maximum points after yesterday's DNF and had miraculously moved up from last place at the start in to second when he was high-sided and flung from his bike trying to pass race leader Pons on the inside at the last turn of lap 4, dropping him down to fourth.
The Kuwaiti regrouped and was making up ground on third placed Waleed Al Sharshani when engine problems slowed his charge, his race ending on lap 11.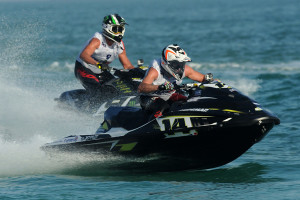 Out front Pons was desperately defending as Lemoine gradually cut into his lead, cutting the deficit from 11 seconds on lap 7 to three on lap 9. Less than a second separated the two French riders heading into the final lap, with Pons hanging on to win by the narrowest of margins and take second overall behind Lemoine.
Qatar's Waleed Al Sharshani's third place and sixth in heat 1 catapulted the local rider onto the podium.
Sweden's Lars Akerblom grabbed his best result of the weekend finishing in fourth ahead of Jean-Marc Doukhi and Ahmed Al Dawas.
In heat 2 of Ski, America's Chris MacClugage was within in one lap of delivering the ultimate hammer blow in the USA versus Europe battle when he was dealt the cruellest of blows, a broken spark plug ending what would have been a last lap victory parade to the chequered flag and the GP title.
The 18-time World Champion delivered a master class and showed his rivals a clean pair of heels from the start, passing heat 1 winner and pole-sitter Jeremy Poret to lead at the end of lap 1 by six seconds from Nacho Armillas, Jeremy Poret and Ludo Caumont.
For eight of the nine laps there was little the chasing pack could do as MacClugage controlled the race and was eight seconds clear when on the penultimate lap he started to slow and was passed by Poret, his race ending at the start of the final lap.
Poret was the first to concede that luck was with him after taking his second heat victory to win the Qatar Grand Prix title and take a 14 point lead in the title race. "I was a little lucky it was very bad luck for Mac. I didn't want that for him but it is a mechanical sport as well," said Poret. "Apart from the bad start my race was okay and I am really happy to mark my return with my third title in Qatar."
In the early stages of the race Poret trailed Spaniard Armillas after a second poor start, but moved in to second spot on lap 3 but had no answer to the pace of the race leader, and looked to have settled for second place when his rival hit trouble and went out of the race.
After being passed by Poret, Armillas was unchallenged in third, eventually finishing second, but was later disqualified for a non-conforming bike. Tiago Sousa followed Ludo Caumont around in fifth for over half race distance, but passed him on lap seven to take the chequered flag in third, then elevated to second overall in the Grand Prix ranking ahead of Caumont.
Italy's Alberto Monti clawed his way up from sixth to finish in third ahead of Caumont, with the Poret brothers Mickael and Morgan completing the top six.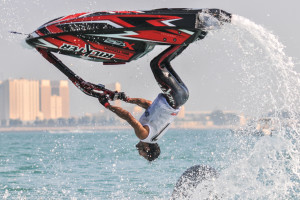 Rok Florjancic remains unbeaten in his nine Grand Prix outings and the man to beat in Freestyle, producing another near-perfect performance to score 98 points out of 100 to secure his third Qatar GP title, ahead of brother Nac and Qatar's Sultan Al Kuwari.
RUNABOUT GP1: Heat 2
1.  T Pons (fra) – 0.00
2.  C Lemoine (fra) + 0.89s
3.  W Al Sharshani (qat) + 3.36s
4.  L S Akerblom (swe) + 1:36.00s
5.  JM Doukhi +1:55:00s
6.  A Al Dawas + 1:59:00s
Grand Prix of Qatar – overall results
1.  C Lemoine (fra) 45pts
2.  T Pons (fra) 38pts
3.  W Al Sharshani (qat) 26pts
SKI GP1: Heat 2
1.  72  J Poret (fra) – 0.00
2.  82  T Sousa (por) + 11.34s
3. 30  A Monti (ita) + 18.51s
4.  6  L Caumont (fra) + 30.28s
5.  77  Mickael Poret (fra) + 45.72s
6.  7  Morgan Poret (fra) + 49.39s
Grand Prix of Qatar – overall results
1.  72  J Poret (fra) 50pts
2.  82  T Sousa (por) 36pts
3.  6  L Caumont (fra) 24pts
SKI GP1 Ladies: Grand Prix of Qatar – overall results
1.  89  J Menard (fra) 50pts
2.  1  E Poret (fra) 36pts
3.  40  M Sorrentino (ita) 36pts
FREESTYLE: Grand Prix of Qatar – overall results
1.  R Florjancic (cro) 50pts
2.  N Florjancic (cro) 40pts
3.  S Al Kuwari (qat) 32pts