Friday, 7 June, MILAN (Italy): French riders Teddy Pons, Jeremy Poret and Jennifer Menard came out on top in this afternoon's closely fought qualifying sessions locking out P1 in their respective categories Runabout and Ski GP1, and will start heat 1 of the Grand Prix of Italy in pole position.
The best of the Italian challenges came from Lorenzo Benaglia qualifying in an excellent third place in Runabout just five tenths of the pace, the veteran of Ski Alberto Monti an impressive fourth with Marta Sorrentino taking sixth.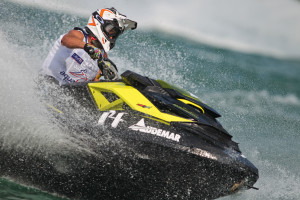 Pons dominated in Runabout going quickest in Q1 and backing it up in Q2 with a time of 1:27.39seconds, but in both sessions was pushed all the way by Polish rider Andrzej Wisniewski, the difference of nine-tenths in the first fifteen minute outing cut to a mere five-hundredths of a second by the end of a nail-biting second session. 'I am very pleased to get the pole position today but it is the race tomorrow that matters. It was not really too quick but my bike is set up really well,' said Pons. 'With so many riders it was quite rough out there but it suited the bike. I had a really good fight with the polish rider who is very quick and was pleased to see the checkered flag.
Qatar heat 2 winner' Pons will also have taken notice of the fact that the current Championship leader Cyrille Lemoine, seven points ahead of him in the title race, did not have the best of it in qualifying struggling with engine issues to come home seventh quickest.
Two of the most impressive performances of the afternoon were delivered by Qatari duo Mohamed Al Haidus, lying in fourth in the Championship standings, and Thamer Al Darwish qualifying strongly in fourth and sixth respectively, with Sweden's Lars Sebastian Akerblom sandwiched between them.
As expected the first exchanges in the ongoing battle betwee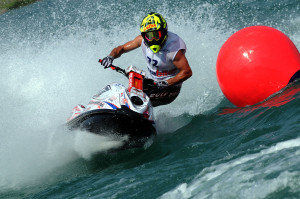 n the current Championship leader in Ski, Jeremy Poret, and Chris MacClugage, produced another titanic struggle but a different outcome to the first qualifying of the year with Poret this time outpacing MacClugage but by less than six-tenths, with a time of 1:29.16seconds.
Poret was more than happy to claim his first pole of the year and is confident he can take the win tomorrow. 'I am very pleased because this is my first event with the new bike,' he said. 'This morning it was very difficult to get used to it and make a good time, but this afternoon was good.'
MacClugage on the other hand was frustrated, when his first flying run which he thought was very quick was not timed. 'I thought I had seen the green flag and really went for it but then realized the yellow was out and after that I made a couple of small mistakes. There is also one turn on the course that I need to improve on but the bike is running great and we see what happens tomorrow."
Portugal's Tiago Sousa and France's Alex Barret produced their best qualifying performances of the year finishing third and fifth quickest, Monti matchinghis in fourth spot.
Of the three pole-sitters it was Jennifer Menard who looked unbeatable, attacking the 27-pin, 1500 metre course from the outset to leave her rivals in her wake to qualify in P1 three seconds clear of Estelle Poret, producing one of her best qualifying performances, with newcomer to the UIM-ABP tour Sweden's Emma Ortendhal going third quickest.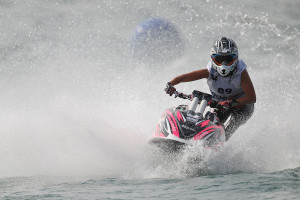 But there was to be no fairy tale return to the UIM-ABP tour after a year out for triple World Champion Julie Bulteau who struggled to find the pace to match her countrywomen, qualifying in fourth, six seconds off the pace.
Rok florjancic remains the target and man to beat for all-comers in Freestyle, once again claiming top spot with a score of 91 out of a possible 100, his bother Nac taking second spot but outscoring him in terms of variety of tricks, with Italian showman Valerio Calderoni third.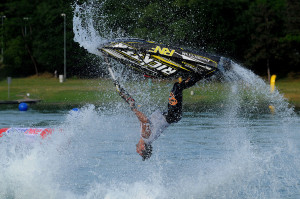 Qualifying – Runabout:
1. T Pons (fra) – 1:27.39s
2. A Wisniewski (pol) – 1:27.44s
3. L Benaglia (ita) -1:27.99s
4. M Al Heidus (qat) – 1:30.02s
5. L S Akerblom (swe) – 1:30.20s
Qualifying – Ski:
1. J Poret (fra) – 1:29.16s
2. C MacClugage (usa) – 1:29.74s
3. T Sousa (por) – 1: 30.72s
4. A Monti (ita) – 1:31.11s
5. A Barret (fra) – 1: 1:32.36
Qualifying – Ski Ladies:
1. J Menard (fra) – 1: 32.60s
2. E Poret (fra) -1: 35.92s
3. E Ortendahl (swe) – 1: 37.08s
Freestyle: 1. R Florjancic (cro) – 91pts
2. N Florjancic (cro) – 80pts
3. V Calderoni (ita) – 66pts
For full set of results go to aquabike.net