The Tampa Bay Jet Ski Club's annual fund raising Cycle Springs Jet Ski Bash was a huge success again this year. Jet ski enthusiasts from all of Florida converged on the beach of the Beautiful Magnuson resort in Tampa FL.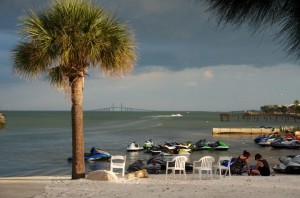 Article by Michelle Petro
Pictures by Lucas Harris
The weekend kicked off with a 45 – 50 mile poker run which lasted most of Saturday morning. Most completed the run successfully with only one or two people suffering minor mechanical issues.
The afternoon brought on the more exciting Slalom racing with quite a few entries including Ashley Sponaugle who was bound and determined to put her male counterparts in their place.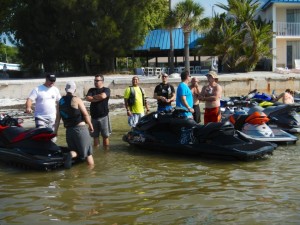 Ken Lipe, organizer of the event, also competed in the slalom made it a point to show the young guns how to properly dismount a ski while trying to whipping it around those buoys. The dismount scored an 8.5 in my book as the entry into the water did cause quite a splash and his triple pike was somewhat flawed.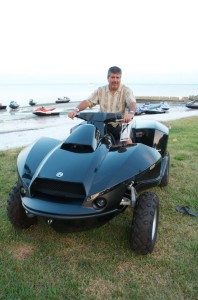 The Slalom was not without controversy as RonJon being first out of the gate and completing a scorching round could not be beat. Competitors that followed cried foul as rumors of the slalom buoys moving out of position as each racer took their turn. To remedy the situation MC Mikey Young decided a race off was in order for the top 4 racers. With that said, Ron Jon still beat out the competition and ended up with the overall win.
Raffles and silent auctions continued on throughout the day. There were a lot of really cool prizes to be won from various local retailers. Several industry retailers were on hand offering their goods for sale, including Brent Venderley and Brad Clark with their Jet Tribe booth all set up and legit. Event sponsors, Cycle Springs were on hand and also provided some really cool swag for raffle including a PWC trailer. P1 AquaX / P1SuperStock put up a super cool prize for the raffle by offering a 30 minute ride in one of their P1 Panther race boats. And, of course Prorider was there to show full support by dropping a C-note on a sick Dustin Farthing Yamaha pit shirt that was up for grabs. This has subsequently caused a minor squabble between Ronnymac and the PR Pitbull as to who should be the rightful proprietors of said shirt.
Monies raised for the event went to Give Kids the World village once again. The village allows families with children that have life threatening illnesses a chance to stay free for one week and enjoy the local Orlando parks. Two last minute donations brought the total amount raised to $3000 for the weekend. One of the donations came from Chris Chillholm. He had lost his brand new Gopro camera with little hopes of ever getting it back. Luckily for him and fisherman and his son retrieved the camera from the water and were honest enough to turn it in. They refused a monetary reward for their good deed and so it was donated to the charity instead. With so much bad going on in the world it is weekends like this that really bring it home.
For more information on Give Kids the World please visit their website www.gktw.org
Tampa Bay Jetski club www.tampabayjetskiclub.com/
Cycle Springs www.cyclespringsonline.com/