Watercraft and gadgets are two of my favorite things. Having a Donzi 23ZF, SeaDoo RXP-X and a Yamaha FX SHO I spend a lot of time on the water. I have just about every gadget of which you can conceive, especially on the FX SHO which is used for recreational riding, racing and long runs of up to 140 miles in open ocean.
By Vince Cobelo
One thing that I struggle with is keeping my cell phone charged. My Samsung Galaxy S2 interfaces with SPOT Connect for emergencies and plays music through Bluetooth. It also manages my GoPro through an adhoc wireless connection and is my backup GPS. GPS, Bluetooth, data and voice connections always running wear batteries down very fast.
External and spare internal batteries are ok but I'm always forgetting to charge them. Even if I have a spare charged internal battery, to change it connections have to be reestablished which is a pain. I have rigged up chargers using car adapters but they either come disconnected in the rough or get corroded if not taken out. So when I was asked to evaluate a prototype charger for PWC I jumped at the chance.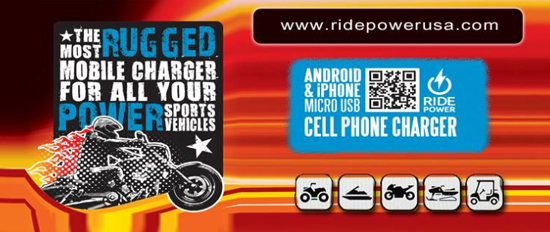 Ride Power is a charger for cell phones or anything that uses micro USB in rugged mobile applications. It is a simple inline charger between your battery and wherever you want to place your phone, either in the glove compartment or a mount on the dash. I have both but decided to test with the phone secured in the glove compartment of my FX SHO.
Four basic components are incorporated into the unit. Transformer, in-line fuse, micro-USB adapter and a two pole waterproof connector. All of this is in a low profile so no bulky components whatsoever. For Kawasakis and Yamahas a separate adapter cable is needed to go directly to the battery that has ring terminals and a two pole connector. On newer Seadoos you can plug directly into the battery maintainer connection in the front compartment. It just doesn't get any easier than that.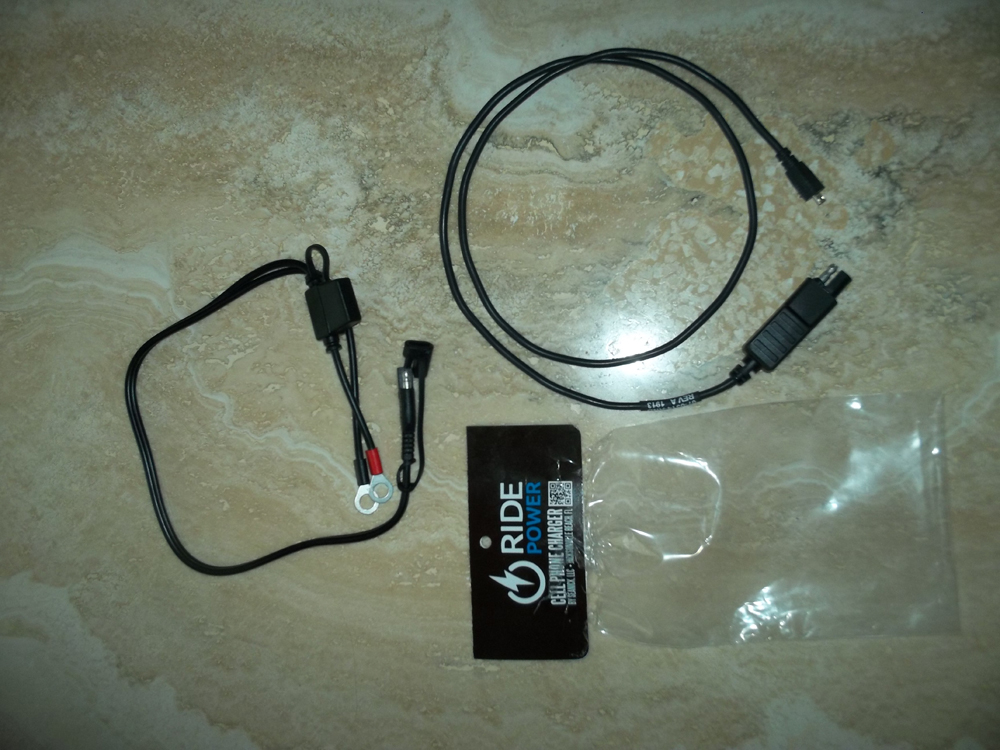 In any case, installation is very simple even though there were no instructions with my prototype. One problem that I did have during installation is I found that the length between the battery in the rear of my Yamaha and the glove compartment was too short. I had to create an extra length of about 2 feet to make the distance using wire and 2 two pole connectors.
A battery status application with log was loaded on the phone specifically for this test.
For testing I wanted to see how long it would take to charge my phone from a completely dead phone battery and then also determine if the charger could keep the phone fully charged with all of the data connections and applications I typically use running from a full battery. The durability and security of the connections were tested in the Gulf of Mexico doing high speed runs in about a 2 foot sea as well as jumping boat wakes.
Some chargers push too much current and will shut the charging process down on my phone before damaging the phone or the battery but the Ride Power didn't get hot and my phone didn't display any error messages which it often does on portable charging units. It took 60 minutes to get to full charge attaching the phone to Ride Power with a dead battery compared to 45 minutes on the wall charger.
Starting my typical riding applications including the GoPro Application, Navionics GPS (serious power hog), My Tracks, Poweramp for music and SPOT Connect I went to the ramp and started my day on the water. All day long, hanging out at the beach (engine not running), racing in the Gulf or jumping boat wakes the Ride Power maintained a full battery with all connections turned on. This was verified using the Android Battery Log application.
Even though I had to make the 2 foot extension, all in all I was impressed with the design, quality of materials, and performance of the unit. The Ride Power that I used is specifically for devices with micro-USB charging connections but I understand that Ride Power will soon be available for iPhone and Motorola. So if you spend a lot of time on the water and need your cell phone to always be working this is an important accessory to have.