We want to share this great article on Jet Ski racing and Anna Glennon written by high school journalist Meg Huwe. Meg shows writing ability beyond her years, and brings a different grass roots view of or sport the average Joe can enjoy and learn what our sport all about. For the experienced among us the article is a great look at the Budding Jr racer Anna Glennon.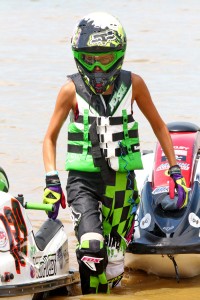 by Meg Huwe, Blue Valley Southwest High School
Twenty girls stand in the shallow water of the beach, gripping the handlebars of their jetskis as their holders stand next to them, pulling back against the revving jet ski to keep them from jumping the starting band too early. The tension builds as the flagman drops the card and the riders look to the band. Looking from left to right, junior Anna Glennon realizes she is competing with girls who have four to five more years of experience than her. The band snaps and those anxious thoughts are drowned out by the revving of engines and a blast of jet wash. She leans back, opens up the throttle and lets the jet ski take off, hoping to beat the 19 other riders to the first buoy and keep it together until the end of the race.
Anna began riding a stand up jet ski when she was 12. She began jet skiing competitively during her sophomore year. After her first season, she got the opportunity to compete in the International Jet Boat Association's 2012 Hot Products World Finals in Lake Havasu City, Ariz. The World Finals took place Oct. 1 – 7, and brought in hundreds of high-level riders from across the world. Teams were represented from Kuwait, Australia, Serbia, Sweden, Canada, Brazil, Russia, Argentina, Dubai, Portugal and more. Anna and six other riders represented Kansas, though out of those six, Anna was the only girl. Representing her sponsors, Rad Dudes Freestyle Innovations and Crash- Forensics.com, Anna went toe to toe against the world's best riders. In her race alone, more than five countries were represented.
Last spring, after joking around with her father about racing, Anna decided she wanted to compete. Since then, every weekend over the summer they went to practice, primarily at the Lake of the Ozarks, where her father made a homemade race course for her to practice on. Jet ski courses are similar to that of motocross courses. .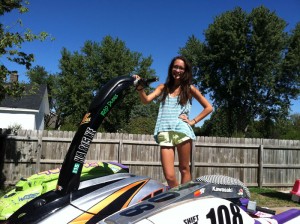 There are about 15 to 20 buoys that are different colors. The colors signify the directions of the turns. Races are classified based on skill levels and sometimes age: junior, beginner, novice, amateur and professional. Women and men also may be separated into different races as well. There are typically six riders per race in a regional race. The World Finals brings a bigger crowd, with at least twenty riders per race. For this reason, there are more races and the event lasts a full Anna raced in the novice women's limited class at the World Finals. This was her first time competing in this class, as she normally competes in the stock class for regional races. In the stock class, jet skis that have not been modified are raced, challenging the skill of the riders. While in the limited class, certain modifications can be made to increase power, as long as they follow the rules. The top three finishers in a race must take their engines apart to make sure that there are running limited- class legal.week. There are also different categories of jet skis, and each depends on the modifications.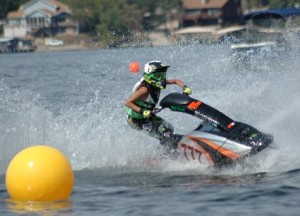 Photo by Bill Benson Photography
"I was one of the only girls racing a stock ski in the limited class," she said. "It was really intimidating knowing these girls all had crazy mods under their hoods. Going into the race I knew it was going to be a tough fight."
Anna races a Kawasaki 800- SXR stand up jet ski, which she has only been riding for half her season. The jet ski used to belong to Spencer Sieracki a two time world finalist. Riding as No. 777, she has taken first place in all her races since getting this jet ski. Anna and her father did a lot of searching to find this jet ski. Races have qualifying rounds, called heats, and depending on how one finishes he/she can move on to the next round. The rounds after the heats are called motos, and the final ranking is deter- mined by how a rider finishes in his or her motos. The number a rider finishes as counts for points – lower numbers being more and higher numbers being less. The rider's average score in the motos determines his or her final standing. After making her World Fi- nals debut, Anna qualified in the heat race with an 11th place. She finished moto one in 9th place and finished her last moto in 13th place. She placed 13th overall, which ranked her as 13th in the world after her first season.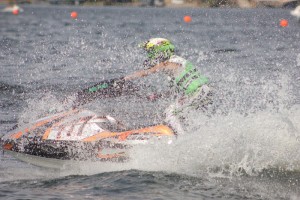 Photo by Bill Benson Photography
"In general she progressed rapidly," Anna's father John Glennon said. "For me to watch her progression is really amazing. Most noticeably is the short period of time she's been riding. Kids with four or five years of experience were beating her pretty bad at the beginning of the season. She's caught up to them and surpassed most of them. She's very dedicated."
Anna already has begun training to improve for the next season, and she hopes to move up from her current ranking of 13th. She hopes for more support in her upcoming season.
"It's always hard for me," she said. "Going out there by myself, you can't hear whether or not someone's cheering for you over the sound of the engine. I've got my family, and my sponsors have been amazing, but who wouldn't want more people on their side of the bleachers? It's been great seeing more of my schoolmates support this crazy dream I'm chasing."
Once next season gets under- way, Anna plans to race the IJSBA National Tour, traveling across the country to compete, along with racing in any regional races she can find.
"I want to get my name out there," she said. "I've found a unique way to do that, and I'm going to run with it and give it all I've got. I hope I can put my name on the map in a different way."
Like her on Facebook: www.facebook.com/JetGirlsRacing
Check out here Youtube Channel: www.youtube.com/users/jetgirlsracing