Important Feedback Needed From All Motosurf Racers
Attention all riders! Here is your chance to provide vital feedback that will help to contribute to the future of the sport. The team at Blowsion want to hear from you!

Hello racers-
We are unfortunately facing the reality of cancelling Moto Surf Racing at the Blowsion Surfslam on Sept 11/12/13. Before we throw in the towel, we want your shared opinions (positive and negative) as to why anyone would want to, (or not want to) race Moto Surf at the Blowsion Surfslam. Please help us.
Since 2009 we have witnessed domestic USA and International racing pros along with local Northwest USA racers and even traveling global Freeriders come out and "run what they brung" to the delight of the Surfslam crowd. Unfortunately racer registration and attendance is dormant at this current 2015 time, and seems to be declining across the USA. What gives? We want to explore this before we completely throw in the towel for 2015 Moto Surf racing.
Here are some discussion points (and responses we have put together). Please comment!
•       Is the Surfslam registration and racing equipment abuse cost to high?  
We know $200.00 is high compared to many events, but to even cover a small portion of the very high cost of insurance, medics and staffing for a surf event it has to be that cost. This same fee applies to all Surfslam competition events. Keep in mind that the event tries to ensure that every Surfslam competitor receives meal tickets, gift certificates and prizes that equal or are greater than that $200.00 event registration cost.
•        Is the Surfslam too close to the Lake Havasu World Final?
There is not much we can do about the date being after Labor Day as it is the only time that the small town of Pacific City can absorb the crowds the Surfslam brings. Since it is a free to the public event we cannot accurately gauge spectator attendance. Over 5500 meals were served last year by just one of our food vendors so that gives some kind of idea of the spectator attendance.
•        Is salt water too hard on race equipment? Or is Moto Surf Racing interest just lacking?
FACT: The surf is the great equalizer over horsepower any day. You can compete on stock equipment and still do really well. Moto Surf racing is about timing and navigating, not the top-speed of your ski. We have always felt that even using a backup roached out beater practice ski is fine for salt water wave abuse. Making specific race classes other than Pro or Amateur would require a demand that has not or doesn't seem to exist since the last IJSBA moto Surf Races ceased in 2004.
•         Is the large size of the Surfslam crowd and spectators intimidating?
• Is the fact that the Surfslam is a freeride focused event hurting interest from racers?
•         Are the Surfslam waves and beach considered too dangerous by racers?
• Is the relaxed beach party atmosphere at Surfslam just too difficult for the uber-focused competitive racer to deal with?
Please weigh in and let us know your thoughts.
Thank you.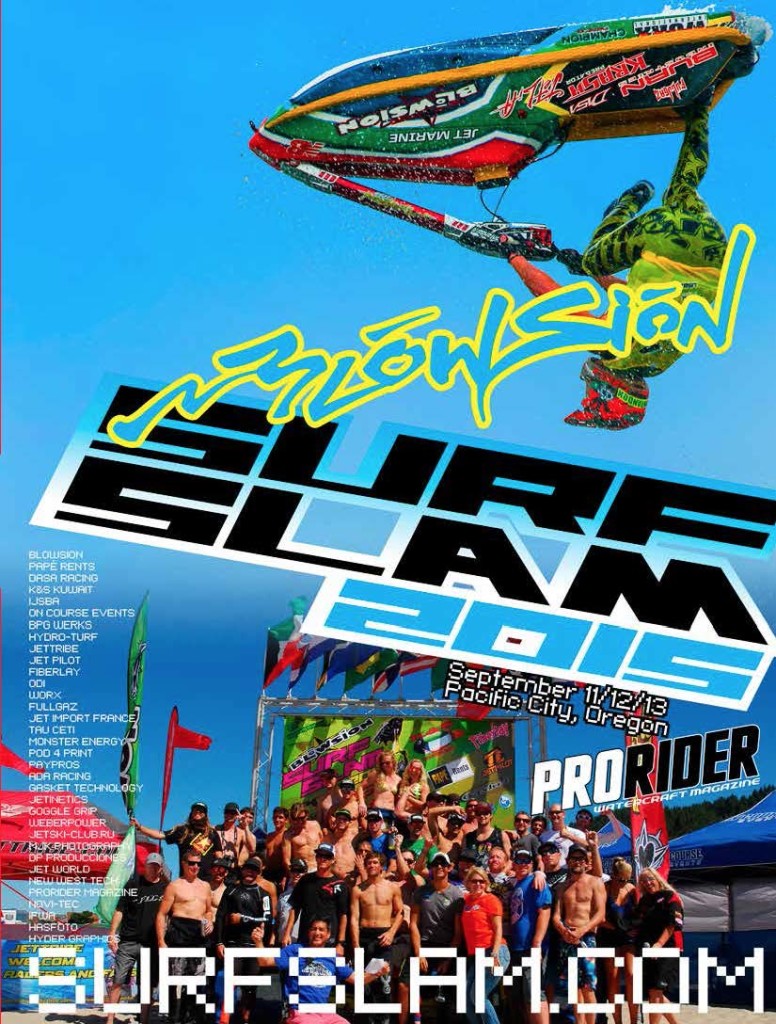 Like, Tag & Share!