HAIRY EXPERIENCE: Man trapped on rocks for about two hours while sharks cruised in the water.
THREE tiger sharks, the largest 3-4m long, had a spearfisherman trapped on a small rock outcrop 10 metres off the shore at Skippy Rock on Saturday.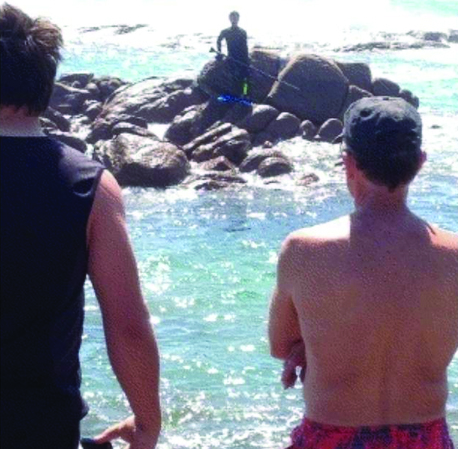 Augusta Sea Rescue Group volunteers said that despite the short distance there was no hope of swimming back as the sharks were constantly patrolling back and forth in the channel.
Alerted to the drama by his fellow fisherman, the Rescue Group put their new jet-ski in the water.
Travelling from Flinders Bay to Skippy Rock in a 5m swell, skipper Paul Higginson soon had the man on the ski for a return to Flinders bay where he was reunited with his companion.
"It was a 5m swell, it was pretty scary," Mr Higginson said. "(The man) dropped one of his fish in the water and the sharks gobbled it up."
The Perth man was very grateful and donated the largest of his fish to the group.
A spokesman for the Sea Rescue group said that this rescue, so soon after the pre Christmas delivery of the ski, vindicated their decision to make the purchase.