This was probably one of the most agonizing trips to date. For nearly a year a group of 8 of us were ready to make what would be my third attempt and second actual crossing of the Gulf Stream from Florida to the Bahamas.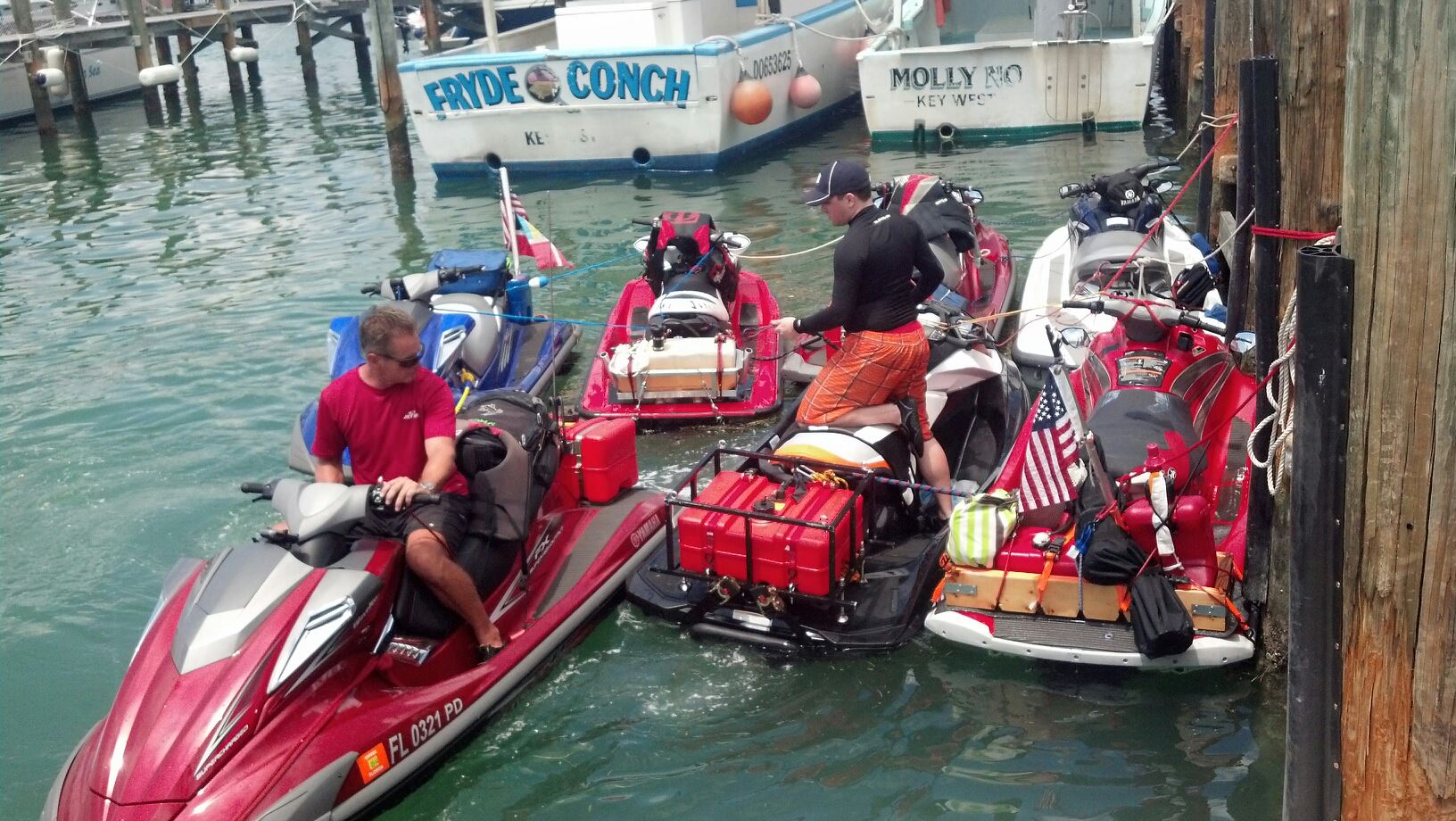 This year the trip was set for us to ride from Boynton Beach, FL across the Atlantic Ocean to Freeport on Grand Bahamas Island in a journey continuing to the outer Bahamas bank in Great Abaco, Bahamas. Roy Brook was the first to arrive at his vacation house in Boynton Beach.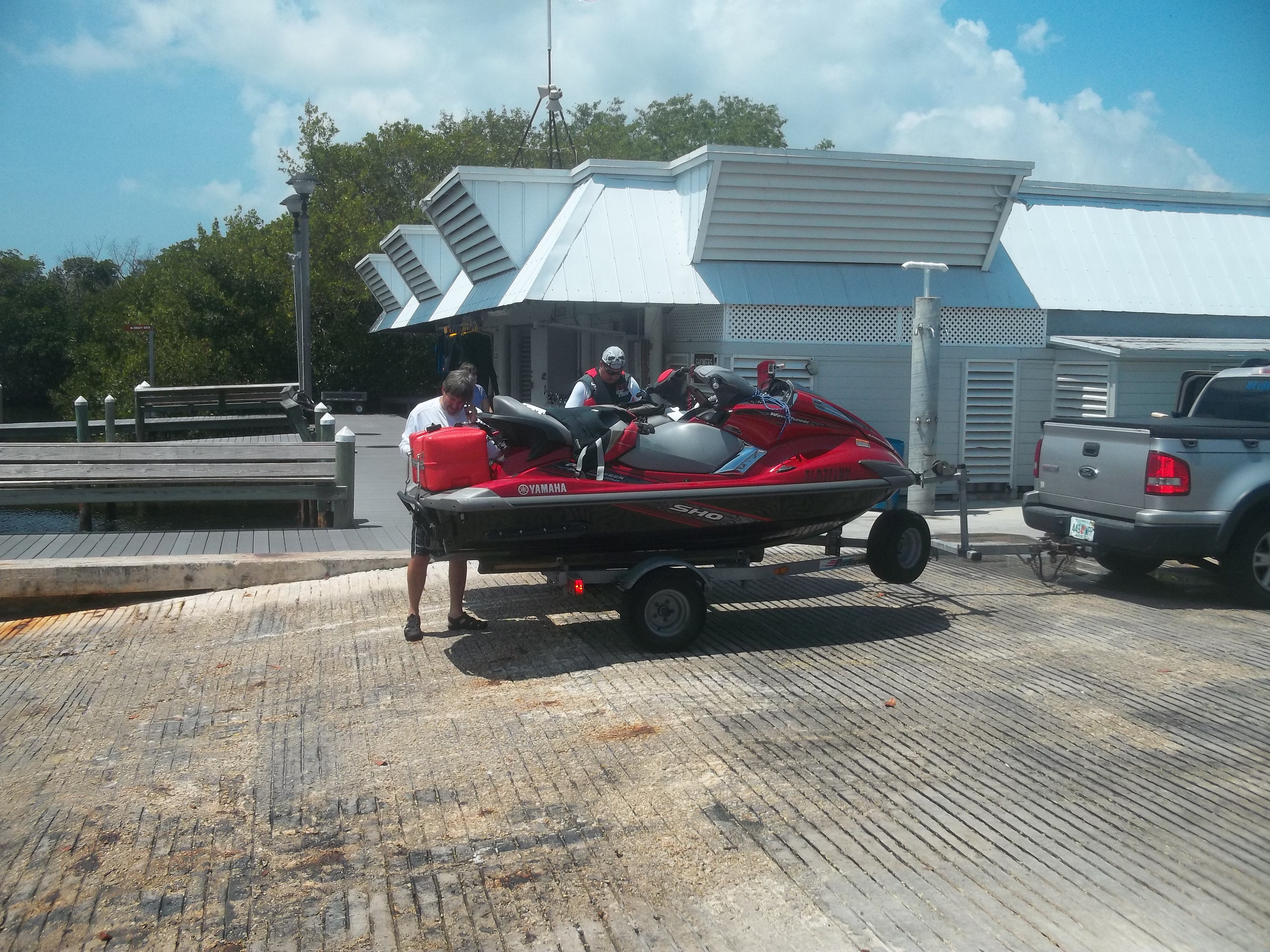 A few days later, Vince Cobelo and I arrived to survey the inlet and conditions. From the moment we got there the rain did not stop with a good dose of thunder and lightning thrown in for good measure. The wind was not bad hovering around 10 – 15 mph but for a mariner, you know those wind speeds are much more on the Gulf Stream. The rest of the team sat anxiously awaiting our green light and for a brief moment on Tuesday May21 in the afternoon, it looked as if we had a window to make the crossing. At this point we were a GO and the remaining team headed our way.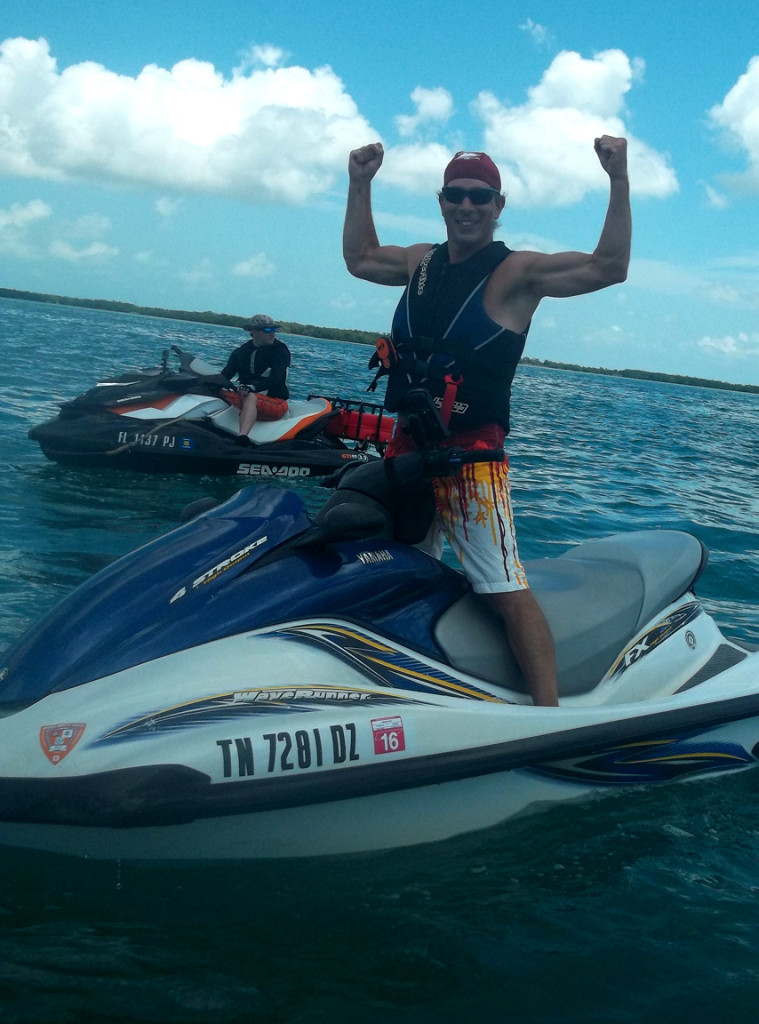 With everyone finally together around 10pm Tuesday evening, we loaded all our gear and prepped the skis for the early morning departure. Back at Roy's place not much sleeping was taking place as we watched the weather and scanned 4 different trackers to get as much as information as possible. It was shortly after that the conditions changed which made our crossing to Grand Bahamas not possible. Looking for an alternative plan we looked at Bimini, Bahamas. Since this is the closest island to United States it gave us the option to be able to shorten the trip and avoid the building weather conditions for a weekend return that thwarted the original endeavor.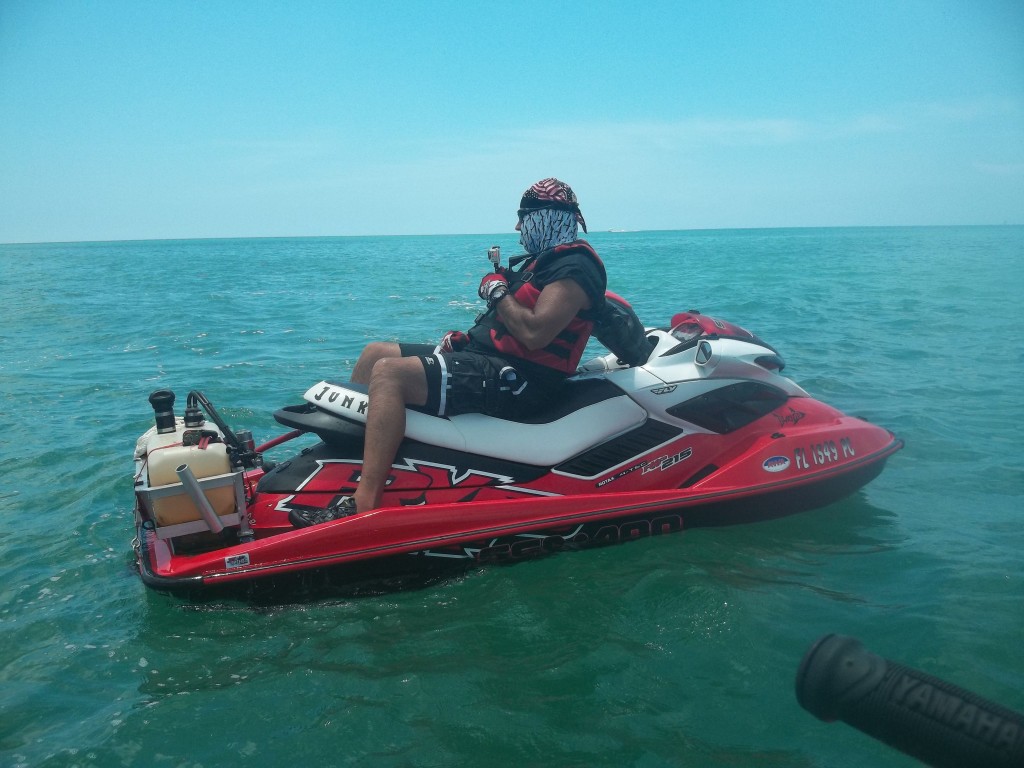 We were all in agreement and up at 5am as we headed to Ft Lauderdale in pouring rain, thunder, lightning and floods it became obvious very quickly that even our Plan B was not going to happen.
This decision did not come easily with many different ideas of conditions and what if's but at the end of day; Mother Nature is a bitch and brains over balls won. Early Wednesday morning over breakfast we decided to discuss a Plan C. We found a diner close by and having an opportunity to scour the weather again; it became apparent that the bad weather was completely missing the Florida Keys. After a quick unanimous vote the move was to head for the Keys but only 7 of us would continue. Vince Cobelo hooked up the accommodations and off we went. Stuck in Miami traffic for over an hour we finally made our way to the Turnpike and began making some good time. Just before the Key Largo Bridge, we all stopped for drinks, ice, etc. and then made our way to Penne Kamp State Park in Key Largo. We went out to the first reef where some guys went snorkeling for a short bit.
The water was crystal clear and you could see 50′ down easily. From here we headed out to the Christ of the Abyss. The Christ of the Abyss is a replica statue of the 1954 original, located in the Mediterranean Sea off San Fruttuoso on the Italian Riviera. The Penne Kamp Christ of the Abyss was donated by an Italian Diving group in 1961 and was placed in Penne Kamp in 1965. You will find this statue in about 12′ – 24′ of water on a reef in Penne Kamp State park and is accessible for both divers and snorkelers.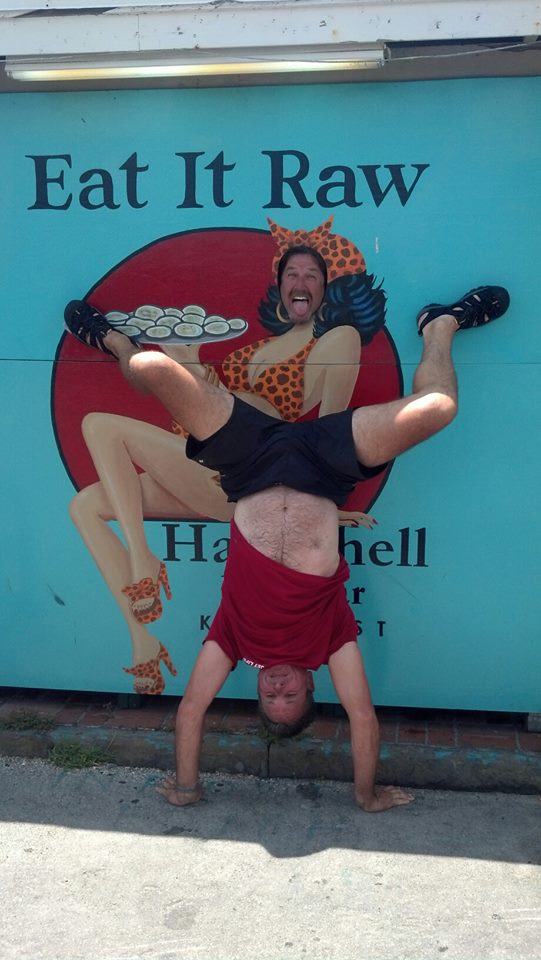 Unfortunately the wind picked up and the waves became bigger very quickly causing one of riders to take a spill off his ski cutting his chin open pretty good. Luckily with 2 medics on the team we were able to get Brad back to shore under his own power and then quickly to ER where the rest of the team showed up shortly after. After a quick drink in the waiting room, 9 or so stitches and a smack on the ass Brad was able to leave the hospital to join us for dinner, but not before going to view a Trimaran he was looking to buy, which incidentally, he did. After dinner we settled in to the hotel the Knights Key Inn in Marathon. This place was great, right out of the 60's with plenty of parking for the skis, flush and wash hoses, a restaurant and pool bar across the street right and right on the ocean. The owners were great and we all very much enjoyed our stay.
The next morning was a slow start but once we shook off the nearly 400+ miles of road and craziness from the last couple days, we made the plan to ride to Key West and back. What a great ride, totaling right around 140 miles, this trip included Andy Hodgen riding his Sea Doo RXP 215, Brad Howell riding his Yamaha VX Cruiser, Ken Roseman riding his Yamaha SHO, Roy Brook also riding his Yamaha FX SHO Cruiser, Ryan Gottliebriding on his Sea Doo GTI 155, Vince Cobelo and myself riding Yamaha SHO's, of course the difference being that all our skis were outfitted for Bahamas so even the jackass fisherman who despise PWC's knew we weren't the typical bunch. We got a couple of fingers from some Charter bone fisherman but outside of that, everyplace we went was open and welcome to us. Roy was instrumental in securing both fuel dock and city pier dock for all of us in Key West and with no problem that money wouldn't solve. There is an allure of discrimination against PWC's in the Keys which, until this trip, is the reason why I had kept myself away. Honestly, other than a couple fishermen, we had no problems.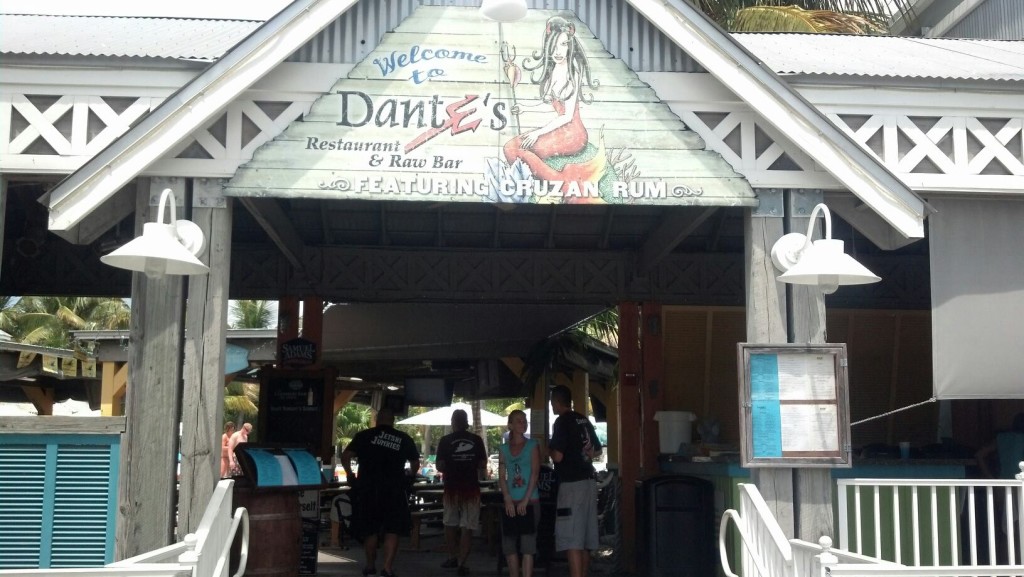 Once we tied off to the city pier, we headed to Dante's Restaurant and Pool Bar. Talk about a Jet skier's paradise! There is no other place that I know where you can walk in soaking wet, order a beer, jump in a pool to rinse and cool off, eat some great food, watch strip beer pong and just relax. Dante's, we love yah and will definitely be back! From here we went out to explore the Jet Ski and Water Slide flotillas just north of Key West proper. Here there are large Catamarans with blow up water slides around them, parasailing, Jet Ski rentals, etc. I'm guessing they get away with special permit and licensing or perhaps it's a much cheaper option then retail space on the Island. Regardless it was very cool to see along with all the yacht parties and beautiful Sail boats. From here we went back around to what most people know as the southernmost part of Key West, mile marker 0, here we were able to convince a tourist to get some pics of us at the mile marker. What was hilarious was that the other tourists were more interested in us and taking pictures of us than the mile marker, lol. Very cool feeling.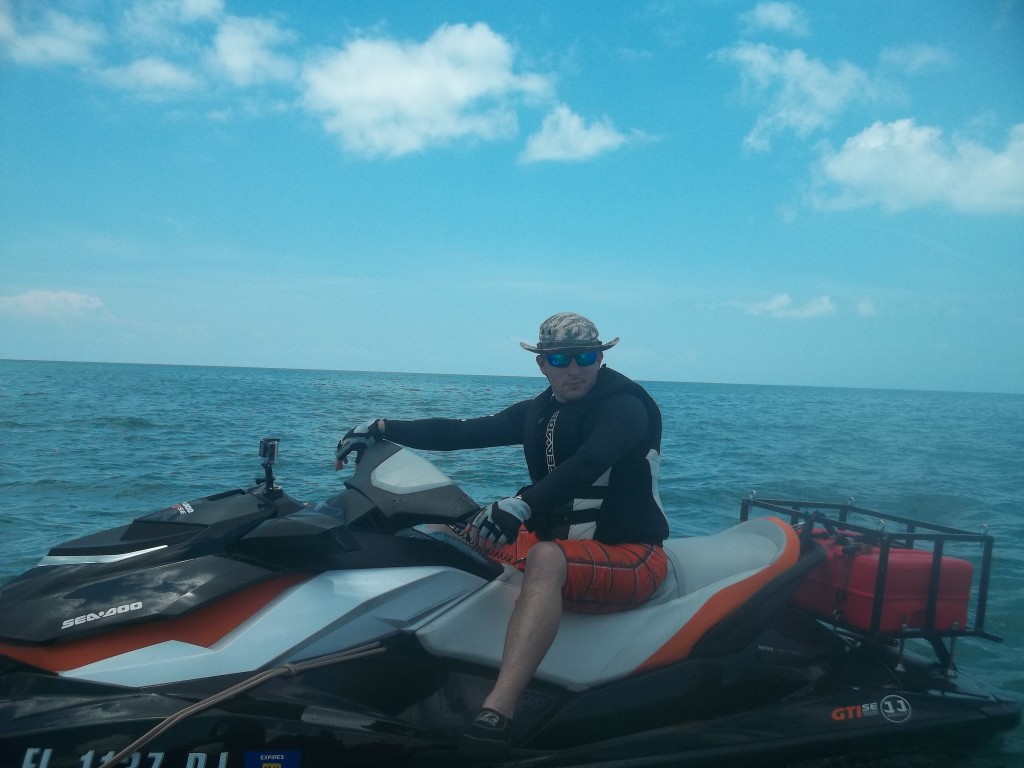 By now the water had just about laid down for us and we were able to make it back in record time concluding, by far, my absolute most favorite ride to date. After the ramp and the cleaning, we all headed to the Sunset Grille to grab dinner and check out the Tarpon swarming the underwater lights installed around their dock. If you haven't seen this you need to as it is absolutely cool as hell. The current of the ocean pushes shrimp to the lights where the tarpon hang out to eat them. Over dinner, discussion of attempting Bimini, Bahamas the next day arose. After checking weather, we all agreed we would get up early, trailer the skis up to Miami and ride to Bimini for a day. Unfortunately upon waking up, we found the weather had taken a turn for the worse and was not good. At this point Brad and Ryan made the decision to make their way back home. Brad had the longest drive of all back to the DC area. Then there were 5. We decided to finish up the Key Islands and ride north to Key Largo and back. This trip totaled just less than 170 miles round and although not as smooth as the day before, it was great none-the-less. Upon leaving the ramp we spotted a US Coast Guard vessel so I approached to inquire about any exclusion zones heading North on the Florida Bay side and according to them we were free all the way.
We stopped at the Bass Pro Shop that houses a replica of Ernest Hemingway's famous wooden lady. This is very much a great site. We grabbed lunch and then continued our journey along the northern shore of the Key Islands weaving in and out of mangroves, bridges and grass flats. With a rising tide at our back it was perfect. 86 miles later we rode into the Jewfish Creek under the Overseas Bridge (Key Largo Bridge) getting fuel, water and ice at Gilbert's Resort, the guys there were great also.
This was the ending point and time to head back. We took the cut through Penne Kamp State Park to the Atlantic Ocean side for the return home. This took us through an amazing canal that appears to be cut out of coral reef lined with homes, docks and seawalls. This was a once in a lifetime experience. Finally making our way back out of Penne Kamp and into the Atlantic we rode approx. 30 miles to Snake Creek where we pulled in past the US Coast Guard Aux station to a great waterfront store and marina. The guys here watered us down with the hose and hooked us up with water and ice. Snake Creek was one of the only Slow Wake areas we ran into, it was pretty long, but once through it we hit the mangroves for a short run of twisties making it all worth it again.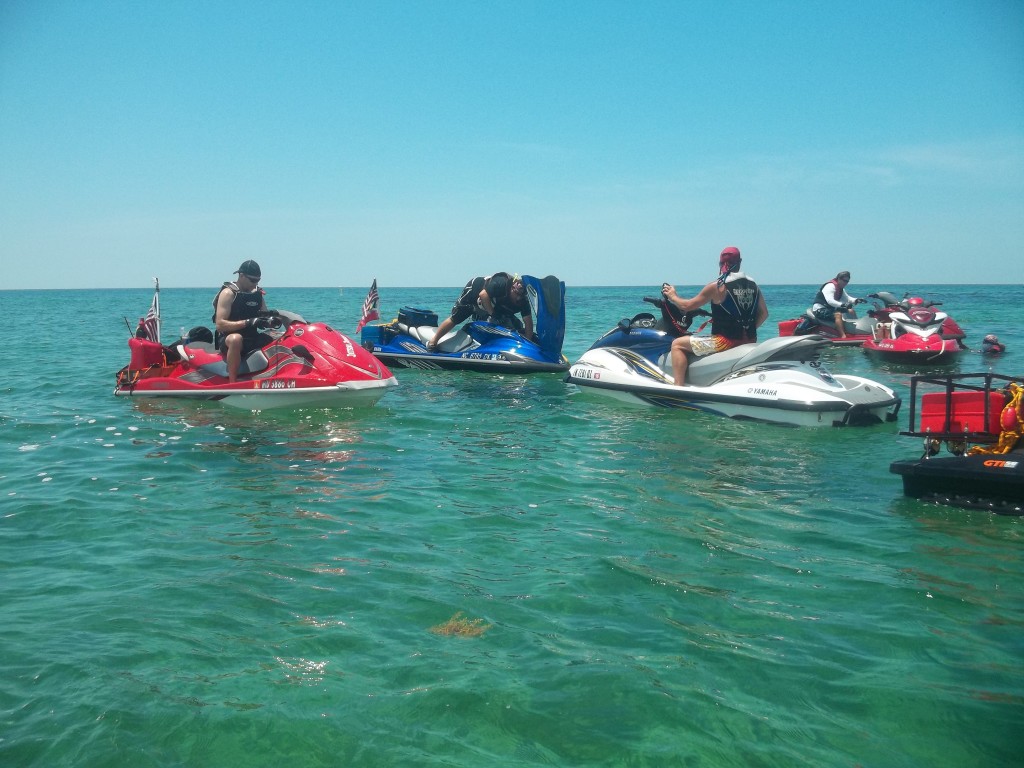 It was pretty late at this point so it was an all-out race to the ramp with nearly 40 miles to go and dreading a 3 -4 hours ride back to Roy's house that night. We only stopped once on the way back to rest our backs then it was on to the ramp and back to hotel. It was about 7pm at this point and we had already checked out of the hotel that morning so arriving back at the hotel, Vince checked with the Nancy who was completely happy to let us wash and flush our skis, she even got us towels for the pool and opened up a changing room for us. If that wasn't enough, I came around the corner to find our Island Relations team member, Ken Roseman receiving ice cold bottles of beer (in koozies no less) from Nancy, for all of us. We drank, got in the pool, toasted a lady who was there for her birthday, dried up and changed to get the best news from Vince that Nancy secured us a villa for the night.
We didn't have to make the trip back that evening! Not sure if it was sheer luck or the possibility that Nancy really enjoyed having us around. Whatever the case was, we had a 3 bedroom Villa overlooking the harbor that slept six. It was perfect. We settled in and then hit the Sunset Grille for our last supper, live entertainment and some forced drinking. The food service and all was very good.
The next morning we hit the road about 8:30am. Everyone headed in their own direction once past Miami, for Vince and me it was straight across Alligator Alley which lead to an impromptu opportunity. We hit the first rest area along the 120+ mile stretch of road lead to multiple boat ramps. Vince backed me and my ski in the canal and on the last fumes of fuel remaining in my ski; I raced alongside the cars on Alligator Alley. I can now scratch this of a bucket list item from 2008.
5 Days, 7 JETSKI JUNKIES, over 1100+ total miles by land & sea, most definitely one for the record books and a toast to the best Plan C ever.