A TEENAGER who rescued a kayaker who capsized off the coast near Ilfracombe says his jet ski saved the day.
North Devon Journal
Jae Emery, 17, was running a jet ski safari on May 27 when the waves grew from almost flat to around five feet high.
Someone on the shore near Watermouth Harbour directed him to a capsized kayak with a man, who had become separated from his family and kayaking instructor, lying on top of it.
Jae, who is employed by Watermouth Cove Holiday Park and runs jet ski safaris for guests, was out with visitor and friend Adam Woodland.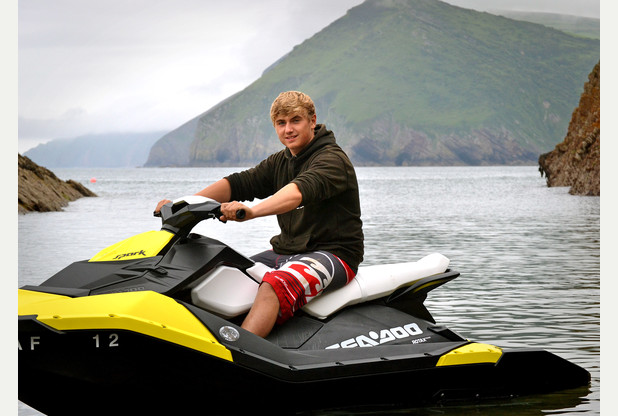 Jae said: "We'd just finished the safari and someone waved from the shore so I went over and they said a kayak had capsized.
"There was a boat next to the kayak and they were trying to help the kayaker but there was no room in the boat."He was lying on top of the kayak – he was cold and exhausted.
"We put him on Adam's ski and he said he was out with his daughter, his wife and an instructor.
"I shot off to find the rest of the group and I found them in a tiny cove. The instructor was contacting the Coastguard.
"Once we got the guy back to Combe Martin Beach, we picked up the girl and his wife, who were quite cold by that point, but the instructor decided to kayak back.
"We then went back and picked the kayaks up. The instructor said the swell came out of nowhere.
"The man had gone out by himself and he'd lost him."
Jae said the small jet ski he was on was perfect for the rescue. He said: "If I hadn't picked them up they would have had to have waited for the Coastguard to come out which could have been a long time.
"He was cold and in shock, so the jet ski saved the day."
The Coastguard said they took over once the kayaker had been taken to Combe Martin Beach by jet ski.
Watermouth Cove Holiday Park owner Jim Penny said: "How fortunate for this family that they were spotted and that two sensible jet ski riders were out this afternoon.
"Both Jae and Adam took the initiative and made level-headed decisions under very serious conditions. Very well done to both of them.
"It just goes to prove that, used in a correct manner, jet skis are a great tool for enjoyment and, indeed, can save lives."