AMAZING FOOTAGE: SOME quick thinking by a Geelong man has saved the day, after a boat erupted in flames on Lake Buffalo near Myrtleford on Sunday.
Dean Linic, 23, came to the rescue of two 17-year-old passengers after he used his jet-ski to douse the billowing flames.
Mr Linic said he and his family were having lunch at the picturesque lake when they heard a loud bang.
"We just heard this almighty explosion and we looked up and there was just black smoke going straight up so I just dropped the paper, jumped on a jet-ski and went around [to the boat]," Mr Linic said.
"I didn't know anyone was in the boat at that stage so I just went around splashing it with the waves from the jet-ski and just made sure it was all out.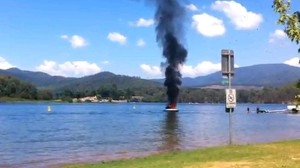 "I later found out there were two 17-year-olds in the boat but they had jumped out by the time I got there."
Sergeant Paul Evans of Myrtleford police said Mr Linic was one of many people at the incident who immediately helped the teens.
"The jet-skier showed a lot of smarts and obviously used his jet-ski to douse the flames and push the boat towards the shore," Sergeant Evans said.
"There were three off-duty nurses at the lake and they also had a number of bystanders who took the right treatment to stabilise these people. Without their attention and effort then perhaps there would have been a different result."
Mr Linic, who is pursuing a career in the MFB, said he didn't have to think twice about jumping to the aid of the young passengers.
"There was no fire-fighting gear down there, and I just thought it was too far out to run out with an extinguisher."
"You just use common sense. You've got all this water around you, why not use that?"
Sergeant Evans said the reason for the explosion was unknown.
"From all the witnesses we've spoken to, it seems the kid did no more than start the engine and it exploded.
"The thing we like about working in the country is that people aren't spectators. Because we've had the fires, we've had the floods, we've had the wind storms, we've had the fatal accidents … people step in and step up.
While the passengers escaped with burns, Mr Linic said the boat had not survived the ordeal.
"It had a lot of melted and char-grilled fibreglass and the engine was destroyed so it wasn't a pretty sight to look in there knowing there were people under 18 in there earlier."
The 17-year-old boy was airlifted to the Alfred hospital and stayed there for three nights but escaped life-threatening injuries while his girlfriend was taken to Wangaratta hospital with minor injuries.
Link to article