One of the best things about being a part of Prorider Watercraft Magazine is that our little rabble gets to not only watch all our friends' race and promote their series, we get to play a major part in supporting them.  We are fortunate enough to have a team who is able to be at the race sites, charity poker runs and gatherings and to show our support first hand.
The first round of the 2014 Jettribe ProHydroX Tour was a great one, not only for Brent and his team but also for Prorider.  This tour stop marked the first stop in over a year where the whole Prorider Team was there in force, and now that Mr. Ratti is back from his Australian escapades, it won't be the last!
The quiet town of Tavares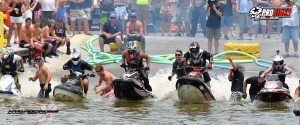 once more opened its arms and welcomed the pwc racing family to come race and cause a raucous on the shores and in the water of Lake Dora.  This round we saw some familiar faces from other PWC disciplines testing out the closed course skills.  Rookie racer, Jeffrey Thornton made his closed course debut from the AquaX USA endurance race series as well as Stan Hightower and Kerry Hibdon from the Hydrodrag world.  Both Kerry Hibdon and Stan Hightower made their presence known as both managed to lead the pack in their respective classes for some time.  "I love this type of racing" said Stan Hightower, "I am just not as young as I used to be but I still like to go out there and show theest (closed course) racers a thing or two."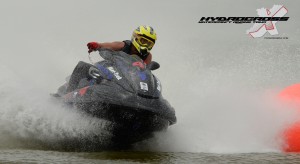 The rec lites class had a very good turn out with the line up of SeaDoo Sparks and an XP on the wire.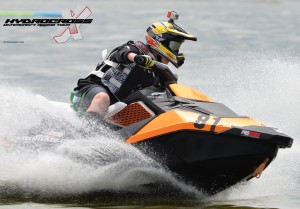 Day one was plagued by some typical Florida storms for a short while but things were up and running as soon as it all blew over.   Today is another day and we will all be out in full force again. Stay tuned for a complete update and exclusive images from the Jettribe ProHydroX Tour.