Barberton, Ohio – In an effort to meet the growing needs of many different fuel transfer and storage applications and markets, JohnDow Industries has introduced its new portable gas caddy – the Gas Dock™. The Gas Dock™ is available in both professional and retail models with major applications for the Marine Market!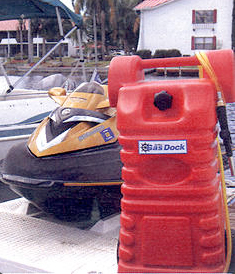 The need for portable, safe, effective and affordable fuel storage to meet the requirements of new markets including marine, continues to grow. JDI has rapidly become the "industry leader" as the largest manufacturer of gas caddies in North America. Mark Pfleeger, Vice President-Sales & New Business Development, commented "We have become experts in this particular product line and as such, we felt it was timely to develop the Gas Dock™ portable line for professional and retail customers who require storage and transferring of fuels to boats, jet skis, ATV's, lawn and garden equipment and more."
The Gas Dock™ 26-Gallon portable gas caddy has been rigorously tested and is UN/DOT Certified (UN 3H1) for the safe transport of fuel. Made with high strength, cross-link polyethylene, the Gas Dock™ has a stable upright design, is easy to maneuver and can be filled in both vertical and horizontal positions.
Also available is the new Gas Dock™ Rotary Pump Kit designed to make fuel transfer simple and fast when gravity feed is not an option. This optional kit includes a high volume UL Listed rotary pump and mounting hardware to securely attach the pump to the caddy. The heavy-duty pump features a steel rotor and carbon vanes and two-way operation for both dispensing and siphoning of fuel. It can be used with multiple fuels including gasoline, diesel, kerosene and bio-fuels. For more information, log on to gasdock.us
JDI is a manufacturer of automotive shop equipment and supplies. Brands include: Fuel Chief-Portable Fuel Storage & Handling; Crew Chief-Used Oil & Fluid Handling; EuroVent-Vehicle Exhaust Extraction Systems; JohnDow-Automotive Service Equipment; and Dynamic-Automotive Fasteners & Supplies. For more information visit johndow.com