The Karujet is coming up this week with the rider's briefing scheduled for 10am Thursday April 10th at the Beach Viard Restaurant.  The briefing signifies the beginning of a four day race series held in Guadeloupe.
Located as the southernmost of the Leeward Islands in the eastern Caribbean Sea, Guadeloupe comprises two main islands: Basse-Terre Island and Grande-Terre the two main islands are separated by a narrow channel called salt river.  The Karujet is an offshore race that set up in several stages. The races will start from Viard on Basse-Terre each day with courses ranging from 60 km up to 144 km.
Karujet Course review:
Stage 1  Thursday, April 10, 2014 –
Course route:  Viard – Sainte-Marie – Gosier Island x2 – Viard  –  60km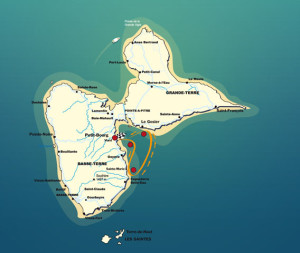 Stage 2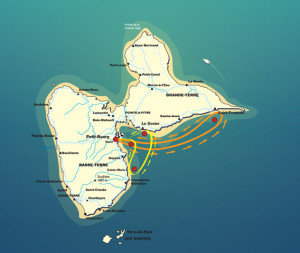 Stage 3
Viard –  Holy – Viard – 2 tours  –  144km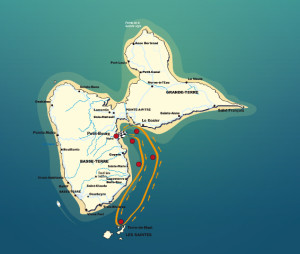 Stage 4
Viard – Ste Marie – Gosier – Viard – 4 laps – 126.4 kms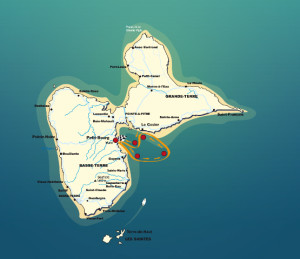 We touched base with Eric Francis who is currently preparing for the upcoming races out on the islands.  So far he has had the chance to complete some preparation and testing on his Kawasaki jet ski set up and has hung out with some big name racers, including World Champ Chris MacClugage, on the island all day today.  Francis will be racing his first Karujet race alongside experienced endurance and PWCOffshore.com/Mountain Motorsports racer Craig Warner.
Karujet race enthusiasts will be able to watch the race live when the race is underway. Make sure you keep it here for additional Karujet updates!