Sunday, April 13, 2014 at 11am the penultimate stage of this UIM Offshore World Championship kicked off.  The start was from the Viard beach to the islet of Gosier and  ran in 4 loops for a total of 60 kms.
This stage was a sprint round and would be the stage where racers could accumulate valuable points to the winner.  In this round, Alexander Barret # 130 from Bordeaux mangaged to just stay ahead of Jean Baptiste Botti # 85 from France.  He was followed closely by François Medori # 4.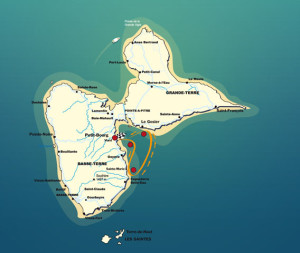 But all eyes are on the race within the race.  Teddy Pons # 14 interim leader managed to race without additional damage to his ski. In the first round loop Teddy Pons managed to stay ahead of Fidelin Ugo and maintained the lead with Vincent Karam, Marc Forbin rounding out the leading pack respectively and with only a 50 second the gap to separating them.  The situation changed in the second round as Ugo Fidelin followed Vincent Karam pulled ahead of the rest of the racers and gained a few precious minutes.
As the racers passed the 3rd time, racer Marc Forbin was the first to reach the turn buoy with Ugo Fidelin and Vincent Karam following ahead of Teddy Pons.  As the 4th stage came to a close, it was Alexandre Barret, Francois Medori, Jean Bruno Pastorello and Craig Warner that crossed the finish in the respective order.  It goes to show the difficulty of this stage as you can see by the lead changes through each pass of the turn buoy.