Championship PWC racing returns to Lake Havasu in June! The inaugural IJSBA sanctioned event will see some of the best PWC racers from the Western United States and Canada show up to continue their points chase for the 2014 Jettribe West Coast Series Championship Tour & Hot Products Cup.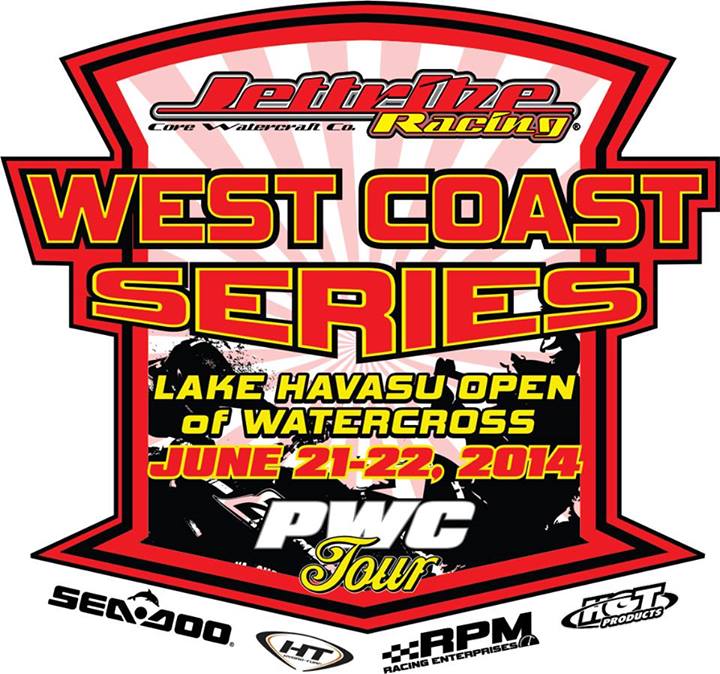 The action on and off the water is going to be intense with all riders vying for victory in their class. In addition, supporting sponsor Sea-Doo has posted an impressive contingency program for the racers with the Sea Doo Bounty.
Fans will be treated to two days of closed course (short track) racing on a tight multi turn race course. 16 plus classes of PWC's will be featured including the Pro Ski GP, Pro Runabouts, Vintage classes and up and coming stars of the sport in the Junior classes.
"Lake Havasu is one of the best locations for pwc racing in the world" according to event promoter Ross Wallach or RPM Racing Enterprises. Wallach added "I am ecstatic to be able to bring this event to Lake Havasu with it's concentrated pool of talented racers living within it's city, the racing should be outstanding!" Great weather and a great location make Lake Havasu a prime spot to hold a high caliber event.
The Lake Havasu Open of Watercross event is great opportunity for the fans to get up close and personal with all the racers. Like the IJSBA World Finals in October, it is going to be an event not to be missed, so make your plans today to be a part of the all the action at Lake Havasu State Park at Windsor 4 Beach.
For more information please contact RPM Racing – (310) 318-4012
Email rpmracingent@yahoo.com or visit our websitewww.rpmracingent.com
JETTRIBE LAKE HAVASU OPEN OF WATERCROSS
SCHEDULE OF EVENTS
Friday June 20, 2014
12:00 pm – 6:00 pm On-Site Registration – Pits
Saturday June 21, 2014 – Schedule of Events – Round 3
6:45 am – 8:00 am Technical Inspection & Rider Check In/Late Registration
8:00 am – 8:30 am Mandatory Riders Meeting- Pits
8:30 am – 10:00 am Closed Course Practice
10:00 am – 12:45 pm Closed Course Qualifying
12:45 pm – 1:30 pm Freestyle
1:30 pm – 5:00 pm Closed Course Finals
Sunday June 22, 2014 – Schedule of Events – Round 2
7:15 am – 8:00 am Late Registratino/Technical Inspection & Rider Check In
8:00 am – 8:30 am Mandatory Riders Meeting
8:30 am – 10:00 am Closed Course Practice
10:00 am -12:45 pm Closed Course Qualifying
12:45 pm – 1:30 pm Freestyle
1:30 pm – end Closed Course Finals
5:00 pm Awards Ceremony