Sea-Doo, Yamaha and Kawasaki share the spoils at round 2 of the AquaX Championships from Jacksonville, Florida.
The city location of Jacksonville, nestled on the banks of the St John's River, offered a spectacular backdrop for the AquaX USA championships.  The two-mile race course, stretched across the mouth of the river, presented a challenging experience for the riders as heavy river traffic and strong currents all helped to create unpredictable conditions for all the AquaXers  vying for the win. "It's a lot rougher than it looks out here", commented Anya Colley, the only female in the race after Race 1.
By Lisa Barsby      Photos by Charlie Lai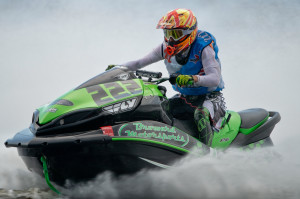 300 Class:
It was Scott Dawley's Kawasaki 300 that took the holeshot ahead of championship contenders Stuart Rasmussen and Eric Francis, until Rasmussen fancied his chances and sprung a move on Dawley on the first lap.  Dawley closed the door and Rasmussen went for a swim. Francis wasted no time to take advantage of the situation and by lap two put his Kawasaki 310 into the lead.  Anya Colley was also on a charge and by lap 7 was up to second and looking for Francis.  Jason Russo rounding out the top 3 as Rasmussen clawed his way back up to 4th and that was the way it finished after 30mins + 1 lap race.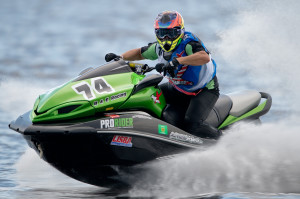 In race 2 Rasmussen wasted no time to reclaim precious points lost to Francis in Race 1. He took the lead from the start and didn't look back pulling a commanding lead over the pack. # 714 Domineco Barilla slipped into second, but the real battle was going on behind with Francis and team mate Anya Colley swapping positions on several occasions. By lap 4 Colley had dispatched Francis and Barilla and was up to second. But it wasn't long before Francis was back on her pump wash pushing all the way until the final lap where Francis made the most of the lapped traffic to move into second. Scott Dawley and Blaine Spooner's Sea-Doo RXPX finished 4th and 5th respectively and Barilla dropped out with mechanical issues. Asked later what he thought about nearly being beaten by a girl on his own ski, Francis was honest to say "she wouldn't be on my team if she wasn't competitive".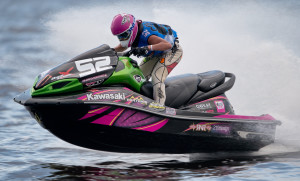 Going into the final race of the weekend the conditions had smoothed out and when the flag dropped it was the 300x of Barilla, who was back up and running again, at the pointed end. Scott Dawley slipped into second with Rasmussen, Francis and the Yamaha of Troy Snyder in 5th.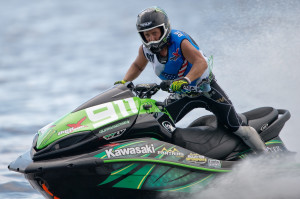 Barilla was untouchable for 10 of the 16-lap race until Dawley made a move for the lead, but within a lap Dawley was out with a split water hose and Barilla was back in the hot seat. With a clear run at Barilla, Rasmussen put his foot down and made the pass and with it took the lead. Francis moved up on Barilla, but was unable to make the pass and that was the way it finished. Rasmussen took the win, Barilla in second, Francis third, and Colley and Spooner in 4th and 5th respectively.
Back at the pits a technical infringement saw Barilla stripped of his 2nd place finish in the final race bumping the field up one, but even with second place and now equaling the leader on points Francis' lower place finish in the final race meant that he would have to settle for second once again and Rasmussen would claim his second straight AquaX win. Colley would take her first 300 class podium, finishing third overall giving Kawasaki a clean sweep of the 300 class.
250 class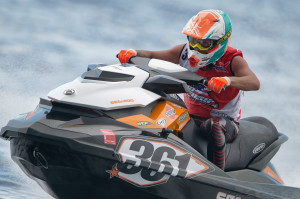 In the 250 Eric Lagopoulos dominated the field in Jacksonville, the former world champion was in a class of his own and keeping pace with the 300's. Quite a feat when you consider his Sea-Doo GTR was almost a 100 horses down on the 300's.
Unfortunately his nearest rival and last year's Champion, Yamaha racer Ron Jon Levy, was out with boat problems so it was up to the Sea-Doos' of Tim McKercher and Sean Hagen to chase him down. Unfortunately McKercher pulled his kill switch on the first race start and trailed three quarters of a lap down on the leaders before he eventually came through the start line.
Rookie racer Sean Hagen was on good form slipping into 2nd from lap 1 with Alex Holguin in 3rd. By lap 2 McKercher was into 3rd and that was the way it finished. Alex Holguin finished in 4th with Ken Moore in 5th. Unfortunately for Noah Czoka boat problems on lap 2 scuppered his chances, but didn't waste his time in Jacksonville and spent the rest of his weekend promoting AquaX with his Sea-Doo RXT 215 by the P1 truck in in memorial park.
By Race 2 McKercher was back on form holeshotting behind Lagopoulos and in front of Hagen. And it stayed that way until lap 7 when McKercher came under pressure from Hagen and took a spill defending his position on the triple sweeper at the bottom end of the course and in the process inflamed an old shoulder injury. "It's really tough around that triple I just got it wrong and popped my shoulder" said McKercher after the race. He remounted to finish 3rd behind Hagen and Lagopoulos.
Lagopoulos rounded out the weekend with a hat trick of wins. Hagen finished on the podium for the first time in 2nd place and for his efforts picked up the win in the Rookie class. And despite obvious injury Tim McKercher made it out for the last race and finished a well-deserved 3rd overall. Alex Holguin came in 4th with Ken Moore rounding out the top 5.
200
Against of field of Yamaha VXR's Yamaha sponsored rider Rob Greenwald came into the second round with a target on his back and commanding lead over his rivals Jason Maxson and reigning Champion Kelly Belval. It was obvious from the start that Belval was out to prove a point with an impressive holeshot in Race 1, and it looked like he was going to stay there. By lap 10 the 300's were starting to lap the field and Belval suffered a face full of spray from the faster skis and momentarily lost his goggles, Greenwald took advantage and made the pass on Balval. Greenwald kept the lead and with it stretched his point's lead in the Championship. Scott Reeves finished 3rd with Jason Maxson in 4th and Rookie racer Justin Mack finishing 5th.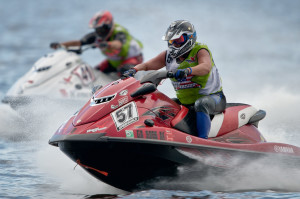 Race 2 saw Greenwald take the holeshot from Jason Maxson and Kelly Belval, by lap 2 Belval was passed Maxson and chasing down Greenwald. Greenwald tried hard to defend, but Belval was on a charge and by lap 4 was past and into the lead. Greenwald hung on, but never really got the chance to retake the lead. Scott Reeves rounded out the top 3 with Maxson in 4th and Clay Barbee in 5th.
Fresh from his previous victory there was no stopping Belval in the 3rd and final race of the weekend. He grabbed the holeshot and never looked back."when I ran Rob down and passed him that was a huge confidence booster so in the 3rd race I knew I could do it again. I would say racing last year has helped me prepare for this season" enthused Balval.
Greenwald slotted into second with Reeves in third and that was how it finished and it was also how the podium looked when the checker flag flew. Jason Maxson finished 4th with another good result coming from Rookie Justin Mack to round up the top 5.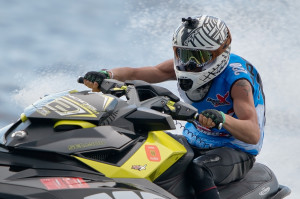 Going into round 3 in Tampa, Stuart Rasmussen (106pts) leads Eric Francis (105pts) by one point in the 300 class. Blaine Spooner's (81pts) Sea-Doo RXPX sits in third just one point ahead of Anya Colley.
Eric Lagopoulos (120pts), so far unbeaten in the 250 class leads Tim McKercher (92pts) and Sean Hagen (75pts). Rob Greenwald (111pts) hangs onto the lead in the 200 class ahead of Kelly Belval 11pts adrift in second, with Jason Maxson (89pts) in third.