They did it…it is official!
Maikel Gonzalez broke the record with an astonishing 112 mph at the MudBug Greenhulk Hydrodrags today!  We have heard "The Blue Zone" will break 106 mph and we have been waiting on bated breath for a while to see it happen. Well, forget 106.  If you want to break the record now you will need to shoot for the stars. Congratulations to Maikel Gonzalez,  the over the road truck driver from South Florida and the CRT crew for making history!   Video footage by Adam Barbanell
Soon after Maikel took the top speed Raygae Sanchez also clocked an amazing 108 mph oh his ski.    Congratulations Raygae! Only thing we can say is things are white hot at the drags today!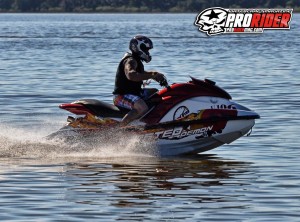 Results
HYDRO N/A
1. Clay Barbee
2. Rich Block
3. Tonito Lopez
HYDRO STOCK
1. Stan Hightower
2. Scott Rice
3. Brett Nance
4. Jose Gonzalez
5. Kristian Ichazo
HYDRO SPEC

1. Kerry Hibdon
2. Stan Hightower
3. Chuck Germany
4. Scott Rice
5. Brett Nance
HYDRO SUPERSTOCK
1. Kerry Hibdon
2. Stan Hightower
3. Brett Nance
4. Duke Zorn
HYDRO UNLIMITED
1. Kerry Hibdon
2. Stan Hightower
3. Carlio De Valle
4. Julio De Valle
5. Duke Zorn
6. Raul Cue
RIVA Racing Speed Alley
Hydro N/A
1. Tonito Lopez 71
2. Clay Barbee 66
Hydro Stock Speed Alley
1. Scott Rice 81 80
2. Kristian Izchazo 81 78
3. Carlito De Valle 63
Hydro Spec
1. Ron Allision 58 (broke)
Hydro Superstock
1. Brett Nance 97 *
2. Ross Niemoeller 95
Hydro Unlimited
1. Maikel Gonzalazes 112 **
2. Rayge Sanchez 108
3. Carlito De Valle 101
· **IJSBA World Record
· *New Records
· First time that three Unlimited racers go over 100mph