This issue's readers will have a chance to win a selection of the latest and greatest blazing swag from Burn Industries. Burn Industries, established in South Africa with footholds all over the globe including places like the US and Australia, offers an assortment of the hottest fashions in extreme water sports gear and apparel. Burn Industries is sweeping the freeride, freestyle, and racing scene by supporting pro riders all around the world and by producing popular new gear designs like the Burn Industries Retro Vest (pictured), wetsuits, and more. Check out www.burn-industries.com for more information on merchandise or "like" Burn Industries on Facebook.
The gear below is up for grabs to one lucky photo contest winner.
(1) Burn Industries gift voucher for a sizzling gear item (item may not be identical to item pictured)
(1) Burn Industries sticker pack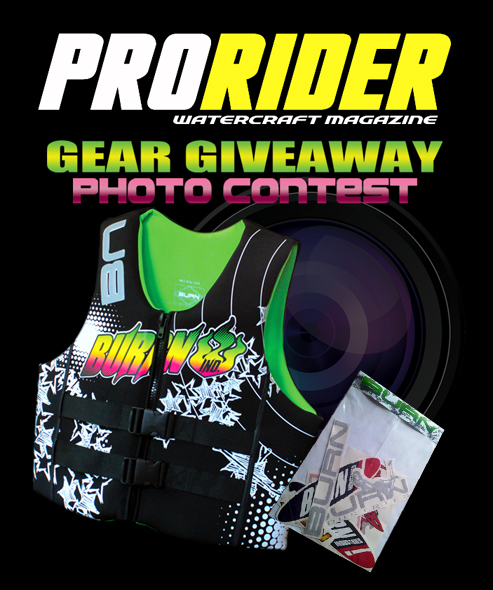 The lucky winner will also instantly achieve baller status by receiving their own Pro Rider Watercraft Magazine T-Shirt complete with stickers for tagging your local spot or future travel destinations.
How to Win:
Submit your best high resolution PWC related photos to Contest@proridermag.com with "Pro Rider Photo Entry" in the subject line to enter. Photos that have not yet been posted to any social media sites will have greater chances of winning. Good luck!