World Series Jet Skier on crest of new V8 Ute Career.          
2012 V8 Ute Team of the Year, Murphy Racing, is looking to reclaim the title after announcing a four car team to compete in the 2013 Auto One V8 Ute Racing Series.
---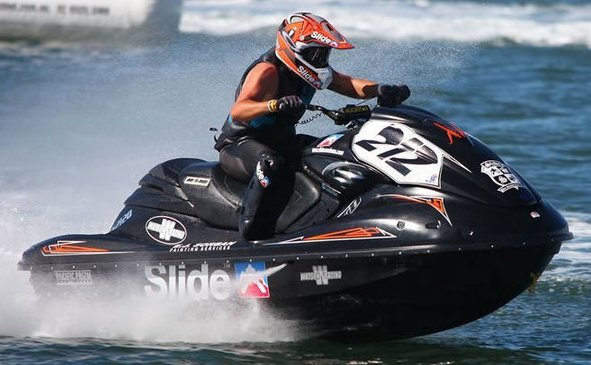 V8 UTES Australia   Photo by Mike King/OZPWC.com
Team Manager Dave Murphy is welcoming back Nathan Pretty, Craig Dontas, Gerard McLeod plus a new recruit in former Jet Skier Matthew Nolan.
"We will be better prepared this year. We have more funding so we can buy new tyres for test days, we only had one test day last year, so this should make a huge difference. I'm really happy with where we're headed. I have no massive expectations out of Matt, he'll just learn the ropes but with the other guys I'm expecting race wins and the championship. We need to get Dontas onto the podium and keep him consistent," explained Murphy.
Nolan will have his first motor race on land, steering the former Scott Jennings owned Holden this year after moving away from Jet skiing, which he competed in from 2009 to 2012 placing 6th in the world and taking out the Australian title in 2010.
"It's a new challenge for me. I did what I wanted to do in Jet skiing and thought this would be a good change."
The former Captain of the u/21 QLD Indoor Hockey Team will have support from 212 Motorsport and has the Rookie title set in his sights.
"The Rookie title is our goal this year; it would be great to wrap up the title. My focus is the Rookie title and the other guy's top ten finishes," said Nolan.
The Queenslander is also looking forward to joining the Murphy Racing camp especially with the support from his peers.
"The guys have been great. I had a session with Craig and Nathan in September last year and they were really helpful. Craig has also sent me about 50 – 60 hours' worth of video footage, which has been really useful," said Nolan.
Pretty, who finished 3rd outright in the 2012 season, will lead the charge along with longstanding team mate Craig Dontas in the Thirsty Camel Holden.
Pretty will have different colours on his Ute this year after ending a 2 year relationship with Monster Energy, however he will continue with Milwaukee's support and is hoping to bring them the championship title.
"We came unbelievably close last year, if it wasn't for the mechanical failure at the Gold Coast round we would have had it, but we need to put that all behind us now and move a step forward to take out the title," said Pretty.
The former V8 Supercar driver is excited to have Nolan join the team and is keen to support the youngster where he can.
"Matt hasn't raced a lot, I think it will be a challenge for him but I'm looking forward to taking him under my wing and mentoring his progress in the sport. I'm really looking forward to it, it should be a lot of fun," said Pretty.
After his first race win at the penultimate round last year, Dontas is keen to have a consistent year kicking off at his home-track in Adelaide.
"We're finally starting to show some form. I need to start off well at the beginning of the weekend. I'm not a full-time driver and there are plenty in the Series, so I need to get on the pace at the beginning of the weekend and keep it consistent, instead of pulling it together at the end," explained Dontas.
Also re-joining the team is Gerard McLeod who will now steer the 2011 winning Ice Break Holden. McLeod is hoping for a much improved result this season.
"I want to have the championship we failed to have last year. The results we had at the last two rounds were great and our aim is for top ten, even top five, and if we get a race win here and there that would be great," said McLeod.
Murphy Racing will kick-start the season at the Clipsal 500 in Adelaide, Thursday, 28th February – Sunday, 2nd March.