Pro Rider Magazines own Michael Ratti is hanging up the flips and rolls to race side by side with the world best Runabout racers.
Ratti inked the deal to race every round of the National tour, and the World Finals in October.
"I'm so stoked to get out there and run with those guys"! Ratti said.
Dustin Farthing laughed off the announcement, but admitted the Monster Energy Yamaha team has stepped up the R&D work preparing for the new competition.
Current World Champion Sea-Doo Racer James Bushell is reconsidering his plans to race in the US since the announcement stating, "we're all screwed".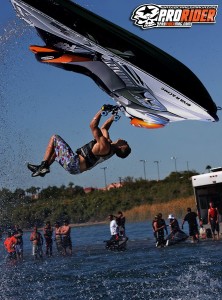 Lee Stone said, "It really sucks to lose a great Freestyler, but I'm training him to superflip a runabout for his first win in Panama."