Congratulations Mohammed Al Baaz aka "Cozmo" from Kuwait for winning his 1st place title in the stock class with his new 2014 Yamaha FZR in the close course race held at Dubai, United Arab of Emirates last weekend.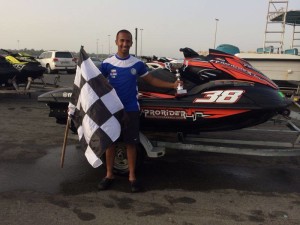 Cozmo is currently the point leader in his class and is looking to win the overall with only two rounds to go.  The six round race series, held in Dubai in the United Arab Emirates and Abu Dhabi has attracted some top names in the sport including Gyorgy Kasza, Kevin Reiterer, Toshi "Samurai" Ohara, Jean Baptiste Botti and Jeremy Perez. This coming weekend will be round #5 and will be raced in Abu Dhabi with the finals coming back to Dubai the weekend after next.
Al Baaz is a member of the Kuwait Pro Rider race team and brought home 3rd place in the Pro Am Runabout stock at the 2013 Hot Products World Finals.  All of us at ProRider Magazine wish him well as he edges closer to his overall win!
Picture provided by Ahdi Al-Essa