Pro Rider Watercraft Magazine had the distinct honor of interviewing some of the top women of the personal watercraft industry in appreciation of all of the hard-working, hard-charging ladies out there. Pro Rider team member, Vanessa Bunting Ratti, got some up close and personal insight with Pro Rider cover girl, Kylie Ellmers, Tera Laho, Amy Green, Yukiko Kume, Danielle Lawlor, Ashley Sponaugle, Jessie Wijdeven, Angela Vacchino, Jennifer Menard, Demian Morgan, Shante Bukes, Anna Glennon and Bibi Carmouche. The article appears in the 2015 January/February issue and the full version is available now for all to see. Here's what the incredible ladies of PWC had to say!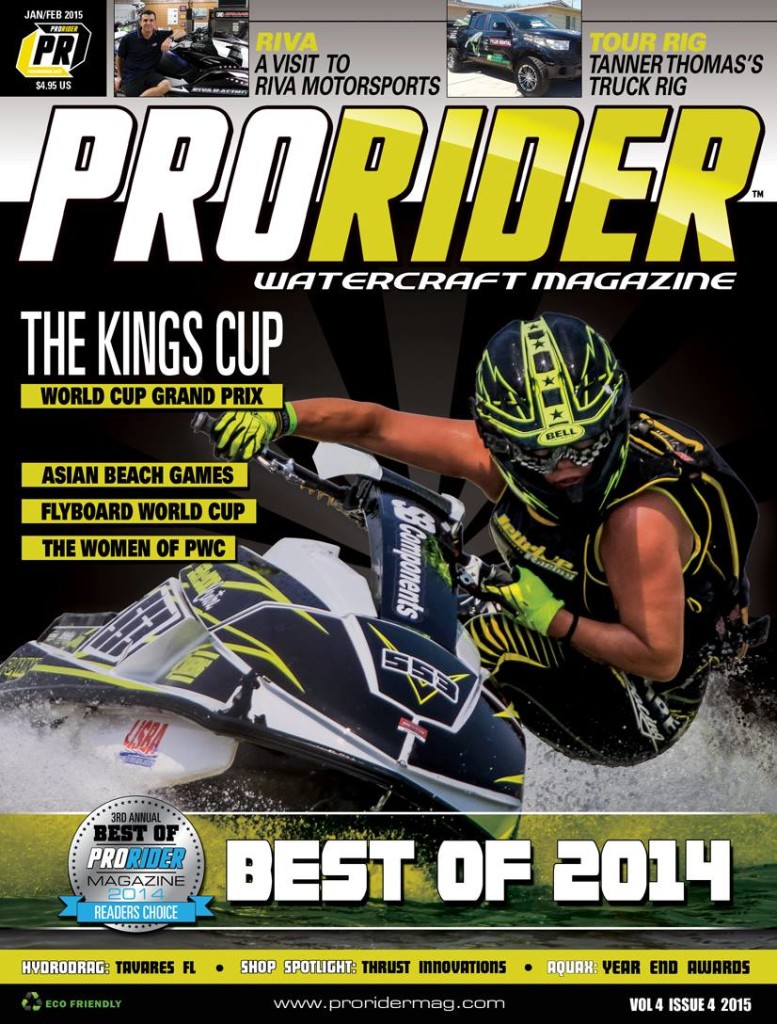 Never Underestimate a Girl – Full Version

By: Vanessa Bunting Ratti
Pro Rider: How did you become interested in jet skiing?
Demian Morgan: Going up river into Hell's Canyon as a little kid, at 9 years old, my Mom's friend Smitty took me out on his Super Jet with him. A couple of years later, my friend Kaegen got an FX1; I fell in love with riding it! At 12, I finally got my own square nose Super Jet!
Tera Laho: I became interested in jet skiing because I live in Lake Havasu City. This is where I grew up. It is the mecca of watercraft riding and home of the World Championships. I fell in love with the thrill and the freedom to express my style.
Kylie Ellmers: I have always loved being at the beach, in boats and had a passion for speed. My father was a mechanic and had race cars so it was a natural progression for me.
Bibi Carmouche: I started riding jet skis with my friends in high school out at the lake near my house. We used to have a huge group of people who would meet almost everyday with our 550's and 750's and just ride until the sun went down. One of our friends had told me that they raced jet skis near by and when I went and check it out, I immediately started practicing on buoys then got an SXR and raced my first race on the National Tour in Nevada. Ever since then, I was hooked!
Amy Green: I saw a flier for a race in Southern California and talked a group of guys from work into going to check it out with me. We had no idea what we were doing, but after one moto, I was hooked.
Yukiko Kume: When I traveled to Hawaii, I experienced jet skiing.
Anna Glennon: Jet skiing has always been a part of my family. MY dad got a JS440 when he was in middle school; we still have that ski today. I had my first ride on a Jet Ski when I was about a year old. My dad would take me for rides on my grandpa's Sea Doo SPX. I fell in love with it as a toddler and would cry until they would take me out for a ride. My dad helped me build my first motor when I turned 12; I built a JS440 from a box of parts. It was around that time when I started riding stand ups on my own. My sophomore year in high school, my dad took my little sister, Jessie, and I to a local race to check it out. Once we got to see the racing in action, we caught the bug! We started racing in 2012, and founded Jet Girls Racing. Since then my family and I have had so many amazing adventures and met some phenomenal people. Jet skiing is an incredible sport, I am so happy we got involved.
Ashley Sponaugle: I hopped on a jet ski for the first time in my life only three years ago! So jet skiing is a new passion for me. I have a hard time believing it was such a short time ago, given how much my life revolves around PWCs and jet skies now from closed course and endurance racing to long distance, expedition-type crossings to the Bahamas. So how did I et interested in jet skiing? I was first exposed to PWCs through a group of friends, the Tampa Sea-Doo Crew. We took a trip on Sea-Doos crossing from Miami to Bimini in 2010. The trip spawned numerous other trips, including one trip totaling 700 miles from Miami to the Exumas, Bahamas which is chronicled on YouTube in a 10-part series put together by Kevin Wassum.  http://www.youtube.com/playlist?list=PLxqvKAcRaqSwIh5iMtUrwbP05uLrDx1og
And how did I get interested in racing? The popularity of the videos led to us meeting a local racer, Brent Venderley, during a recreational ride around Clearwater, FL.  I was quite intrigued by the idea of racing, especially as a means to gain a new set of riding skills I could use towards taking on more challenging offshore crossings & expeditions.  Brent encouraged me to check out closed course racing, so I spectated at a race in Tavares, and I was hooked! My racing career began at the debut of the P1 AquaX USA race series in Daytona in 2013. I am quite proud to be one of the original seven racers of P1 AquaX USA.
Jennifer Menard:  I became interested in jet-skiing at the age of 15 following a fall in figure skating which forced me to quit the sport I practiced for 8 years.
Shante Bukes: I first raced motocross, but ended up with serious injuries. My Dad convinced me to try jetski racing, as we stay on the banks of the Vaal River and I spent most of my free time on the water. After my first race, I immediately fell in love with the sport.
Angela Vacchino: I started Jet skiing at the age of 10 years old when my parents bought me 750 kawi stand up. I was the youngest little rider around my hometown; all the adults would take me out every night in the summer on the river behind my house. At that age I would ride buoys with the boys, but what I preferred doing was flat-water freestyle tricks, I would practice every day and loved every minute of it. Many Years later a team by the name of Noble racing approached me to race the watercross tour in Texas, that is when I first started to race sit downs and Stand up skis. That was a fun tour and made some many great friends.
Danielle Lawlor: I first became interested in Jet Skiing when my dad brought home a couple jet skiis for the family and we took them on houseboat trips to Shasta Lake when I was about nine years old. It wasn't till the last couple years that I followed in my brother's footsteps to start riding in the ocean, and boy is that fun!
Jessie Wejdeven: I met my boyfriend and he just bought a old square nose Super Jet to see if he liked the sport and we tried it sometimes and became addicted and we kept on training at least twice a week for the last 4 years. We rode  a Super Jet for 2 years then we started to look more into aerial freestyle and switched to a freestyle hull and now we've trained for 2 years on aerial freestyle.
Pro Rider: Who is a "hero" in your life and why? 
Demian Morgan: My ride or die best friend Brielle Whittaker is definitely a hero in my life. She's been a true role model, showing me that you can go for and do what you want in life, to not let others phase me, and she is always down to go on a new adventure with me!
Tera Laho: Shawn Alladio. She is my hero. Have a look at www.shawnalladio.com or K38 Rescue.
Kylie Ellmers: Im not sure I have actually had a Hero as such, many people inspire me which gives me the drive that I need to achieve.
Amy Green: My parents are my heroes. They are the best role models anyone could ask for, and have supported everything I have ever wanted to do.
Yukiko Kume: Nedra Atwood. She loves jet ski races and always supports racers with every effort, and it is very interesting.
Anna Glennon: It's hard to pin point one particular hero in my life. I have different heroes for different reasons. The first of which is my dad, who has taught me everything I know, and is the greatest mechanic, coach and holder. One of my other role models would have to be "The Jammer" Jeff Jacobs, who is one of my favorite racers of all time. His abilities are simply amazing. I have also admired Christy Carlson. I hope to be a role model as she was; her faith and charisma still inspire me! And, after meeting Dustin Motzouris for the first time last year, I would have to say he is another big role model for me. He has incredible skill and talent but maintains such impressive humility, I am so thankful to have gotten the chance to hang out with him and the other Kommander Industries racers.
Jennifer Menard: My darling and my parents, because every day they make me want to push myself and do my best to make them proud of me.
Shante Bukes: I have two heroes, my Dad who always supports me and reminds me to have a "no fear" attitude, and my Mom, because she is always praying for me when I am out on the water.
Angela Vacchino: I have never really had a specific hero in my life. However my biggest mentor that comes to mind is my downhill ski coach Jurg Gfeller he taught me at a young age how to have a strong mind and to always be one step ahead of the other competitors.
Danielle Lawlor: Two big heroes in my life would have to be my brothers because by definition they are men of distinguished courage and ability. I admire them for their brave deeds and noble qualities. My brothers are 'model' gentlemen. They work hard and have always been there for my family and I.
Jessie Wejdeven: In life, Tim Verheij, as he is my boyfriend and beside me as a sort of a coach. He always supports and motivates me. In jet skiing, Lee Stone and Rok Florjancic because I like their riding style and innovations for the sport.
Pro Rider: What has been one of your greatest moments? 
Demian Morgan: Landing my first barrel roll Saturday night at the 2014 Blowsion Surf Slam has definitely been one of my biggest accomplishments! Although it wasn't during competition, it felt so good to prove to myself that I'll be bringing stuff to the table, more than just rookie tricks!
Tera Laho: I've had lots of moments I can call the greatest. The 1993 World Finals is the most memorable because I captured my first World title of my career in front of my home town and family.
Kylie Ellmers: Winning my first Women's Runabout World Title was great! However, my best moment would have to have been when I won my Woman's Ski World Title.
Bibi Carmouche: My greatest moment was winning my first World Title in 2013. It was only my second year of racing and that week at World Finals everything seemed to be going perfect for me. I ended up winning all three motos in the Novice Women's class to take the title, the rest of the week I had performed better than expected and took home two 4th places and a 6th place in my first Pro Women's race. That week was unforgettable and I hope to be able to do that again soon!
Amy Green: At the 2005 World Finals, and with Bo Dupriest's support, I ended up on the podium three times.  I earned a championship and two 2nd place finishes, one of them in an Open class on one of my awesome Neptune Limited boats.
Yukiko Kume: When I became World Champion and attended a surprise victory celebration in which many people attended.
Anna Glennon: There's no way I could pick just one! My Jet Ski career has been such a fun journey. I have met so many cool people and had some seriously awesome opportunities thanks to jet skiing. I think one of my favorite moments would be the World Finals this year. I had the wonderful opportunity to teach an awesome group of young racers about Social Media and Sponsorships at the JR Stars Clinic. It was crazy fun and such a blessing to be a part of these kids' careers. I met so many talented young racers from all over the world! You might be expecting that I would list an award or a finish or a title, but my dad has this long standing idea that "trophies are just empty cups", and I've realized that rings true. Sometimes, winning isn't everything. My greatest memories from racing had nothing to do with the track or the podium; they came from the times I spent with the people who love Jet Skiing as much as I do.
Ashley Sponaugle: Off the water, one of my greatest moments was accepted to Johns Hopkins University Medicine to do my PhD in Neuroscience! I never thought I would get in because it was the #1 medical school in the world, and let's just say my academic record was less than pristine. The acceptance meant so much because it proves that there are always ways of getting something you want in life if you want it bad enough, you just might have to be a little creative and may require taking a non-conventional route to get it.
On the water, one of my greatest moments was successfully Solo crossing from Miami to Bimini, Bahamas (55 miles) across the Gulf Stream this year. Prior to that trip, I made the crossing 10+ times. Plus, I am OCD about planning and being equipped with safety/emergency equipment so I was well-prepared for the attempt. It sure was rewarding to pull into the dock in Bimini realizing that I had just accomplished something most guys I know would not attempt!
Jennifer Menard: My greatest moment will stay in October 2014 with my first World Champion title in Ski Ladies Pro Class.
Shante Bukes: Definitely winning the Women's Runabout Worlds championship at World Finals and the World Cup in Thailand in the same year.
Angela Vacchino: My greatest moment in Extreme Sports would have been in 2006 when I won two titles in one year. I won the Canadian National Pro Women Snowcross title and the World Power Sports Pro Women Title. That was the best season of my life.
Danielle Lawlor: One of my greatest moments was landing my first backflip ever in competition at the 2014 Blowsion Surf Slam. Apparently I'm the first girl to ever do that so far!
Jessie Wejdeven: Being the first girl in the European competitions to backflip and I still enjoy all moments when I enter a competition and show a new and improved routine.
Pro Rider: When are you the most nervous while you are competing and what do you do to overcome that?
Demian Morgan: I'm most nervous after I compete in my heat. I usually run over my last heat in my head to picture everything in order to over come it.
Kylie Ellmers: I would have to say I am more nervous watching people I help and build skis for than when I ride, the best way to get over the nerves is go race myself!
Bibi Carmouche: I'd say I am the most nervous when I'm on the starting line waiting for my race. The adrenaline starts pumping so I try and do some different stretches and breathing to calm myself down and make sure I'm focused on what needs to get done. As soon as the band snaps, the nerves go away and I am in the zone focusing on the checkered flag.
Amy Green: I only get nervous about two things – that i'll have just the right amount of fuel and that my holders will be on the line in time, so I always check my own fuel (and check it again) to make sure it's just right, and that I am fortunate to have had wonderful holders, particularly Andy Tworek, Jeff DeCoite, Ross Jordan, and Mark Jordan who have always been there when I need them.
Yukiko Kume: Being tense just before a start. I like the American national anthem and remember it while I'm riding.
Anna Glennon: I don't think I get nervous anymore. I used to get so nervous I would make myself sick! I have realized over time that my mental game is very important on the track. I don't feel nervous knowing that my dad is an amazing mechanic, and that everything is in God's hands. I just have to have faith and do my best.
Ashley Sponaugle: For me, most of my racing nerves come from my lack of experience in racing. I work to overcome these nerves with a similar approach I use in my day job as a neuroscience researcher. In the neuro research world, my success came from working harder than everyone else; I asked more questions, worked longer hours and read more than my competition. Putting in the extra work up front and not being shy to ask a lot of questions helped me progress pretty fast in racing.  Being a newbie to jet ski racing pulls me out of my comfort zone, but I love the challenge and enjoy being the underdog while I'm learning. But I won't be the underdog for long, so watch out boys!
Jennifer Menard:  I'm never too stressed. At times Ill dread a race but I take a deep breath, close my eyes and try not to rush.
Shante Bukes: I'm most nervous when I'm lined up on the starting line, but then I just pray and kiss my handlebars before the games begin.
Angela Vacchino: I don't usually get to nervous, if I do, I normally take some big breaths and shake out the butterflies and just focus a little harder on my race than what is going on around me.
Danielle Lawlor: The nerves start to really build up for me right before going out to ride head to head in competition. To overcome that, I remember what my boyfriend, Phil, told me. I am here to have fun and I sure am having fun!
Jessie Wejdeven: I am most nervous just before the moment I need to go out on competitions. I really focus on myself and think about my routine and try to relax myself and keep saying that it is not that important to try to keep stress down.
Pro Rider: Describe an Embarrassing Athletic Moment
Demian Morgan: It's always embarrassing when you're trying to surf that wave in the very last bit and you get stuck on the sand bar that comes out!
Kylie Ellmers: Actually this year! On the last round of the Thailand tour, during the last Ski Limited race, I only had to finish to win. My Flamingo team mate, Golf, was second. We were being cheeky to each other pre-race, I was going around the holeshot looking at him over my shoulder and WHAM! I hit chop from the runabouts warming up! I actually broke my leg! Yes, I did crawl back on, yes I did finish, I am stubborn. The whole tour depended on it! It made it hard at Havasu though, I paid the price.
Bibi Carmouche: My very first race was at the national tour stop in Sparks, Nevada and I had no idea what I was doing or what I was supposed to wear when I raced. So, I decided to get some spandex shorts to wear with a bathing suit, which probably wasn't the best idea. In the middle of one of the races, I bobbled in the water and when I stood up, my bottoms had fallen down. I was so determined to keep racing that I rode a couple laps almost butt naked and when they started to fall down to my ankles I had to kneel down on the back stretch and pull them back up. It was quite an embarrassing moment but now I know what not to do!
Amy Green: I have missed the checkered flag and taken not just one extra lap, but almost a full second lap.
Yukiko Kume: When I made a mistake, of course.
Anna Glennon: I have never shared this with anyone, but when I was younger, I was too scared to jump my JS440 over a foam block floating in the lake. My family still teases me to this day!
Ashley Sponaugle: I've been fortunate enough to not have any terribly embarrassing moments such as nip slips or wardrobe malfunctions….yet! I suppose the most embarrassing moment so far was the end result of my 4-5 ejections (I lost count) during my very first race at the debut of AquaX in Daytona. The waves were enormous and I had no idea what I was doing. The battle wounds to prove it can be seen in the Pro Rider Watercraft Magazine Sept/Oct 2013 edition.
Shante Bukes: My most embarrassing moment was in 2011 at the King's cup in Thailand when I had to do an LCQ, but only realized it when the bungee went off and I missed it! I had to register in a completely different class to take part in the World cup. And then….Sleeping in the pits with my mouth wide open and the pictures went viral!
Angela Vacchino: I would have to say when I was racing cross country skiing and I had the relay race won and I ended up falling and getting my ski stuck in behind my bib and I could not get up, I was 10 feet from the finish line, I lost the race for the team!
Danielle Lawlor: An embarrassing moment I have had was when I tried to do a ballet move on my jet ski in competition and totally fell. Come later to find out that the judges weren't really looking for that anyway.
Jessie Wejdeven: I had a routine and all planned stuff didn't work. I became so mad, I didn't stop doing 180-360 stuff in the first round of European Freestyle Championship. When I saw the movie afterwards, I started laughing at myself as I really could see my frustration in it.
Pro Rider: What other sport would you like to compete in if you were not riding skis?
Demian Morgan: If I wasn't riding skis, wake boarding has always been something I thought would be super cool to get into. It takes so much skill and is almost exactly like jet skiing except your being pulled by a boat!
Tera Laho: If I had youth to experience it all over again, I would say surfing.
Kylie Ellmers: Before I raced skis, I played Representive Soccer (football) since I could run, even made the NZ training squad. I only gave this up to go jet skiing.
Bibi Carmouche: I would love to start competing in downhill mountain bike races and motocross if I ever get the chance to. I also have done some freestyle skiing rail jams in the wintertime.
Amy Green: Motocross
Yukiko Kume: I think that I would not race anything if I didn't ride jet skis.
Anna Glennon: That's tough! My family has always been Jet Skiers so I couldn't imagine my life without this sport. Maybe I will try freeride or freestyle Jet Skiing someday; I have mad respect for those guys! I want to be involved for as long as I can; I love Jet Skiing so much.
Ashley Sponaugle: Despite my brief experience with jet ski racing, I have been pretty athletic all my life.  People are often surprised to hear that I was captain of my golf team in high school, and I was a competitive figure skater training with Olympic medalists. Outside of riding skis, I'm into more rugged, challenging expedition-type competition and adventures these days.  I could see myself competing in some Extreme Red Bull race series or picking up competitive kiteboarding, surfing, baja racing, hang gliding or rock climbing.
Jennifer Menard: If I had the chance I think I would prefer my skates again.
Shante Bukes: I would love to fly aerobatic planes and compete in the Red bull Air race world championships.
Angela Vacchino: I would love to be a beach volleyball player with my sister
Danielle Lawlor: Other sports I have wanted to compete in, if I wasn't riding Jet Ski's, is either snowboarding or horseback riding.
Jessie Wejdeven: Before I started jet skiing I did a lot of freestyle snowboarding. I did some competitions with this but afterwards I got more interested in freestyle jet skiing and stopped training. If we didn't ski that much I would be doing that. In winter we still do some snowboarding but only when the lake is frozen, haha.
Pro Rider: What is something that is unique about being a female in our sport? 
Demian Morgan: In general, not many girls ride motorized things or jet skis, especially free-riding jet skis! There has only two females that have competed at both the Grayland Open and Blowsion Surf Slam, just now being the 2014-year!
Tera Laho: Being a female racing in the Men's division is unique in itself. This is what I do and have a passion for.
Kylie Ellmers: I'm not sure I consider myself unique.
Bibi Carmouche:Something that is unique about being a female in this sport is that we get the opportunity to copete in both the men and women classes whereas the men don't get to do this. This helps us a lot because many times the women classes are lacking in competitors so being able to compete against the men throughout the year gives us the practice we need for world finals where the lines are full and it also gives us more track time even when there aren't many people to race against.
We also get a lot of recognition from fans and sponsors when we perform well in the men;s classes because people love to see girls go out there and kick the guys' butts. And inspiring young women to go out and do something that they love even if it is a male dominated sport is always a rewarding experience.
Amy Green: It is one of the few sports that has more than a handful of women that have been able to compete successfully for podium positions with the men.
Anna Glennon: I think one of the most incredible things about being a young woman in this sport is our hearts. I have met so many women in this sport that empower one another. Girl Power gets me so stoked! I won't ever forget my final moto of Women's Ski Limited at the World Finals this year. After fighting tooth and nail over position with a young lady from Europe, we finished the race and were hugging and choking up in the Tech Inspection area. I think I hugged at least three other girls who were near tears but laughing, we were all so happy to have taken part in the World Finals. I remember saying "We did it!" I won't ever forget that. As young ladies in this sport we have the power to empower others, and bring even more girls into the sport. That is my favorite part, plus, chicks rule!
Ashley Sponaugle: There are pros and cons to being a woman in jet ski racing.  In a lot of ways, jet ski racing can be easier for women.  We typically weigh less than guys giving us an overall weight advantage, and we often have more natural finessed movements since our center of gravity is lower. Also, I imagine that it is easier to get help from a fellow male racer if you're a chick, but I haven't rigorously tested that theory.
There are some disadvantages to being a woman racer, but I think they are minor and can be overcome. Let's be honest, every racer out there has some sort of disadvantage compared to the guy (or girl) next to them on the line.  For me, one disadvantage is my upper body strength compared to guys. I have a harder time hanging on to the ski in various conditions, but I am working on ways to overcome it. I strength train and perhaps a seatbelt modification will be installed on my 2015 race boat. Women may also be at a disadvantage if they had a lack of exposure to mechanics throughout their life.  The sport of jet ski racing is great for women who can get into changing their own oil and turning a wrench.  If you're not interested in mechanics and getting grease under your fingernails, racing skis might not be your thing.
Jennifer Menard: Having a sacredness.
Shante Bukes: It gives me a power to be strong and proud to be whom I am and embrace feminine ship by still being a lady.
Angela Vacchino: That we are capable of being as fast or faster then the men, some sports that is very hard to do. Female athletes in extreme sports can show young girls that anything is possible, if you have the right mindset and drive.
Danielle Lawlor: I think it is unique to be able to do some of the same tricks as the guys even though women physically aren't as strong. It's all through the timing and the power of the motor. And women look better in wetsuits and bathing suits in this sport! Ha ha!
Jessie Wejdeven: I think there aren't too many females in this sport; and, riding as one of the very few competing girls against the boys makes it unique.
Pro Rider: Do you think it is harder for women in the sport of jet skiing or easier?
Demian Morgan: I think it's harder for women in the sport in the sense that the men don't take us all that seriously. But, it is a little easier that way because they underestimate us!
Tera Laho: If you want to ride like the best, racing in the men's class is a must. There simply aren't enough women racers to race against and feel satisfied. Win or loose.
Kylie Ellmers: The same for me however I think it's harder for others who are learning. They get a bit daunted by having to race Novice with the boys.
Bibi Carmouche: I think it is harder for women to compete in jet skiing especially if they are racing in the men;s classes like I do. There's not enough women to compete against on a weekly basis so it forces us to join the men's classes and push ourselves to fight harder and be ore aggressive while racing with the men. Guys don't like to be outdone by a girl so when women are racing with them there seems to be a bigger target on our back compared to the other competitors on the line.
Amy Green: In general, it's harder for women because of the physical demands, but many women have skills and abilities that compensate for that such as strategic thinking, determination, quick reaction time, level headedness, and a smooth riding style.
Yukiko Kume: I think that it is easy to get on the jet ski. However, the racing is hard because physical strength is necessary, and costs money when broken. But, jet skiing is still fun.
Anna Glennon: I think that our psychological barriers are greater than our physical ones. The guys in this sport set the bar extremely high, it's a huge hurdle for us to try and keep up with them. But when we set our minds to it and truly dedicate ourselves, we have the ability to overcome anything. I know that when I am on the starting line with those big tough guys, I can get a little intimidated. Racing against them is always fun, and beating them is even better. Without the guys in this sport, the girls wouldn't have a reason to step up their game!
Ashley Sponaugle: Right now, jet ski racing is predominantly male making it much easier for a female to get visibility and recognition within the sport. This is a good and bad thing for women. It's good from the fact that women don't have to work as hard to stand out from the crowd, but on the same token it's bad because it does not always motivate women to bring their A-game.  I do like the fact that women have to race with the men in most classes. It keeps the playing field more even and gives women a chance to earn equal respect.
Jennifer Menard:  It's not too difficult, but it takes a lot of will to arrive at the buoy. With a lot of rigor and training, there is no constraint of being a girl.
Shante Bukes: I personally feel that I can do anything and achieve anything with God by my side, having no fear and girl power! The best experience a girl can get is to compete with the guys.
Angela Vacchino: Any extreme Sport seems to be harder for Women, if we could keep a group of fast women all the time at every event, I think we would get promoted more as the racing would be more exciting to watch.
Danielle Lawlor: I don't think it's neither easier or harder for women in the sport. It is just different and not as established as the men. There are not as many females doing it yet.
Jessie Wejdeven: I think sometimes it's harder as many people don't expect this kind of performance from a girl, and I have the feeling that I miss some muscle and body power compared against the boys.
Pro Rider: What tour stop is your favorite of the year to compete at? 
Demian Morgan: The Blowsion Surf Slam has been my favorite so far!
Kylie Ellmers: King's Cup, hands down, I love Thailand.
Bibi Carmouche: My favorite tour stop is in Panama City Beach, Florida. Ocean races are always fun and this place is extremely beautiful with the white sand beaches and bright blue water.
Amy Green: My favorite spot is Myrtle Beach, and I miss it.  I love to race in the surf!
Yukiko Kume: Lake Havasu, for the World Finals.
Anna Glennon: This is tough! I really love Panama City Beach, FL, for the HT Pro Watercross National Tour. It's such a beautiful place. But Lake Havasu has my heart! There is so much history there; it never ceases to amaze me.
Ashley Sponaugle: There are several tour stops I haven't raced at yet, but that should change by the end of the 2015.  Of the tour stops I have raced, my favorite was Islamorada at the HydroCross Tour stop in 2013.  Why is it my favorite? I am a diehard sun, salt, and sand tropical island girl so the overall atmosphere was great in Islamorada. Daytona is a close second for its large racing community, the beach atmosphere is great for spectators, and the chance of gnarly waves kicking up helps keep you on the edge of your seat.
Jennifer Menard: UIM World Championship.
Shante Bukes: Definitely the King's Cup in Thailand because it is so well organized and it is hard racing out there with the Pros.
Angela Vacchino: The last year my favorite stops were the back-to-back Florida races. I loved riding in the big surf; I had just completed my Snocross tour so the big waves were my thing.
Danielle Lawlor: So far my favorite stop has been Surf Slam in Oregon because it was where I started feeling more comfortable and completing my backflips. It's a great group of people there and we always have a lot of fun. We are lucky to have our whole family attend!
Jessie Wejdeven: The European Freestyle Championships, but I guess next year I will attend Havasu as we really hope to make it happen, to compete in the 2015 World Finals.
Pro Rider: Who would you like to thank for getting you to where you are now? 
Demian Morgan: My Mom, Step Dad, and the friends of mine that hauled me up river with them in order to ride from the beginning, all the moral support and help from my friends, my Dad and Morgan Industries for supporting all the costly things in jet skiing and always pushing me further, Blowsion for all the help and building me the boat that fits me perfectly, and Vitalire clothing!
Tera Laho: I would like to thank Havasu Watercraft Conection and Tech One Racing for everything they have done. I took a long break from racing and when I returned, they stepped up and helped me get back on the race track. I was able to fuel my passion again. Forever grateful.
Kylie Ellmers: In the very early day of getting me started and out there racing was a great bunch of guys: Greg Smith, Murray Holdaway, Matt Kinesch, Simon Meadowcroft and Grant Nicholson.  From there, when I decided I wanted more from the sport, I moved to Australia. This is where Les Cooke started helping and teaching me. Once I started traveling to Havasu, and could not afford to take a crew, I met the fellow who made it possible for me to achieve my goals. LC Engineering for the awesome support they give me every time I turn up to Havasu. Bill and Leanne Miracle for the support they give me in Havsu also. Henry Kanuf and Team Flamingo. NZ Jet Sport Association, TJSBA, AJSBA, Jettrim, Jettribe, Steve and James Bushell, Jon Killborne, Scott Taylor and Charles Anderson. all of these people have been supporting me for a very long time. This means so much to me as without them, racing overseas would be a lot harder.
Bibi Carmouche: I'd like to thank my dad first and foremost, because he really has helped me out more than I could ever ask for and is always at every race to hold for me and cheer me on. I'd also like to thank all of these great sponsors: Liquid Militia, Ultimate Watercraft Performance, Lucas Oil, Hot Products, IPD Graphics, Jet Pilot, Jettrim, Ryno Power, Skat-Trak, TBM, Roseville Kawasaki, DASA Racing and Bullet.
Amy Green: Jim Pierce, his wife Debbie, Mark and Ross Jordan and their families, Polaris, Bo Dupriest, Kenny Sims, Mark Dobson, Yamaha. Ray Proulx, Fly Racing, Hydro-Turf, and my family.
Yukiko Kume: My friend Yuji and Arizona Jet Ski, and Nedra Attwood because she always supports me every year.
Anna Glennon: I don't even know where to begin! My dad has been the driving force behind my career; he is my biggest sponsor, mechanic, holder and coach. My mom has been the greatest emotional support throughout this crazy career. My friends, family and fans have been so loving and supportive; they keep me on the right track. And of course, I have some incredible sponsors that have been backing me: Crashforensics.com, Steve Webster and Kommander Industries, Chris Hagest and Pro Watercraft Racing, Oil Depot, Fly Racing, ADA Racing, The Rad Dudes, Burn Industries, Full Spectrum Carburetors and Optima Racing.
Ashley Sponaugle: I would never have gotten into riding PWCs had it not been for Kevin & Corrie Wassum and the Tampa Sea-Doo Crew. I owe them the most thanks of anyone who has helped me to get to where I am today, and I couldn't ask for better friends!  Tim McKercher (Sea-Doo) and Michele Chenard (LOOK Marketing) have been so wonderful for supporting me and bringing me into the Sea-Doo family.  Michelle Petro (AquaX & Pro Rider) has been integral in me joining and staying in racing. Had I felt intimidated by the whole racing process, I may not have continued to race past my first race, but Michelle made me feel welcome every step of the way and treated me like all the other seasoned racers. Brent Venderley & Brad Clark (Hydrocross Racing) introduced me to closed course racing and helped me learn the ropes. They have been so awesome and I can't wait to help support them in return with next year's HXR race series and the opening of PWC Arena Racing!!  Scott Gilbert has been my awesome positivity and adventure companion and coach for the past two years. Eric Francis has been amazing in helping train me and providing me with the occasional race boat.  And finally, Jeremy Schandelmayer hands down has been the biggest factor in getting my racing career off the ground from playing pit bitch, to mechanic, to riding and racing knowledge and technique mentor.
Jennifer Menard: I would like to thank my parents because without them I would never have known this sport existed, and all of those who follow me since my early days and who are always behind me to support me.
Shante Bukes: First my Savior , my family, Jared Moore, Dustin Motzouris , Kommander industries , Rockstar energy , Burn Industries , Villon clothing , Sea-Doo centre ,DJvanR , LPS , Carl Bechem and Dragon Alliance.
Angela Vacchino: I have multiple people to thank, first off I would have to say my family they have always supported me and made all my dreams and goals achievable. My good friend Gary Carnovale, he took me under his wing when I was a little kid, he pushed to do everything and he still does today. If it was not for that friend I don't think I would be racing today.
Danielle Lawlor: A few of many thank you's goes out to my mom and dad for always being such great supporters of us, my brothers- Lawlor Bros. ! – for literately getting me and my ski ready and teaching me everything I know so far about jet skiing, my sister-in-law Stefanie Lawlor for feeding all of us on the beach and being our team mom, and very importantly my boyfriend, Phil, for putting up with me. His kind, calm words of encouragement get me through. Knowing he's right there by my side every step of the way means a lot.
Jessie Wejdeven: Tim Verheij my boyfriend, my family and friends for supporting me, Team X scream for the great ski, HydroTurf for their support, and Full Spectrum for their nice carbs
Pro Rider:  What can we expect to see from you for 2015? 
Demian Morgan: Progressing more and more is what I'll be pushing myself to do in 2015! I will be competing at the 2015 Grayland Open and Blowsion Surf Slam, both at amateur level. I will also be traveling to the Pismo Freeride, Daytona Freeride, and possibly the Liquid Militia team weekend!
Tera Laho: I am starting off the 2015 season racing the Mark Hahn 300 endurance race aboard a Yamaha FX SVHO. We will go from there. I want to compete in Pro Ski, Pro Lites, Pro Ski GP, you name it. I also can't wait to see my ron, Rider, racing in the 10-12 class. He will be 10 in June.
Kylie Ellmers:I would like to race in China and more in Europe. I am working on a new ski. I would also like to spend more time with the kids from Flamingo Racing team, they are just such great kids and love riding as much as I do.
Bibi Carmouche: You can expect to see me racing the West Coast tour, the US National Tour and World Finals. I will be training harder than ever and hopefully will have some new boat changes coming soon!
Amy Green: I'll be spending more time on a stand up training with the juniors and doing some more race directing.  Though I'd much rather just be focused on my own racing, it's been important to me to help the sport grow.
Yukiko Kume: The participation in the World Finals of the next year. I look forward to other races in America, too.
Anna Glennon: Thanks to my sponsors we have some awesome stuff cooking. I had such an awesome finish to my season this year that we are revamping our strategy and setting big goals. I want to continue to grow as a rider and see where it takes me. Unfortunately I can't disclose anything at the moment, but be looking for some information on Jet Girls Racing.
Ashley Sponaugle: I have quite a lot brewing for 2015!  In racing, I just received my first official sponsorship with Watercraft Superstore, so I will be taking my racing to the next level this year! At a minimum, I will be racing three US tours:  P1 AquaX USA, Pro Watercross Tour, and HydroCross Racing Tour.
In 2014, I was named the P1 Marine Foundation Ambassador for the USA so I plan to use this appointment to expand awareness for environmentally savvy practices in racing with the help of the P1 Marine Foundation and BLUE Ocean Film Festival. One such project involves making P1 Powerboats & P1 AquaX racing carbon-neutral through a carbon-offset program.
And finally, I am working with a team to set a Guinness Book World Record with the use of a PWC this Spring! Details are hush hush right now, but more should be announced the next few months! Follow me on Facebook or other social media for Bahamas and racing updates!
Jennifer Menard: In 2014 I had two titles, Champion of France and World Champion. In 2015, I wish to make a hat-trick by winning the European Championship, and my ultimate dream, run Havasu!
Shante Bukes: I will be competing in the Mark Hann 300, partnering with World Champion Dustin Motzouris.
I will also be racing a few US National races and then again compete in the World Finals and the King's Cup. Most exciting of all is I will be launching my very first BURN Industries "SB72" wetsuit line.
Angela Vacchino: For the up and coming season I am hoping to do the US tour again and improve in all my overall placing, and to take a top 5 at World Finals next year in Pro Women's Ski.
Danielle Lawlor: 2015 will bring more tricks and getting better at tricks on my new Rickter Edge FR thanks to Taylor Curtis at TC Freeride and Kyle at DASA for the powerful 950 motor. Love it! I'll be able to keep 2015 looking good with turf from Hydroturf and great swag from Liquid Militia! Lawlor Bros has put forth so much time and effort to help me I can't thank them enough! You can expect to see Lawlor Bros and sis out there tearing it up together in the new year!
Jessie Wejdeven: I will keep on going with training and improving. I've got some stuff in my mind and some nice combo's. My goal and motivation for this year is to end in a top 10 position as a girl in World Finals freestyle. So let's all think that it all will happen.
Write to Pro Rider Watercraft Magazine by emailing info@proridermag.com!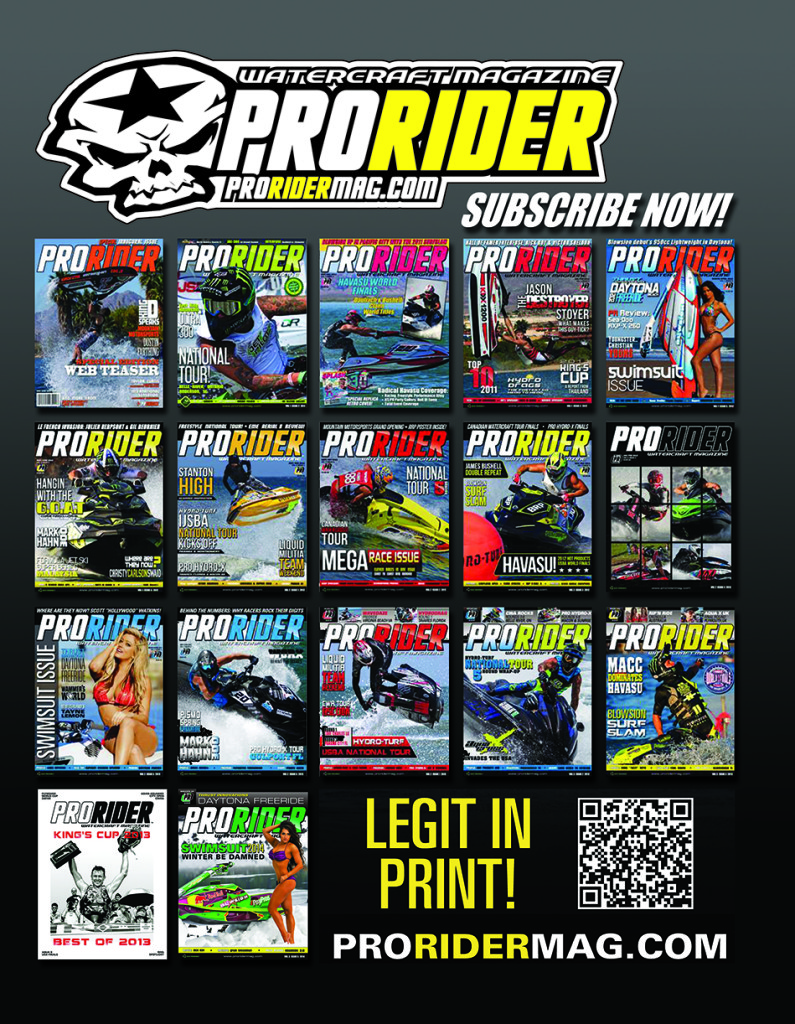 Find us on Facebook & Instagram