P1 AquaX makes its London Debut at Royal Victoria Docks this weekend March 26, 2014,
Images by Juicy photography and Danielle Gav
London: London's historic Royal Docks will be reverberating to the sound of over 30 riders this weekend as they take to the water for their season opener in the Royal Victoria Cup! Twenty AquaX riders will be competing in two races in this pre season, non-championship round at the RoyalVictoria Dock. Lisa Barsby AquaX Championship Manager commented "I am really excited about this event, it is a great way to open the season and to launch the new stand Up class. It's not often you get the chance to race in the centre of the capital, we have lots of guests and sponsors coming down and it will give P1 a chance to showcase our sport to the capital."
2013 P1 AquaX Champion Dave Huddleston will be out riding in the 300 Class and he commented "It is great to ski somewhere different and where access is normally prohibited. The tight course is going to suit the former closed course racers like myself and we should see some very competitive racing and even a bit of elbow action. I am looking forward to getting back out there, but it is going to be anyone's race!" Competing alongside Dave are a number of P1 AquaX first timers including polish born Dariusz Plazewski from Acton in London. A competent rider of 8 years Darisusz is feeling quietly confident about his debut AquaX race. "I used to play rugby so I am a big strong guy and quite confident and excited to see how it goes."
Saturday 29 March will see the launch of the new AquaX Ski Championship, a stand up ski category that was introduced with great success as a promotional class in 2013 and this weekend is the first of five rounds in its debut National Championship. 12 stand-up Jet skis will line up for their first championship point scoring round of the season. Title contenders include Paul Taylor, a skier returning to the Championship after his debut race appearance in St Lawrence Bay where he picked up a hat-trick of race wins. Alongside him are brothers Grant Packham and 17yr old Luke Packham both from Caterham in Surrey. Grant commented "I have been watching AquaX grow over the last few years and having raced successfully in the JSRA runabout series I thought I would come across and give it a go. I haven't raced for about 3 years so I am being realistic about my performance, and I know who I'm up against. Luke, my brother is also out doing his first ever race!"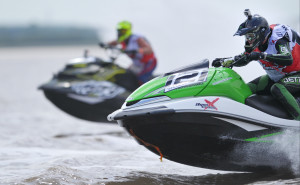 The series is already starting to attract the attention of the seasoned pros, multiple title holder and Jet ski champion Lee Farrell makes his AquaX debut on Saturday racing in the Ski Elite Class. He commented "AquaX has attracted me because it's a race for stock ski's which keeps the costs down. These days I just want to get the ski out of the garage and go racing and not spend hours tuning it. I prefer the Yamaha Superjet for leisure riding; it's light and nimble but it wont be fastest if conditions are rough, so I may struggle, but I will be giving it everything I've got!" Talking about the Championship, Lisa Barsby stated "I am really pleased at the turnout from riders, it's great to see our riders coming back year on year, and the first timers and even the old timers! Proving the success of our formula to provide a competitive championship accessible to everyone. This weekend is a great opportunity to see what we do, there is still time to sign up for the rest of the season!"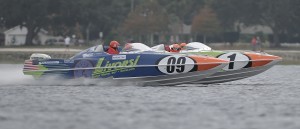 Alongside the Jet skiers and riders will be eight P1 Panther boats entertaining press and sponsors on Friday and racing in a head-to-head challenge on Saturday down the length of the Royal Victoria Dock. This pre-season taster event does not count for Championship points as part of the P1 SuperStock Championship but the fastest boat after the heats will be picking up the 2014 London SuperStock Challenge trophy. Viewing for the public will be possible from both sides of the Dock and visitors riding on the Emirates Airline will have great views of the race action below. The P1 AquaX race control base will be from the Siemens Crystal building. For riders interested in competing in the P1 AquaX Championship since this round does not count for the overall championship there is still time to sign up for the Season which starts in Bournemouth on 31 May. Riders can come along to the Docklands event and to talk to the P1 team and watch the action.
The full itinerary for Saturday 29th March is as follows:
10.00 Freestyle Jet Ski Displays
11.30 AquaX Race 1
12.15 AquaX Ski – Race 1
14.00 SuperStock Match Racing
15.00 AquaX Race 2
15.30 AquaX Ski – Race 2