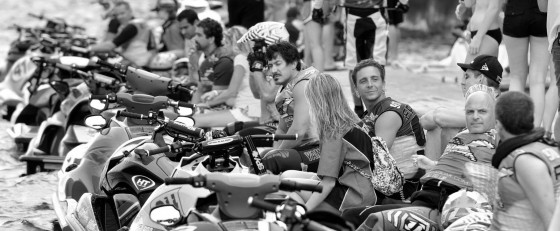 P1 AquaX USA has plowed though round 2 in Jacksonville and pulled off yet another great round.
Another great weekend of racing completed and a lot of happy spectators left Memorial Park, Jacksonville P1 fans for sure.  The turn out was great as thousands of people lined the seawall at Memorial Park to view the thrills and spills.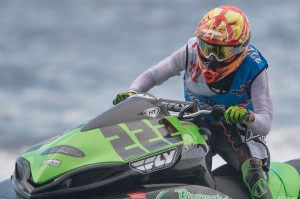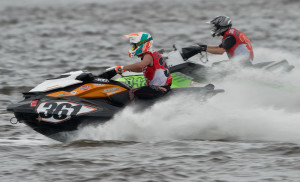 The St. Johns River provided great racing conditions and the racers put on a great show for the crowds. There were the usual popped lanyards and some swimmers which left those racers scrambling to get back in the game.  An epic battle in the 300 class emerged between team mates Eric Francis and Anya Colley with Colley not willing to back down Francis had his work cut out for him.
#222 Stuart Rasmussen of Broward Motorsports snatched the overall win out of the hands of Francis leaving him to yet win a top podium spot in the AquaX series. Francis and Colley rounded out the podium in the 300 class.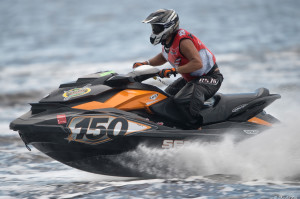 The 250 Class was dominated but the SeaDoo X-Team racer #361 Eric Lagopoulos who took a clean sweep of all three races leaving #48 Tim McKercher and #150 Sean Hagen fighting over second place. Tim took a water sample in race 2 which flared an old shoulder injury and leaving him visibly struggling to keep up overall his points.  Sean Hagen managed to take the top spot in the rookie class leaving him with a taste for the #1 podium position.
The 200 class belonged to Yamaha and had #41 Kelly Belval bringing his A game by winning the overall and knocking closed course champ Rob Greenwald off the top spot.  Scott Reeves put on a great show bringing in the 3rd overall.
It was a great weekend of racing between the P1 Aquax  and the P1 Panthers who had a lot of their own bumping and grinding going on. The CL Alpha boat with Paula and Gene Weeks knocked the ProBoat team off their usual number one spot to take the over all win for the weekend. The Space coast boat with Lee Baker and Sandy Kenigsman placed 2nd overall with ProBoat's Andy Biddle and Tracy Blumenstein in 3rd