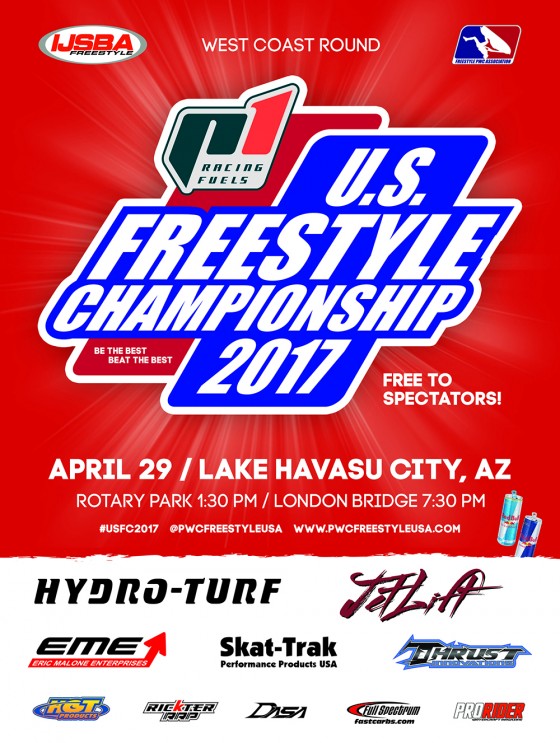 Story and Photos: FPWCA
Freestyle Personal Watercraft Association (FPWCA) is happy to announce that IJSBA sanctioned event, the West Coast Round of 2017 P1 Racing Fuels U.S. Freestyle Championship, will take place in Lake Havasu City, Arizona on Saturday 29th of April 2017. [..]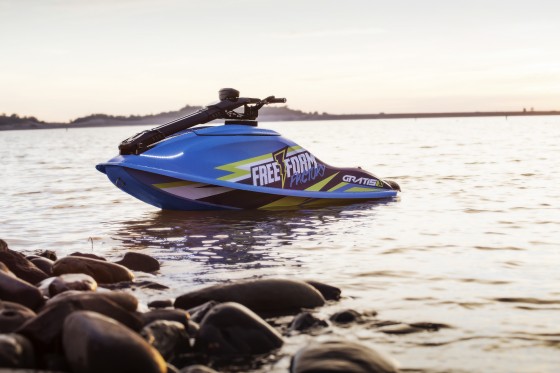 World's First Electric, Stand-up Personal Watercraft Hits the Market
Free Form Factory introduces high-performance, all-electric Gratis X1
By: FreeForm Factory
Sacramento, CA – Water sports enthusiasts of all levels looking to ride waterways off limits to gas-powered personal watercrafts will now have the freedom to ride where they could never go before, with the new electric-powered Gratis X1.
With no fuel, no sound and no emissions, the Gratis X1 is a thrilling yet easy-to-ride personal watercraft that provides a one-of-a-kind experience on the water and is now available to order through Free Form Factory's website. [..]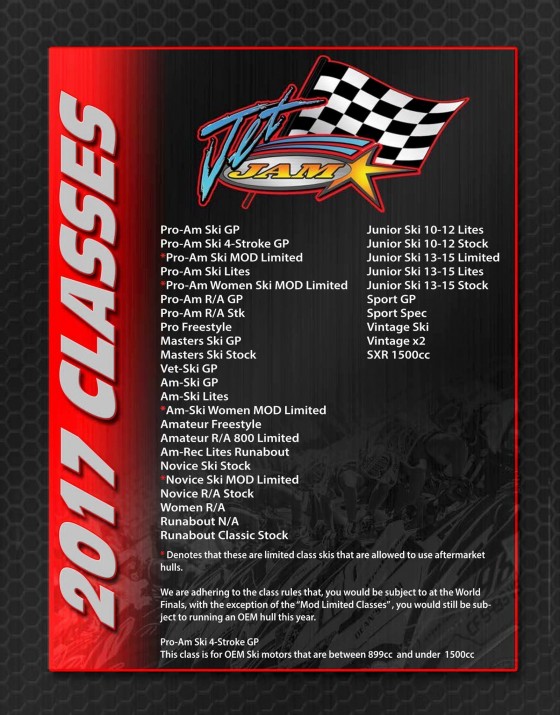 By: Jet Jam
Jet Jam is pleased to announce that Robert Sand will be the Race Director for the Bud Light 2017 Jet Jam West Coast Tour starting April 1-2 in Lake Havasu at the lovely Rotary Beach. This is a 9 weekend race series over a 6 month time frame at some of the best venues in years. With 3 races in Lake Havasu, the mecca of jet ski racing, and other great venues in California and Nevada, the racing will be awesome! With cash and prize payouts we should make for a great series ending in September at Castaic Lake in Los Angeles County. Please visit the website out at www.jetjam-racing.com for more information.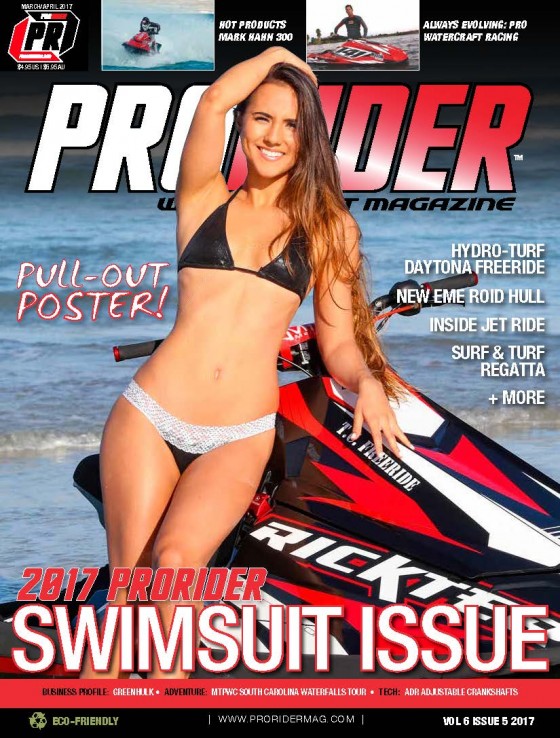 Hydro-Turf Hot Products Daytona Freeride Rickter MX1, DG Exposure and Seana Mendez to be featured on the cover of the 2017 March/April Swimsuit issue of Pro Rider Watercraft Magazine!
Pro Rider Watercraft Magazine is proud to present the highly anticipated 2017 March/April Swimsuit issue featuring beautiful models from around the world and a bonus double-sided pull-out poster! [..]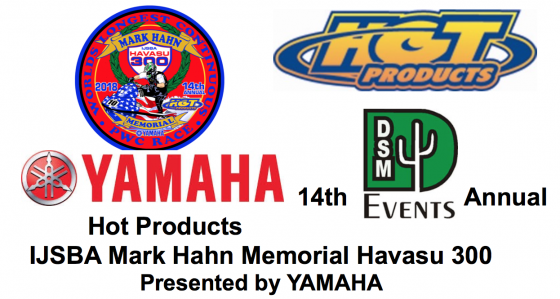 14th Annual Hot Products IJSBA Mark Hahn Memorial Havasu 300, Presented by YAMAHA, Saturday – February 24, 2018 Lake Havasu, Arizona
2018 DATE ANNOUNCED FOR THE IJSBA NATIONAL TEAM ENDURANCE CHAMPIONSHIP
FOUNTAIN VALLEY, CA – February 28 2017: The 14th Annual "World's Longest Continuous PWC Race" was announced today by the event promoter Jim Russell, DSM Events owner, and Executive producer Mike Follmer. The 2018 Hot Products IJSBA Mark Hahn Memorial Havasu 300 Mile National Team Endurance Race – Presented by YAMAHA is all set to launch on Saturday – February 24, 2018 from Crazy Horse Campground in Lake Havasu City, Arizona. The 2017 event attracted teams and riders from 8 Countries around the world and will once again be sanctioned by the International Jet Sports Boating Association (IJSBA), and it is expected to draw a new record number teams from around the globe as well as all the top PWC racers from the USA. The Teams will be competing against each other while trying to break the 300 mile record of 4 hour 46 minute and 13 seconds set by the 2016 Mark Hahn Memorial Overall winners Pastorello and Botti of Team Kawasaki France.
[..]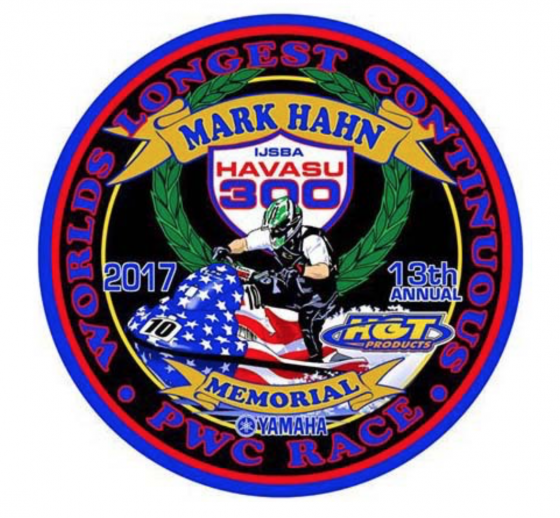 Mark Hahn 300 2017 Thank You!
Whether you knew him or not, we must all be thankful for the contribution Mark Hahn made to the sport of PWC endurance racing. His spirit and legacy are embodied in the Hot Products Mark Hahn Memorial race that bears his name. From its humble beginning to the Thirteenth Annual race held on February 18, 2017 the Mark Hahn Memorial has become a world class event, welcoming competitors from all parts of the globe to compete in one of the most unique and punishing endurance racing events in the world. [..]